Government Plaques
Wall Plaques and Signs for the Military and Federal, State and Local Government Organizations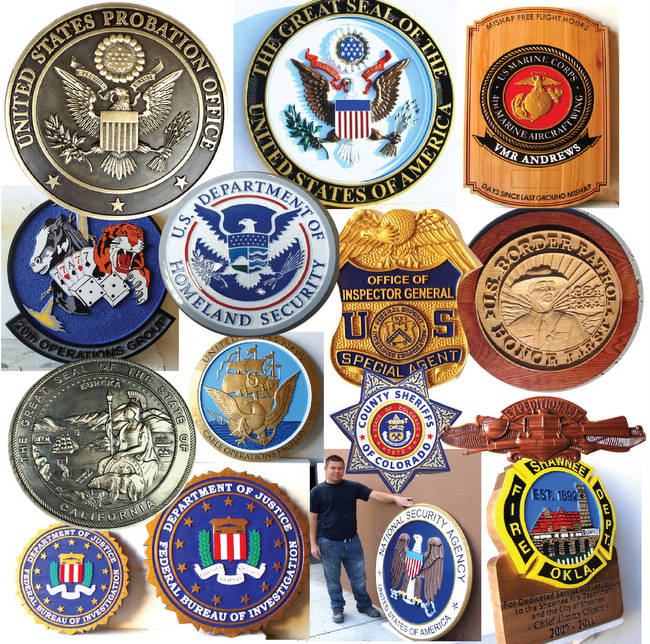 Examples of Custom Carved Wall Plaques and Signs
Art SignWorks Makes & Sells Factory-Direct High-Quality Custom 3D & 2.5D Dimensional Carved Wood ,HDU,Acrylic, and Metal Signs & Plaques; Wrought Iron Hangers, Frames & Posts; and Base Entrance and Building Signs for Government Agencies and the Military, and their contractors, throughout the USA and overseas.
This page describes standard, personalized, and custom wall plaques & signs that we manufacture and sell to the military; federal, state and local (city & county) governments; police & fire departments, and their contractors.. If you have just entered our website and you want an overview of our company and all our products, including signs for private commercial and residential customers, please start with our Home page (dark gray tab upper left).Other pages, including other Galleries, can be visited by clicking on numbered light gray boxes in the left margin.
Government and Government Contractor Customers
Can't find anyone to make your personalized or custom dimensional wood, hdu, or metal (bronze, brass, copper, aluminum,steel) plaque or sign the way you want it made? Do you need some design ideas? We will work with you to design and build the custom or personalized plaque or sign you want at an economical price and deliver it to you within 3 to 4 weeks. We offer a rare combination of creativity, quality and value, have a great variety of plaque & sign designs of any size, and take pride in every product we build. We make all our plaques in the USA (Murrieta, CA) with raw materials from the USA. We offer a 3 yr warranty for every sign or plaque in any climate.
We are a small woman-owned business, are listed in the Government Setaside Directory (http://www.thefso.info/) and offer products with prices comparable to or lower than those on GSA Schedule 78. For federal contracts, we are listed in SAM (System for Award Management), are registered on ORCA, have a CAGE Number, and can use the Wide-Area Workflow (WAWF) system for invoicing and payment. We have approximately 150 contracts or purchase orders each year from Federal and State government agencies and the military services. We ship overseas and to APO addresses.
We offer several product lines of 3D sculptured bas-relief and 2.5D (raised or engraved flat-relief) carved wood, HDU, and metal Military , US Federal, State , County and City (including police & fire departments) Government wall plaques and signs. We specialize in making custom and personalized dimensional wood organizational identity, commemorative, recognition, award, retirement and memorial wall plaques and seals for organizations and employees.We make signs and plaques from 12 inches to 15 feet wide.We can make a wall plaque or sign incorporating the design of any seal, logo, emblem, badge, shoulder patch, coat-of-arms, drawing, painting, or photo.
Our Government wall plaque Galleries are listed below; please click on the underlined Gallery number to see that Gallery page::

DIMENSIONAL & CARVED WOOD, HDU and METAL WALL PLAQUES (SEALS & LOGOS)
Gallery 30 - Over 100 US Federal Government seals, and branch (executive, legislative, judicial) , department and civilian agency plaques (includes Homeland Security and CIA)
Gallery 31 - Over 200 US Military (DoD, Army, Air Force, Navy, Marine Corps, Coast Guard) plaques
Gallery 32 - Over 80 State Government and Agency plaques, State Courts, and State police.
Gallery 33 -Over 100 County and City Government plaques (includes Police, Sheriff, and Fire Departments)
These custom plaques are very reasonably priced, depending primarily on size but also on material and complexity . We offer Government agencies or their contractors our very best price for these wall plaques and signs, equivalent to our wholesale commercial prices to other sign companies.
We also make dimensional wood, hdu , metal, acrylic, and EPS outdoor signs for Government facility entrances, directories, maps, building identification, wayfinding, street names, traffic, and parking, Our interior building signs and plaques include dimensional lobby signs, directories, wayfinding, office door signs, ADA signs, and desk nameplates. Click on a numbered gray box in the lower left margin to see different sign applications, many of which are relevant for Government applications (e.g., national park & forest signs, military golf course signs, park signs, street/traffic/parking signs, comissary & retail store signs, professional signs, etc), or use the Google Search Bar at the top of his page.
Three Galleries in particular are oriented towards larger Government wood and HDU dimensional outdoor and indoor signs. Please click on the underlined Gallery number to see that Gallery page:
DIMENSION & CARVED WOOD,HDU & METAL OUTDOOR & INDOOR SIGNS
Gallery 16 - National, State, and Regional Parks (includes US Forest Service and Bureau of Land Management signs & plaques)
Gallery 15 - Federal, State & Local Government Welcome and Building Signs, and Museum Signs and Plaques
Gallery 15A - University, College, Secondary School, Middle School and Elementary School Signs & Plaques
For more information on prices go to Price, Size, and Design Features page or Request a Estimate. Normally you will receive your plaque 3 to 4 weeks after you place a firm order and have approved a proof.
Please call us at 951-698-8484 or EMAIL us at info@ArtSignWorks.com for additional information without any obligation.
We welcome casual inquiries and will give you a fast "no hassle" response.We are the "friendly signmakers" and take pride in providing information and helping our Government customers and their contractors solve their signage needs at affordable costs.