Signs & Plaques
Gallery 13 - Church, Synagogue & Other House of Worship Signs, and Indoor Wall Plaques with a Religion Theme
Welcome to our photo Gallery 13, which shows examples of wood and HDU signs for churches, synagogues and other places of worship. We also show photos of some of our indoor plaques with a religious theme. If you have just entered our website and you want an overview of our company and all our sign & plaque products, please start with our Home page (dark gray tab on upper left). Other pages, including other Galleries, can be visited by clicking on the numbered gray boxes in the lower left margin of this page.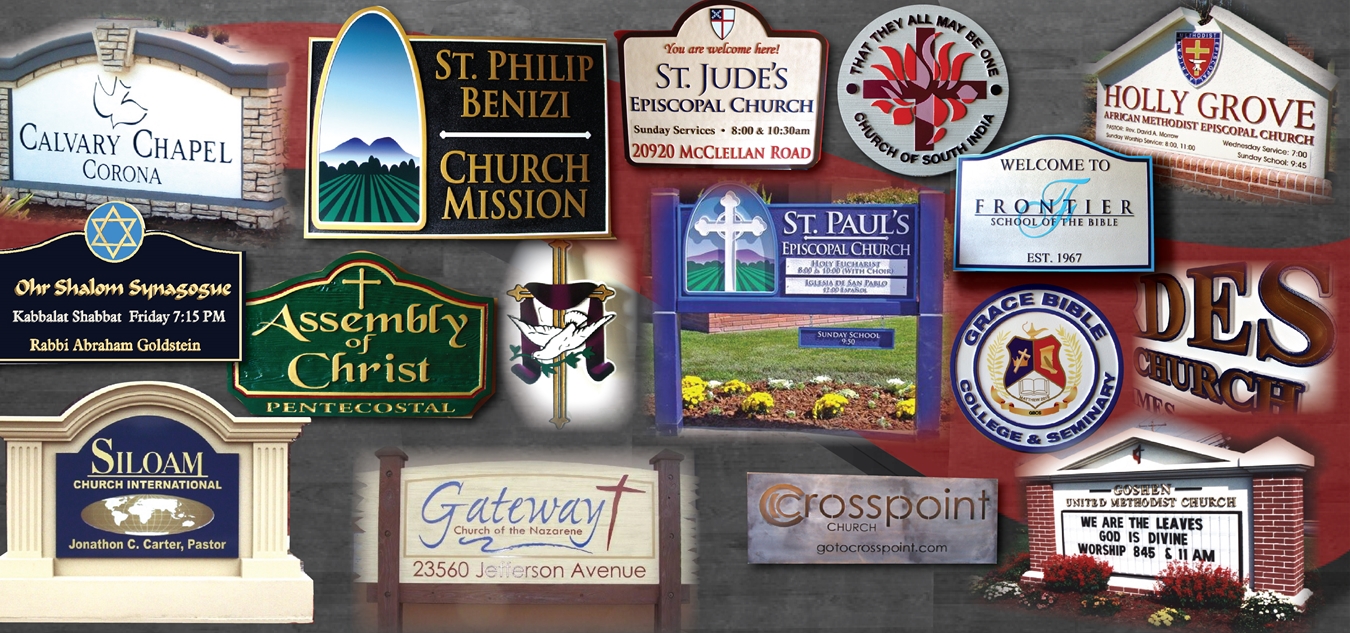 Examples of Our Carved Dimensional Signs & Wall Plaques for Church and Other Religious Institutions
In this photo Gallery 13 are displayed over 100 examples of designs for carved and sandblasted dimensional signs & plaques for churches and other houses of worship. We offer a variety of designs, and we make dozens of custom signs and plaques each year in this category. We offer custom carved 2.5-D, 3-D and engraved dimensional signs and plaques. These are fabricated from High-Density-Urethane (HDU) wood composite; wood (cedar, redwood, mahogany, oak, maple, cherry; metal-coated HDU (brass, bronze, copper, silver-nickel, stainless steel, and aluminum); and gold- and silver-leaf gilded HDU. If you can't find sign or plaque designs you want in this Gallery, we will design them for you for free. We will work with you to design and build the exact custom signs or plaques you want.
Outside Entrance Signs for Churches, Synogogues, Temples and Mosques

Wood or HDU Plaques with a religious theme or Interior Signs for Houses of Worship

Three-dimensional Carved Art with a Christian or Jewish theme
PRICES. Our custom designed smaller single-faced signs, 18 inches to 24 inches wide, have retail prices that range from $99 to $350+. Medium size single-face signs, from 24 inches to 48 inches wide, have retail prices from $300 to $800 and up. Large entrance signs, from 48 inches to 96 inches wide, have retail prices from $700 to $1800 and up. Our sign prices depend primarily on sign area, whether they are single or double-faced, their design detail and complexity (e.g., number of paint colors and amount of hand-painting, and any special features (e.g., steel reinforcements and frames, overlays, gold leaf, etc.). These prices do not include posts or support structures, which we sell separately. More detailed information on sign retail prices, along with their design features, are described on the Price, Size, and Design Features page.
CONTACT US. Please call or email us for a price quote on a specific sign. We will work with you to design and build the exact sign or plaque you want. Our knowledgeable and helpful Customer Service Representatives, Christie and Regina, will respond to your request promptly. Call us at 951-698-8484 or email us at info@artsignworks.com. Or, you can fill out and submit our on-line Request an Estimate Form. We would like very much to make your sign or plaque, and we are confident that you will be pleased with it. We take great pride in every product we make for our valued clients. We offer a 2 year warranty on all our products.
The photos above show examples of signs we have made for Churches, Synogogues, temples and Mosques in the US and Canada. These elegant and beautiful designs tend to have rich colors, smooth backgrounds with engraved V-cut text, gold-leaf gilded three dimensional carved art such as a cross or other emblem, and changeable plates for service hours, pastor's name, etc.They generally are double-faced and free-standing; we can also supply posts, a base, etc.
We also make custom indoor wood and HDU plaques and carved bas-relief sculptures for the interior of the church (see bottom of this page), and building, directional and parking signs for the outside of the church. Photos D13401-D13404 below show examples of three-dimensional carved art for various religious signs and plaques. Since these are existing 3-D computer models for our automated carving machines, these can be added to your sign or plaque at very low costs. Our most popular sizes for these signs are in the range from 20 inches to 48 inches wide.
For more information on prices go to Price, Size, and Design Features page or Request a Estimate. Normally you will receive your sign 4 to 6 weeks after you place a firm order and have approved a proof.Please call us at 951-698-8484 or EMAIL us at info@ArtSignWorks.com for more information. To return to the page you were on, click on your back browser button. To go to a different page in the Galleries, click on a numbered gray box in the bottom left margin. Other web pages can be visited by clicking on the dark gray tabs at the top of this page or the light gray boxes in the upper left margin.