Signs & Plaques
Product Line Descriptions
Welcome!! On this website you can view  over 8000 designs of carved wood and HDU signs and plaques, the largest collection of carved signs & plaques  anywhere in the world, for every style and  application.   Our premium custom hand-crafted dimensional signs & plaques are fabricated from the finest materials and are made using superb craftsmanship by skilled and highly talented artists and artisans.We design and manufacture over 7000 beautiful custom signs & plaques each year.
If you have just entered our website and you want an overview of our company and all our products, please start with our Home page (dark gray tab upper left). This page introduces our various products and provides a general overview of their characteristics and our ordering process. We offer various Product types which are roughly organized by sign type, material, and design features.
You can see 60 examples of the most recent signs we have made on our Signs-of-the-Month page. That page gives an overview of the wide variety of styles and materials we offer for our dimensional signs & plaques; this page provides more details and specific examples.
This section provides an overview of the various signs & plaques within each Product Line and their approximate prices. Over 7000 examples of sign designs are given in the Product Galleries, listed by application in the numbered light gray boxes in the navigation bar in the lower left margin. Click on the underlined Product Line titles below to go to that Product gallery page. Examples of these various products are also distributed throughout the Application photo gallery pages. Please call us at 951-698-8484 or EMAIL us at info@ArtSignWorks.com for more information.
Prices. Our wood and hdu signs and plaques cost from 70% to 80% that of similar signs from most other companies.Our signs are primarily priced on per square foot basis (there are other factors as well, such as one vs two-sided, materials and design complexity). Wholesale prices are about 30%-35% lower than retail prices (reseller permit required). Our smaller carved signs and plaques cost from $99 to $250, including custom hand-painted carved art and text. Sign size, type of sign construction, and prices are described on the Retail Prices and Design Features page.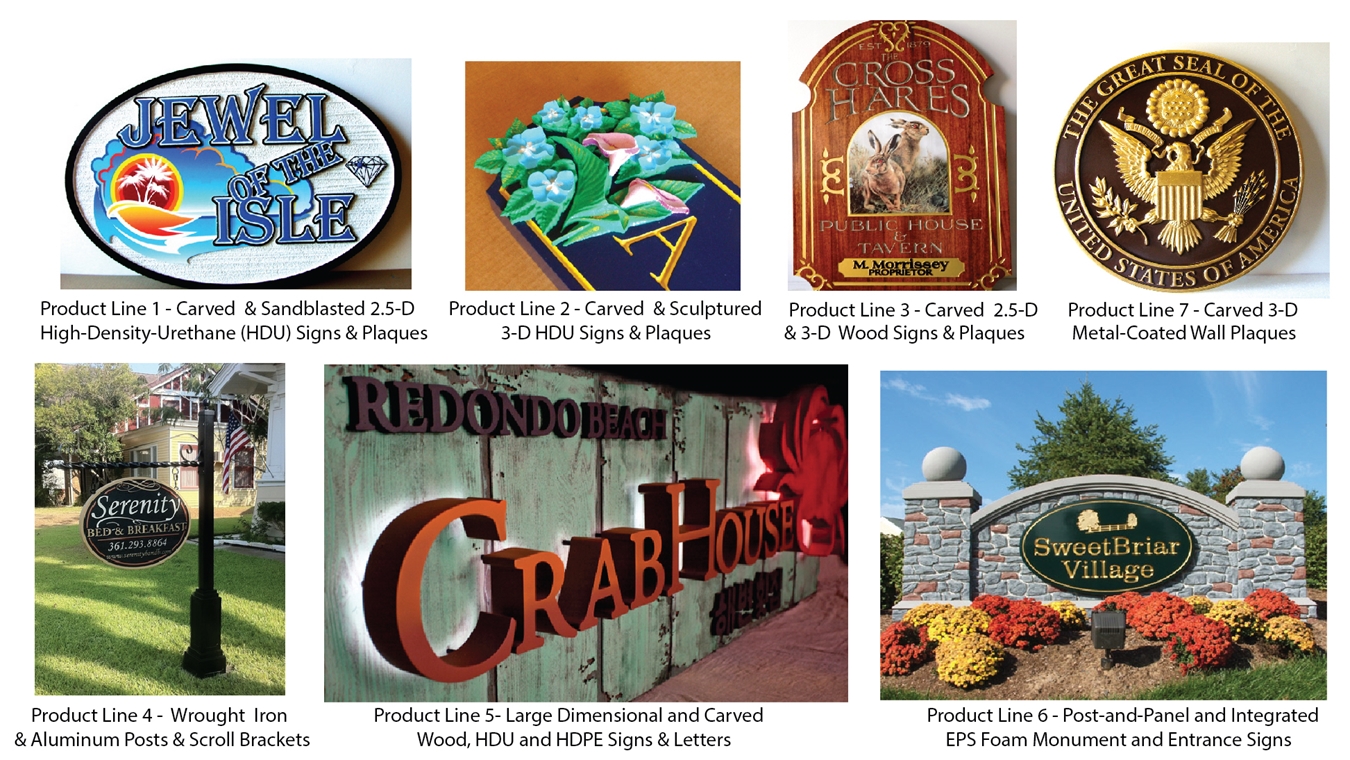 Sign and Plaque Product Line Descriptions
We request a deposit (50% of sign value) AFTER you approve the PROOF, at the time you place your order and we begin production, with the remainder due the day the sign has been shipped and/or installed. However, for established customers or government customers, we may requesting the final payment until you receive the signs. or shortly thereafter. We recommend you first visit the Product Galleries. . If you see a given type of sign or plaque you like, you may email us with your requirements, OR call us at (951)698-8484 or (760)723-6161 (fastest response), OR fax us at 915-698-9088, OR go to the Request an Estimate page, fill out the short form referencing the sign's ID number (e.g., M2315) and modifications you want made, and send it to us.You will be sent a quote and preliminary sign design within a couple days at no cost or obligation. You may also send us a photo or drawing of a design that you have, or refer to a design in the Product Galleries(specify the ID number please; in these situations there is no design fee. After you approve the design, you can place the order with a credit card and we will begin production on the sign.You should receive the sign 5-7 weeks (depending on our workload and shipping time) after an order is placed.