Signs & Plaques
Gallery 28B - Retail Store and Business Interior Signs and Plaques, including POP/POS signs
Welcome to our photo Gallery 28B for custom dimensional small wood, High-Density-Urethane (HDU) and High-Density-Polyethelene (HDPE) interior signs and plaques, including Point-of-Purchase (POP) and Point-of-Service (POS) displays, for retail stores and commercial businesses.
If you have just entered our website and you want an overview of our company and all our products, please start with our Home page (click on the dark gray tab at the top left of the page). Other photo Galleries can be visited by clicking on the numbered light gray boxes in the lower left margin. Related photo Galleries are Gallery 28 which shows large identification, entrance, monument and directory signs for businesses, and Gallery 28A which shows medium to small size exterior retail store and business signs & plaques. We also have over 3000 business signs in our other photo Galleries (10-12, 14-16, 19-29, and 35) for specialty businesses such as law firms, medical and dental offices, financial services and banks, golf courses, apartments, farms, restaurants, bars, wineries and hotels, etc.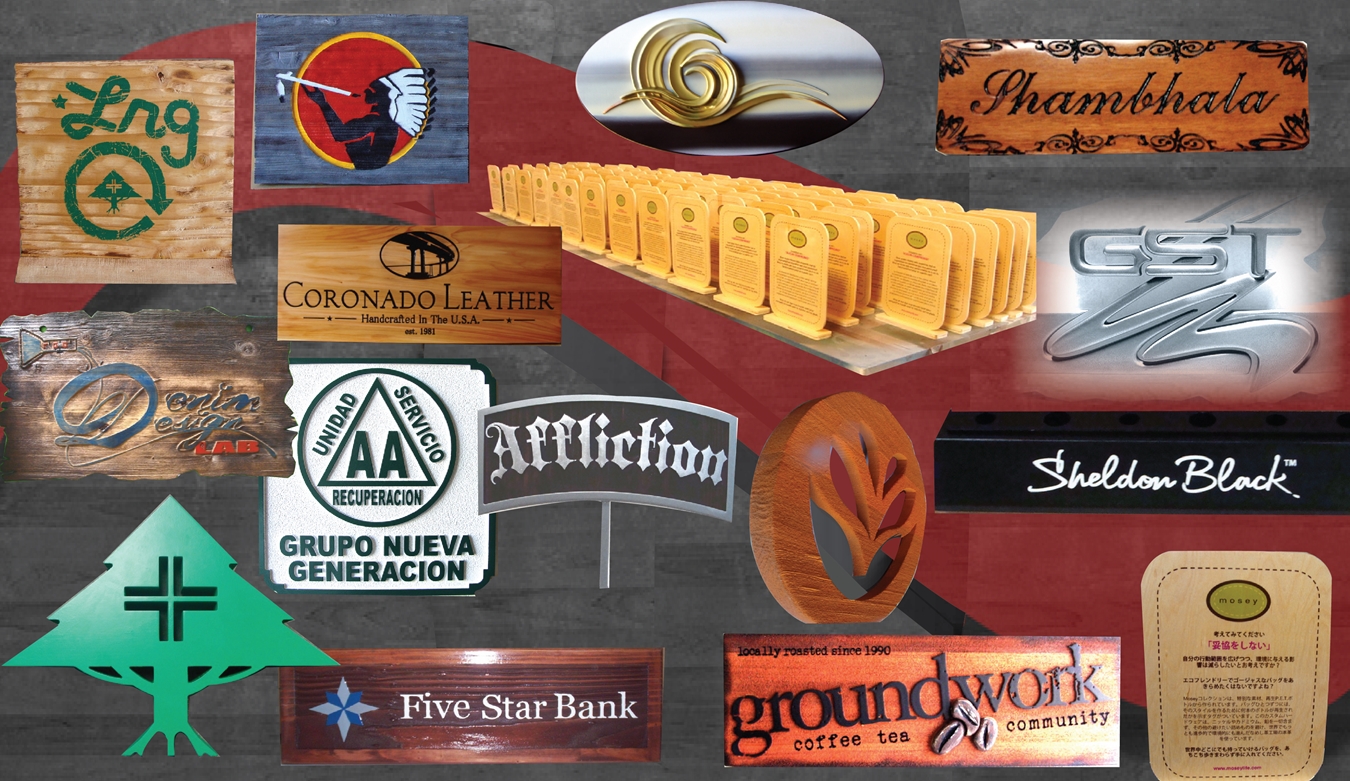 Small Interior Signs and POP Plaques for Retail Stores
In this Gallery 28B are shown small 3-D, 2.5-D, and engraved interior wall, table and hanging signs and plaques for all types of companies and stores. The photos on this page show a wide variety of examples of smaller (typically 6 to 24 inches wide)interior signs and plaques for commercial businesses of all types, from retail shops to corporate headquarters. These include lobby signs & plaques, other wall signs & plaques, office and room door signs (conference room, restrooms), overhead signs for product areas, and Point-of-Sale(POS) and Point-of-Purchase signs.(POP).
These signs and plaques can be made from many materials. These include wood veneer plywood and composites; solid Redwood, Cedar, Mahogany, Oak, Maple, and Cherry wood; High-Density-Urethane (HDU); High-Density Polyethelene (HDPE); bronze, brass, copper, aluminum, and stainless-steel coated HDU; and aluminum sheet. Most of these can be made with elevated letters, art and border higher than background, or recessed/engraved letters lower than the background. Sign styles range from formal, elegant, commercial, or attention-getting, to natural or rustic. These custom signs & plaques can have text and logos carved into them or raised above the background. We can also place full-color digitally printed decals or screen-print images on them.
A few stock 3-D carvings which may apply to your sign are shown at the bottom of this page; we can make any custom carving you wish. We will design you custom signs or plaques for you at no cost assuming you purchase the sign. Our most popular sizes for these signs are in the range from 6 inches to 24 inches wide, although we can make interior signs up to 20 feet wide. We have the manufacturing capacity of fabricating several thousand small signs and plaques per month, because of our automated computer-controlled machines and staff of 12. We also can make your sign installation support structure (bases, hangers, chains, brackets etc) if you wish so you have an easy to install kits shipped to you. We will design custom signs for you at no cost. Please refer to the ID number (e.g.SB28810) if you want your sign to be similar to one or more signs shown in the Galleries.
PRICES. Our sign prices depend primarily on sign area and size but also on sign material. Smaller (18 to 24 inches wide) retail hanging or wall signs have prices from $99 to $300+. Small POP signs, 8 to 12 inches wide, when ordered in quantities of several hundred to several thousand, have prices from $8 to $20+ each. More detailed information on sign retail prices, along with their design features, are described on the Price, Size, and Design Features page.
CONTACT US. Please call or email us for a price quote on a specific sign or plaque. We will work with you to design and build the exact one you want. Our knowledgeable and helpful Customer Service Representatives, Christie and Regina, will respond to your request promptly. Call us at 951-698-8484 or email us at info@artsignworks.com, or you can fill out and submit our on-line Request an Estimate Form. We would like very much to make your custom sign or plaque, and we are confident that you will be pleased with it. We take great pride in every product we make for our valued clients. We offer a 2 year warranty on all our products in any climate. Please contact us today so we can get your sign or plaque design initiated.
GALLERY CONTENTS. This Gallery 28A contains over 50 photos of small retail store and business signs & plaques. These include lobby signs & plaques, hall wall signs & plaques, office and room door signs (conference room, restrooms), overhead signs for product areas, and Point-of-Sale(POS) and Point-of-Purchase signs(POP).
NAVIGATION. Please click on a Photo below to enlarge it and get more details. To return to the page you were on, click on your back browser button, or if you are on a single photo page, click on "Return to List" on the bottom right of the photo. To go to a different photo Gallery, click on a numbered light gray box in the lower left margin. Other web pages (request an estimate, order form, testimonials, etc.) can be viewed by clicking on the gray boxes in the upper left margin, or the dark gray tabs at the top of this page (includes our Home page). . . . . .