Signs & Plaques
Gallery 34 - University, College, Fraternity, Sorority, and Secondary School Custom Wall Plaques
Carved 3-D and 2.5-D wood, HDU and metal plaques, featuring seals, emblems, logos, crests, coat-of-arms, insignia and flags
Welcome to our photo Gallery 35 which shows over 150  of our custom & personalized carved dimensional wood, High-Density-Urethane (HDU) composite wood, and bronze and brass wall plaques for Universities, Colleges, Secondary Schools, Fraternities and Sororities.
If you have just entered our website and you want an overview of our company and all our products, please visit our Home page (dark gray tab upper left). Other pages, including other Galleries, can be visited by clicking on numbered light gray boxes in the lower left margin. These include Federal government plaques in Gallery 30, military plaques and signs in Gallery 31, County, City and Village (including Police and Fireman) plaques and signs in Gallery 33, and Company, Club and Sports Team plaques in Gallery 35.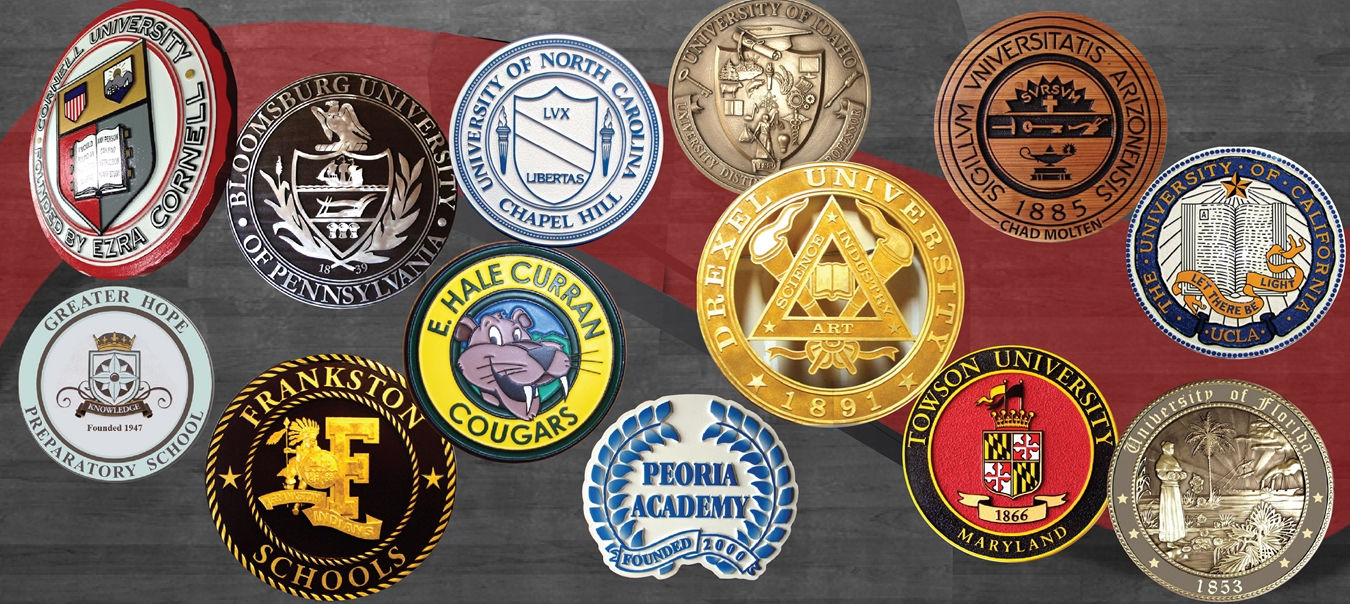 Examples of our Dimensional Wall Plaques of the Seals & Logos of Universities, Colleges, Prep Schools, Academies and High Schools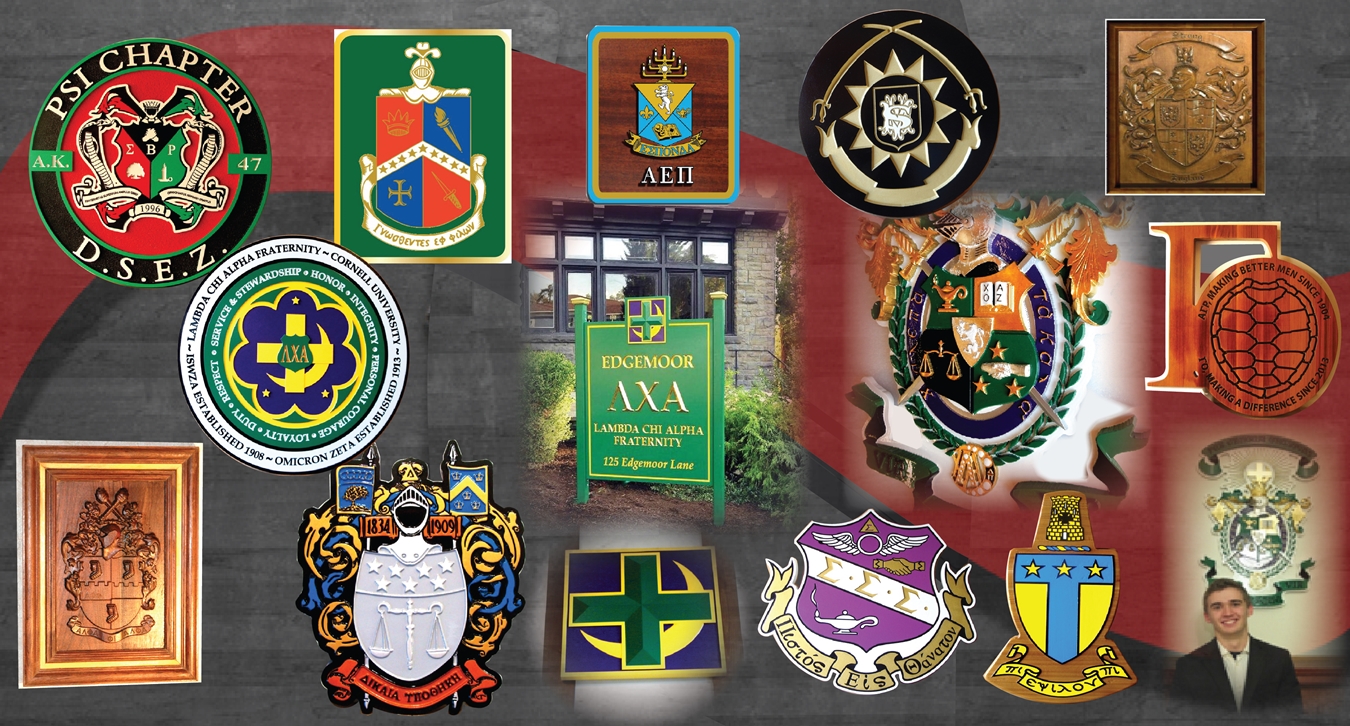 Examples of Dimensional wall Plaques and Signs for Fraternities and Sororities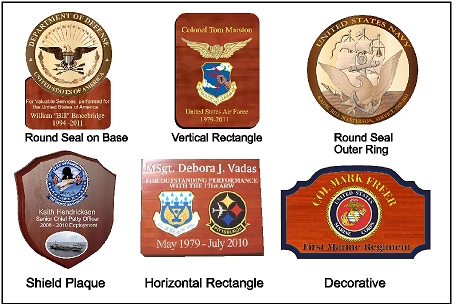 Six Designs for Plaques that Allow Personalization
In this photo Gallery 34, we show over 150 photos of carved dimensional custom and personalized carved wooden plaques for university, college, fraternity & sorority, and secondary school seals, logos, emblems, flags, insignia, medals, and coats-of-arms. These can be used for identification (e.g. outside on a building wall, or inside in a reception area, lobby, hallway, auditorium, gymnasium, conference room, office or on a podium. These plaques can also be used for personal or organizational achievement, graduation, awards, service, or retirement ceremonies since text can be added to any plaque.
We can make a 2.5-D or 3-D wall plaque if we are provided a picture or photo of it; if you do not see what you want here and have a photo or drawing of the seal, emblem, coat-of-arms, etc or plaque you want, we will design and make it for you. We can take a photo, drawing, or sketch and make it into a custom carved dimensional wood, High-Density-Urethane, or metal-coated plaque, and optionally add on an organization's or individual recipient's name, date and citation.
We can make wall plaques from 10 inches wide to 10 feet wide (for outside building walls or on auditoriums). These do not have to be round plaques; we can make any shape plaque, or mount a round seal on a mahogany or Cedar wood backboard that in the shape of a shield, a rectangle, or arbitrary shape, etc. We can customize and personalize with text, materials, and color any plaque shown on this page, and make a custom plaque for ANY other seal, insignia or logo you may have.
The top row of pictures (Y34002, Y34003, Y34004 and Y34005) shown below illustrate the many style and material variations (full-color paints, wood stain, bronze-, brass- and copper-coatings, gold-and silver-leaf) we can use to make any plaque. Although we show painted HDU in full color for most plaques on this page, we can make them out of natural wood (Some areas stained for contrast) or put any of several types of metallic coatings/color schemes on them, similar to the Y34005. Six of our popular personalized plaque designs, most of which use a wood substrate, are shown in the figure to the upper right, and there are several other examples of personalized plaques distributed in the gallery photos below.
If you can't find a design you like in this Gallery, we will design you a custom plaque or sign for free. We will work with you to design and build the exact wall plaque(s) you want. We can design a custom plaque or sign for ANY university, college, school, fraternity or sorority, not just those shown on this page
CONTENTS OF THIS PHOTO GALLERY. The wall plaques are listed in the following order on this page, top to bottom:
 Styles and Color Selections (top of page, beginning at Figure 34001)

 Universities & colleges (top of page, beginning at Figure 34001) 

 Fraternities, sororities and college clubs (middle of page, beginning at Figure 34501) 

 Public and private secondary/high/prep schools (near bottom of page, beginning at Figure 34700) 
PRICES. Our custom designed smaller wood and HDU wall plaques, 12 inches to 18 inches in diameter, have retail prices that range from $100 to $250+. Larger wood and HDU plaques, 24 inches to 36 inches in diameter, have retail prices that range from $350 to $800+. Metal-coated and gold-leaf gilded plaques cost more. Our sign prices depend primarily on plaque area but also on sign material (e.g., HDU, Cedar, Redwood, Mahogany, metal-coated), design detail and complexity (e.g., 3-D vs 2.5-D), and any special features (e.g. intricate artwork, gold or silver-leaf, 3-D appliques, etc.). More detailed information on plaque retail prices, along with their design features, are described on the Price, Size, and Design Features page. Please call or email us for a price quote on a specific plaque. We accept Government POs.
PLEASE CONTACT US. Please call or email us for a price quote on a specific sign or plaque. We will work with you to design and build the exact one you want. Our knowledgeable and helpful Customer Service Representatives, Christie and Regina, will respond to your request promptly. Call us at 951-698-8484 or email us at info@artsignworks.com, or you can fill out and submit our on-line Request an Estimate Form. We would like very much to make your custom sign or plaque, and we are confident that you will be pleased with it. We take great pride in every product we make for our valued clients. We offer a 2 year warranty on all our products in any climate. Please contact us today so we can get your sign or plaque design initiated.
 HOW TO NAVIGATE THIS SITE. You can scroll down this page to see more sign designs by using the slider on the scroll bar at right edge of this page. You can enlarge a photo and get information on the sign by clicking on the photo. After you enlarge a photo, to return to this Gallery page, click on  "Return to List" at the bottom right of the photo or text. Other photo Galleries can be viewed by clicking on a numbered gray box in the lower left margin. Business web pages (e,g, prices & design options, request a  quote, place an order ) can be viewed by clicking on a gray box in the upper left margin. Other informational web pages, including our Home Page,  can be visited by clicking on dark gray tabs at the top of the page in the header.