Application Gallery 18 - Residence & Estate
Residence, Estate, and Property Name, Address and Welcome Signs & Plaques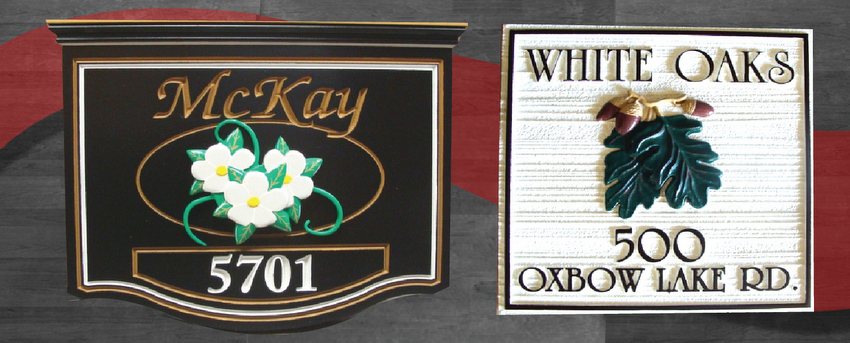 Welcome to our photo Gallery of examples of our custom carved and sandblasted wood & HDU residence, address number , property name, welcome, and private property signs for general suburban, urban and rural residences, from estates to condominiums. We offer carved High-Density-Urethane (HDU) , wood (cedar, redwood, mahogany, oak, maple, cherry), and metal (brass, bronze, copper, gold, silver, iron,and aluminum) house and estate signs and plaques.
These are listed on this page in the following order:
(1) Carved HDU Residence Signs & Plaques
(2) Address Number Signs & Plaques (starts with photo I18405)
(3) Wooden property Signs and Plaques (starts with I18500)
(4) Private Property and No Trespassing signs (starts with I18545)
(5) 3d Carved art Appliques (starts with I18899)
(6) Wrought iron hangers for residence (starts with I18950, also see Gallery 4)
Our residence and property signs have a very wide range of styles, from elegant and formal, to whimsical, to rustic or natural. Every one is custom made to the customer's specification.

Custom vacation home and farm & ranch residence signs are in other photo Galleries (see more detailed description at bottom of this page).These include (click on link to visit page):
Gallery 20 - Seashore & Beach Residence & Business Signs.
Gallery 21 - Lake & Mountain Vacation Home, Cabin & Cottage Signs .
Gallery 23 - Farm, Ranch, Western, Cowboy & Rodeo Signs
Gallery 19 - Apartment, Condo and Townhouse Signs.
These galleries can also be viewed by clicking on the product Gallery numbered gray boxes on the lower left margin of this page
If you have just entered our website and you want an overview of our company and all our products, please start with our Home page (dark gray tab upper left). Other pages, including other Galleries, can be visited by clicking on numbered light gray buttons in the left margin.Move the slider on the scroll bar on right edge of the window to see the photos at the bottom of this page. A description of residence and property name sign styles is given at the bottom of this page, below the photos
Please click on a Photo below to enlarge it and get more details. . To return to the page you were on, click on your back browser button. To go to a different page in the Galleries, click on a numbered light gray box in the lower left margin. Other web pages can be visited by clicking on dark gray tabs at the top of this page or the dark gray boxes in the upper left margin.
DESCRIPTION AND PRICES
The photos on this page show a wide variety of examples of dimensional 2.5D and 3D address, individual residence identification, and welcome plaques and signs. These can be made from HDU, Redwood or Cedar, and can be sandblasted (letters, art and border higher than background) or engraved. Styles range from the formal to elegant to whimsical to rustic. We make them to reflect the message the resident wants to give the visitor.These plaques can have the address only, the occupants name, a short message "Welcome) and art ranging from simple sandblasted art to that which is hand-carved and artist-painted.
Several hundred similar but more specialized address signs for residences are shown in other Gallery pages (click on underlined text to see another Gallery page):
Gallery 20 - Seashore & Beach Residence Signs & Plaque. Custom signs & plaques for residences near the seashore and beach. We have many beach home signs, with interesting seashore, marine, and nautical art, including beaches, beach chairs,palm trees, sea birds, fish, sea mammals, and sailboats.
Gallery 21 - Lake & Mountain Vacation Home, Cabin & Cottage Signs & Plaques. Custom signs for vacation homes around lakes, rivers and mountains (cabins and cottages) with art including mountain and lake scenes, wild animals (bears, deer, elk, moose, wolves, cougars, raccoons), fresh-water game fish (trout, bass, muskies, etc), birds, trees and wildflowers.
Gallery 23 - Farm, Ranch, Western and Cowboy Signs and Plaques. Custom farm and ranch signs, primarily for outdoors.These include Eastern, Midwest, Southern and Western farms as well as Western ranches. Cattle, horses, farm animals and crops,cowboys, native American, Old West, and rodeo art is displayed.
Gallery 19A - Apartment, Condo and Townhouse Signs. Unit number, address, building name, parking , and miscellaneous signage for apartments, condominiums, Home Owner Associations(HOA), subdivisions, and other residential communities.
These galleries can also be viewed by clicking on the numbered blue boxes on the lower left side of this page
We will design you a custom address sign or plaque for you at no cost assuming you purchase the sign. Please refer to the ID number (e.g. I18270) if you want your sign to be similar to one or more signs shown in the galleries.
Our most popular sizes for these signs are in the range from 16 inches to 36 inches wide. For more information on design options and prices go to Price, Size, and Design Features page or Request a Estimate.
Normally you will receive your sign 3 to 5 weeks after you place a firm order and have approved a proof.Please call us at 951-698-8484 or EMAIL us at info@ArtSignWorks.com for more information on prices, design options, and delivery schedules.
We also offer a wide selection of wrought iron posts and scroll bracket sign hangers to display your sign, shown in the photos above at the bottom of the Gallery or in Product Gallery 4.