Gallery 19 - Apartment, Condo & HOA Entrance Signs
Apartment, Condominium, Townhome, Subdivision, Housing Development, HOA and other Residential Community Entrance and Monument Signs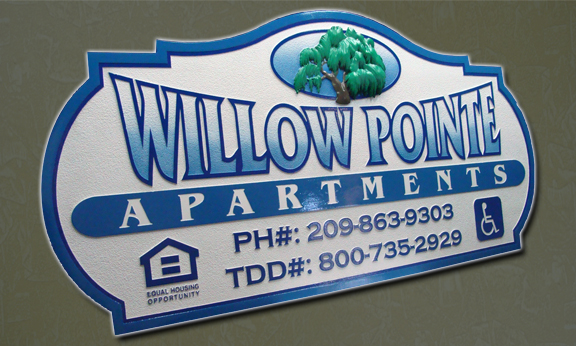 Welcome to our photo gallery of residential community signs, including apartments, condos, townhomes, HOAs, and subdivisions.If you have just entered our website and you want an overview of our company and all our products, please start with our Home page (dark gray tab upper left). Other pages, including other photo Galleries, can be visited by clicking on the text in the gray boxes in the left margin.This page shows large entrance & monument signs for apartments, condos, and subdivisions; to see smaller apartment/condo/HOA UNIT/ADDRESS NUMBER, property maps, office, rules, no soliciting, parking, street name, and directional signs, please click on Gallery 19A. Please move the slider on the scroll bar on right edge of this window to see the photos lower down on this page. A description of sign styles and prices is given at the very bottom of this page, below the photos.Please click on a Photo below to enlarge it and get more details. .
DESCRIPTION OF STYLES AND PRICES OF RESIDENCE AND ESTATE SIGNS.

The photos on this page show a wide variety of examples of entrance and monument signs for apartments, condominiums, townhomes, retirement communities, manufactured homes/RV parks,Homeowners Associations (HOAs), housing developments (i.e., subdivisions), and other residential communities.We have made signs for over 100 residential community complexes across the US; it is one of our main areas of concentration.
These signs can be made from HDU, Redwood, Cedar, concrete, bricks, stone, marble, stucco and EPS., Styles range from the formal to elegant to contemporary to rustic. We make them to reflect the message and style the residential community wants to give the visitor.
On this page, Gallery 19, we show only large (4 to 16 ft wide) monument and entrance signs for residential communities. We also make many other types of smaller signs (3 ft to 4 inches wide ) for residential communities which are shown on other Gallery pages on this website,especially GALLERY 19A: :
. 1. Apartment/condo/HOA building UNIT NUMBER AND ADDRESS NUMBER PLAQUES, directory maps, directional signs, building identification signs (e., office, laundry, recreation center,clubhouse,gym/fitness room), parking signs, rules signs, please click on Gallery 19A.
2. Parking/no parking/reserved parking/guest parking & handicapped parking signs, click on Gallery 17.
3. Street name signs, traffic signs, no parking signs click on Gallery 17.
4. Swimming pool, spa and tennis court signs , click on Gallery 16B ,
5. Community & private park signs , click on Gallery 16A ,
6 Yard-of-the-Month and Home-of-the-Month Signs for HOAs , click on Gallery 19B ,
More elaborate individual home address number plaques are shown in Gallery 18 ( single family homes), Gallery 20 (seashore and beach homes), Gallery 21 (lake and mountain homes), and Gallery 23 (ranches and farms). These Gallery photos can be viewed by clicking on the numbered text in the light blue boxes on the lower left margin.
We can make a complete set of signs for all functions that has the same style, color scheme and logo. We will design custom signs for you at no cost. Please refer to the ID number (e.g. K20053) if you want your sign to be similar to one or more signs shown in the Galleries.
The Gallery for Product Line 6 (click on the number 6 gray box to left) goes into more detail on the types of materials we offer. For more information on design options of the sign itself go to Price, Size, and Design Features page or Request a Estimate.
Normally you will receive your sign 3 to 5 weeks after you place a firm order and have approved a proof..Please call us at 951-698-8484 or EMAIL us at info@ArtSignWorks.com for more information on price, design options, and Schedule.