App. Gallery 21 - Lake & Mountain Homes/ Business
Custom Cabin, Cottage, Vacation Home, Residence, Lodge and and Business Signs for Lakes, Mountains, Forests, and Desert areas. Boating, hunting, fishing, skiing themes. 3D Wild animal, bird & fish art.
Welcome to our Photo Gallery 21 for over 200 examples of custom carved 3D painted and sandblasted 2.5D rustic Cedar, redwood and HDU signs made for lake, river, mountain and forest homes of all types, including cabins, cottages, and resort communities, and also associated businesses, including hunting, fishing, skiing, hiking, and boating businesses, lodges, stores and guide services.

If you have just entered our website and you want an overview of our company and all our products, please start with our Home page (dark gray tab upper left).Other homes and businesses on the beach and in ocean and Great Lakes coastal areas, are shown in Gallery 20, Seashore, Beach and Nautical Signs . Other pages, including other photo Galleries, can be visited by clicking on the numbered light gray boxes in the lower left margin of this page.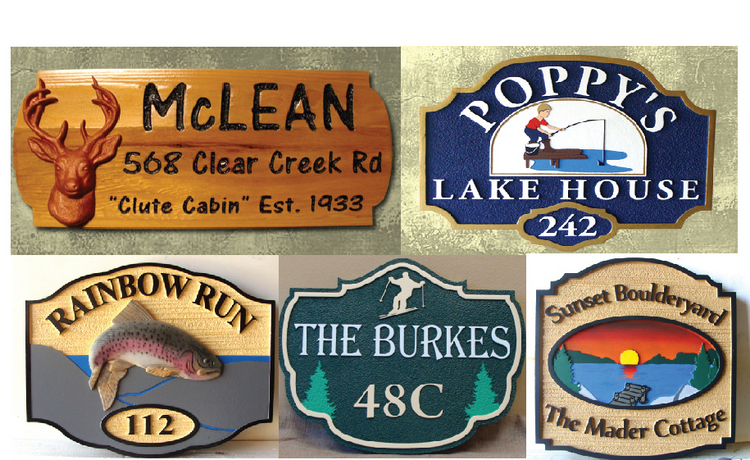 CUSTOM CABIN AND COTTAGE SIGNS
Please move the slider on the scroll bar on right edge of the window to see the photos lower down on this page .A description of sign styles and prices is given at the very bottom of this page, below the photos.

The photos on this page are shown in the following order, top to bottom:
(1) Hand-painted 2.5D and 3D HDU signs
(2) Rustic and naturally finished cedar and redwood signs
(3 ) 3D carved art appliques (mountains, lakes, trees, wildlife, birds, fish)
Please click on a Photo below to enlarge it and get more details. .

To return to the page you were on, click on your back browser button. To go to a different page in the photo Galleries, click on a numbered light gray box in the lower left margin. .
DESCRIPTION OF SIGN STYLES AND PRICES
These signs and plaques on this page are made from HDU, Redwood or Cedar, and can be sandblasted (letters, art and border higher than background) or engraved. The top half of this page shows painted HDU signs; the bottom half shows painted and rustic Cedar and Redwood signs and plaques.Styles range from the formal to elegant to whimsical to very rustic. These plaques can have the address only, the occupants or business name, a short message "Welcome") and art ranging from simple sandblasted art to art which is carved in 3D and airbrushed or artist-painted (bottom of page).Many of the signs on this page feature 3D wild animals (deer, bear, elk, moose,raccons, wolves, mountain lions), fish (trout, bass, pike, catfish), wildflowers and trees as art, in addition to lakes, mountains, forests and desert scenes.
We will design you a custom sign or plaque for you at no cost assuming you purchase the sign.Please refer to the ID number (e.g.M22061) if you want your sign to be similar to one or more signs shown in the gallery. Our most popular sizes for these signs are in the range from 16 inches to 36 inches wide. For more information on prices go to Price, Size, and Design Features page or Request a Estimate. Normally you will receive your sign 3 to 5 weeks after you place a firm order and have approved a proof..Please call us at 951-698-8484 or EMAIL us at info@ArtSignWorks.com for more information.
Related signs are as follow:
Seashore and ocean beach vacation homes and businesses are shown in Gallery 20; farm, ranch and western signs are shown in Gallery 23; and RV, campground, trail and park signs are shown in Gallery 16.