Application Gallery 16C - Funeral Home & Cemetery
Funeral Home, Mausaleum, Mortuary, Cemetery, and Memorial Signs & Plaques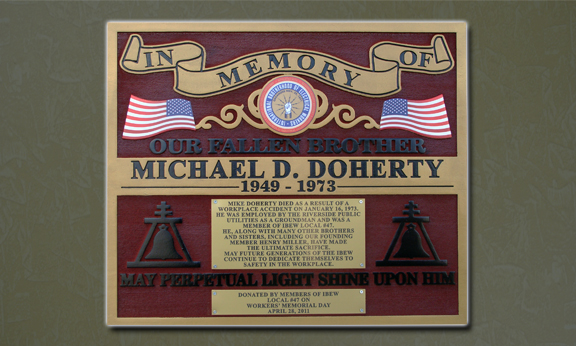 Welcome to our Photo Gallery of wood, High Density urethane, and bronze- and brass-coated signs and plaques for funeral homes & parlors, cemeteries, mortuaries, and memorials of all types.If you have just entered our website and you want an overview of our company and all our products, please start with our Home page (blue tab upper left). Other pages, including other Galleries, can be visited by clicking on the numbered light gray boxes in the lower left margin.Street name, traffic and parking/no parking signs are shown in Gallery 17. Religious and church signs, plaques, and carved symbols for many faiths are shown in Gallery 13. Move the slider on the scroll bar on the right margin of the window to see the photos at the bottom of this page, and a description of design options and price. Please click on a Photo below to enlarge it and get more details.
The photos on this page show examples of designs and photos of wood , hdu and bronze- and brass metal-coated signs and plaques for funeral homes and cemeteries. These include entrance and monument signs, directional signs, building identification signs, street signs, map signs, area signs, and memorial signs and plaques. We make both outside and interior signs. We make "sign systems", a complete set of signs for an complex with a common style , as well as individual signs. Please contact us for a free design and low prices. We offer masonry, EPS, Redwood, Cedar, and HDU dimensional signs made by CNC routing, sandblasting, and hand carving. We also make sandblasted granite memorial plaques (but not bronze plaques or tombstones). Please refer to ID numbers (e.g. G16425) if you find a sign or plaque you like.
Our most popular sizes for these signs is in the range from 24 inches to 120 inches wide. For more on prices go to Price, Size, and Design Features page or Request a Estimate.
Normally signs take 3 to 5 weeks to deliver after you have placed a firm order and approved your proof.Please call us at 951-698-8484 or EMAIL us at info@ArtSignWorks.com for more information on prices, designs and delivery schedule.
To return to the page you were on, click on your back browser button. To go to a different page in the Galleries, click on a numbered light blue box in the lower left margin. Other web pages can be visited by clicking on dark gray tabs at the top of this page or the light gray boxes in the upper left margin