Application Gallery 11A - Dentist Signs
BA11581 - Smiles Dentistry Entrance Sign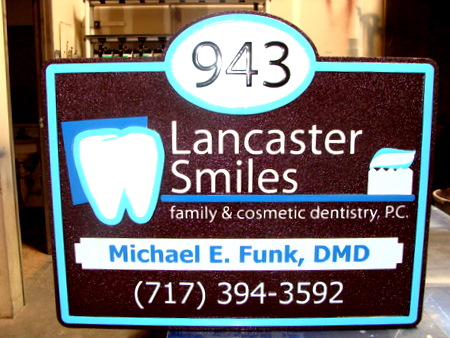 This page shows the design of a single sign, one of over 4000 different custom sign and plaque designs displayed in 44 indexed and organized photo galleries on this site.

Please click on Home to see our home page.
To see other sandblasted or engraved 2.5D, or premium carved 3D High-Density-Urethane (HDU) signs and plaques for dentists and orthodontists, and other dental care professionals, please click on Gallery 11A - Dentist Signs and Plaques.

This striking and eye-catching sign can be mounted on a wall outside, placed between two posts freestanding, or hung from a wrought iron scroll bracket. . Brown, aqua, blue and white colors are an unusual combination but seem to work well together.. Other good colors for this sign are forest green , blue-green , black & gold and maroon, black & gold We can make a sandblasted or carved wooden or HDU sign or plaque of any design in any size from 12 inches to 72 inches, for either indoor or outdoor use. These can be placed on iron or wood posts, a wall ,or an outside or inside door. We can customize these signs with any shape, border, font style, or color scheme with carved (engraved) or raised text and art of your choice.

The price for custom single-faced dental office signs ranges from approximately $150+ for small (12 to 20 in wide) signs up to $400+ for medium size (36 to 48 in wide) signs. Double-faced (two sided) signs are 50% more. Custom multiple medical office directory signs typically cost $350 to $500+, depending on size and number of names.

Please click on one of the numbered blue boxes on the lower left margin of this page to see other Photo Galleries, or use the navigation dark blue tabs at the top, or the blue boxes on the upper left margin to see other information. You can search for a specific sign type on this website by typing in key words in the Google Search bar at the top of this page. Return to the Gallery 11A (dental office signs) page by clicking Return to List.