Product Line 2, 3D Sculptured Bas-Relief HDU Signs & Plaques

Premium 3-Dimensional Carved (Bas-Relief or Full-Relief), Multi-layer, and/or Engraved HDU Signs & Plaques
Welcome to our photo gallery of examples of signs for Product Line 2 .. If you have just entered our website and you want an overview of our company and all our products, please start with our Home page (gray tab upper left). Looking for a specific application for a sign (e.g., lawyer, church, business, ranch, address, etc)? Click on one of our Application Galleries in the gray boxes on the lower left margin or go to our Photo Gallery Overview page for a complete index of applications.Call us at 951-698-8484 or EMAIL us at info@ArtSignWorks.com for more information.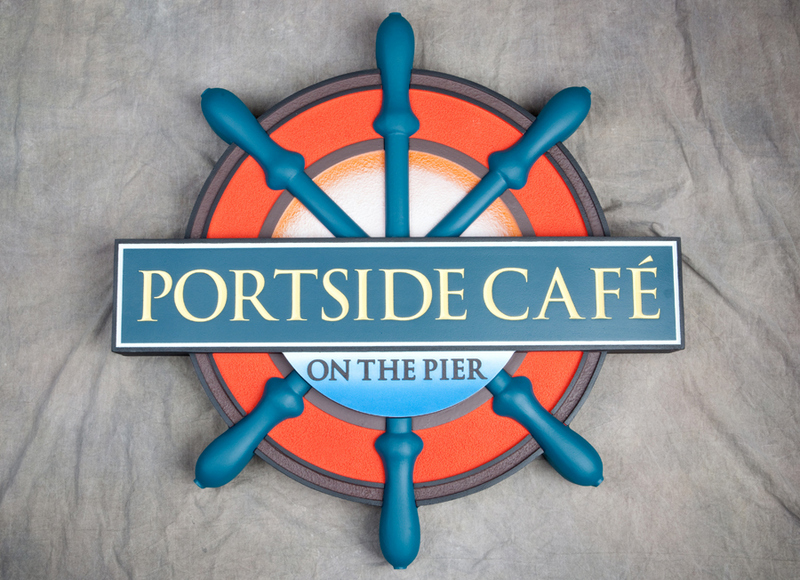 Carved 3D Full-Relief Restaurant HDU Sign, with Engraved Text
The photos on this page below show examples of signs in Product Line 2, Premium 3D Carved and/or engraved HDU signs and plaques.These are higher-end signs at bargain prices.
These signs and plaques have premium 3D hand-carved and/or machine-carved art and sometimes beveled or V-cut text , in contrast to regular sandblasted HDU signs which have 2.5D art and text. (as in Product Line 1) .They are more expensive (10 % to 40%) than the simpler sandblasted signs in Product Line 1, but they are more interesting and elegant. All HDU signs have a hard epoxy resin coating applied to provide a high degree of ruggedness and protection against damage, and to extend lifetime.
These signs and plaques are suitable for residences, estates, businesses, and organizations where dramatic and detailed signs will attract attention while giving the impression of quality and class. The artwork is more elaborate and will be hand-carved or CNC machine carved. The artwork is either sand-blasted at several different levels or CNC carved to give a bas-relief sculptured look. It is then hand-carved, hand-sanded, and hand-painted with artist brushes or air-brushed using 1-Shot oil enamels. We can also apply 24 K gold, aluminum or copper leaf to gild letters, borders or art., or we can bronze or antique some or all of the sign or plaque. A few examples of the carved art we make is shown in photos M2150, M2151, M2152, and M2153. We have a computer library of over 2000 "off-the-shelf" 3D art carvings of all types, and adding these beautiful appliques or engravings to your sign costs very little compared to the basic sign. We can also make V-cut or prismatic engraved letters or beveled or dual-level raised letters.
We can work from a computer file, or a photo,or a sketch you supply, or we can create a new design for you. Also included in this category are cut-out letters of art appliques (usually made from HDU) mounted on a HDU or wood substrate.These type of signs can range from the fairly simple to complex and elaborate.These are only some of the examples out of many thousands of possible design (colors, font styles, artwork) combinations. We will design you a custom sign design at no additional cost. Refer to ID number (e.g. M2307) if you want your sign to be similar to one or more signs shown in the galleries.