Product Line 3, Engraved, Carved & Sandblasted Wood Signs & Plaques
M3034 - Engraved Natural Cedar Wood Art Gallery Sign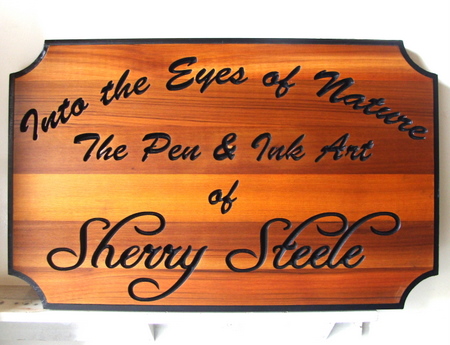 This page shows the design of a single sign, one of over 4000 different custom sign and plaque designs displayed in 44 indexed and organized photo galleries on this site.

Please click on Home to see our home page.
To see other wood signs and plaques in Product Line 3, please click on Gallery 3. Other business and art store signs are shown in Gallery 28A.

This very beautiful but simple cedar sign is engraved with our CNC router and hand sanded. This double-faced overhead sign which can hang from a scroll bracket (see Product Line 4 for scroll brackets). it can also be wall-mounted.

We can make a 2.5D (sandblasted, routed or engraved) or a 3D bas-relief carved wooden wall plaque or sign of any design in any size from 12 inches to 14 feet, for either indoor or outdoor use. We can customize these signs with any shape, border, font style, or color scheme with carved or raised text and art of your choice. We can make it out a variety of woods, including Western Red Cedar, California Redwood, Honduran or Philippine Mahogany, Teak, American Cherry, Red Oak and Maple. We can put on carved HDU appliques, flat digitally printed vinyl appliques, or thin metal overlays for "hybrid" plaques & signs. We can stain parts of the signs and plaques and then paint or gold or silver leaf gild text, trim and art for the rest of the sign (very beautiful for dark mahogany signs). Wood sign designs range from very elegant works-of-art to a rustic , distressed, and aged look.
The price for custom single-faced wooden signs ranges from approximately $150 for small (12 to 20 in wide) signs up to $500+ for medium size (36 to 48 in wide) signs, Double-faced signs are 50% more. Prices depend primarily on size, but also on the amount of detail and numbers of colors for art and text, and also the type of wood. Cedar and Redwood are the least expensive, and hardwoods like mahogany, teak and rosewood are more expensive.
Please click on one of the numbered blue boxes on the lower left margin of this page to see other Photo Galleries, or use the navigation dark blue tabs at the top, or the blue boxes on the upper left margin. You can search for a specific sign type on this website by typing in key words in the Google Search bar at the top of this page. Return to the Product Line 3 page by clicking Return to List.