Application Gallery 14 - Golf Course Signs
E14715 - Golf Club Wood Wall Plaque with Photos of Club Officers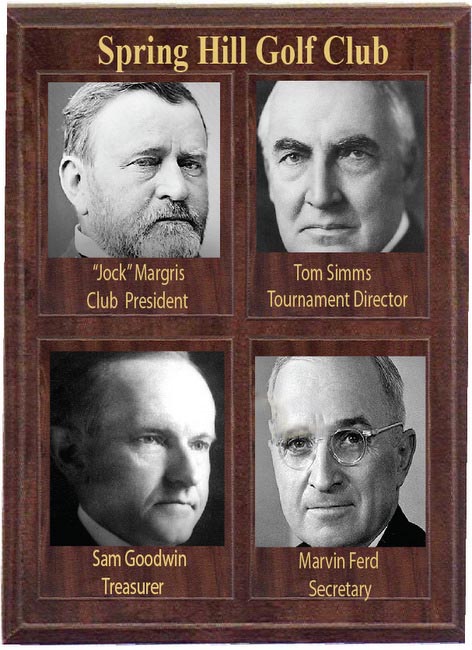 We make a wide variety of golf club custom wood wall plaques. These are beautifully crafted and finished. We use Mahogany, Rosewood, Cherry and other fine hardwoods, stained and clearcoated to last a lifetime. This American Cherry wood plaque has photos and names of Officers mounted in smaller replaceable thin wood plaques of current Club officers. We make Club Officer or Employee of the Month plaques ; Club or Tournament Champion perpetual plaques; and several other type of individual, group or perpetual plaques.We can put photos, engraved brass plaquelets, or 3D carved wood appliques such as shown in E14910 and E14911 on the wood plaque. Every plaque we make is custom to your specifications, of the highest quality, at very reasonable prices.
We make a large variety of sign shapes, sizes, colors, font styles, and art - we can include your club logo at no additional cost. We also make both tee markers and yardage markers, as well as information and direction signs on the course.
To see many photos and designs of dimensional golf course signage and plaques, click on "Return to List" below right..To see other Photo Gallery pages, click on one of the numbered blue boxes on the left hand side of this page. Other indoor wooden wall plaques for awards and recognition are shown in Galleries 30 through 37. Gallery 37 shows similar plaques for other sports..