Application Gallery 24 - Horse & Equestrian Signs
P25546 - Engraved Mahogany Stall Sign, with Horse Name & Carved Horseshoes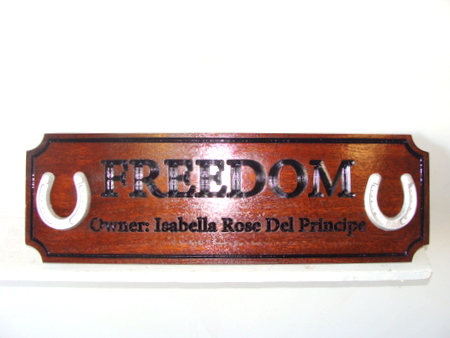 This page shows the design of a single sign, one of over 4000 different custom sign and plaque designs displayed in 44 indexed and organized photo galleries on this site.

Please click on Home to see our home page.
To see other sandblasted or engraved 2.5D, or premium carved 3D High-Density-Urethane (HDU) or wood signs for horse owners; equine businesses; horse farms & ranches, and equestrian facilities, with art that includes horses and equestrians, please click on Gallery 24 - Horse and Equestrian Signs. For other types of farms & ranches, cowboys and native Americans, rodeo events, and the old West, please click on, Gallery 23 - Farm and Ranch Signs.

This finely finished engraved mahogany sign for a horse's stall has a two carved horsehoes as its art. We can make intricate art and text with our computer-controlled router.. The text and border are painted with black paint; the horseshoes, metallic silver.The mahogany is given a dark stain. We have many designs for stall signs and plaques.
We can make a custom sandblasted or carved wood or HDU horse or equestrian sign or wall plaque of any design in any size from 2 ft to 14 ft wide. These can be placed on a stucco, stone or brick monument base, between iron or wood posts, or on a wall, fence or gate. We can customize these signs with any shape, border, font style, art, or color scheme with carved (engraved) or raised text and art of your choice.

The price for custom single-faced horse and equestrian signs ranges from approximately $150+ for small size (16 to 24 in wide) signs and plaques, such as this stall sign, up to $500+ for large signs 3 ft or wider, and $1000+ for 6 ft and larger. Double-faced (two sided) signs are 50% more. Monument bases, and wrought iron or wooden posts are in addition to sign prices, and can be purchased separately (see Product Lines 6 and 4)..

Please click on one of the numbered blue boxes on the lower left margin of this page to see other Photo Galleries, or use the navigation dark blue tabs at the top, or the blue boxes on the upper left margin to see other information. You can search for a specific sign type on this website by typing in key words in the Google Search bar at the top of this page. Return to the Gallery 24 (horse & equestrian signs ) page by clicking Return to List.