App. Gallery 10 - Law Office, Courtroom Signs & Plaques
Attorney, Law Office, and Courtroom Signs & Plaques
Welcome to our Attorney ,Law Office and Courtroom sign and wall plaque gallery. If you have just entered our website and you want an overview of our company and all our products, please start with our Home page ,dark gray tab on upper left.. Other web pages, including other photo Galleries, can be visited by clicking on a title in the gray boxes in the left margin; galleries are numbered in the lower left margin..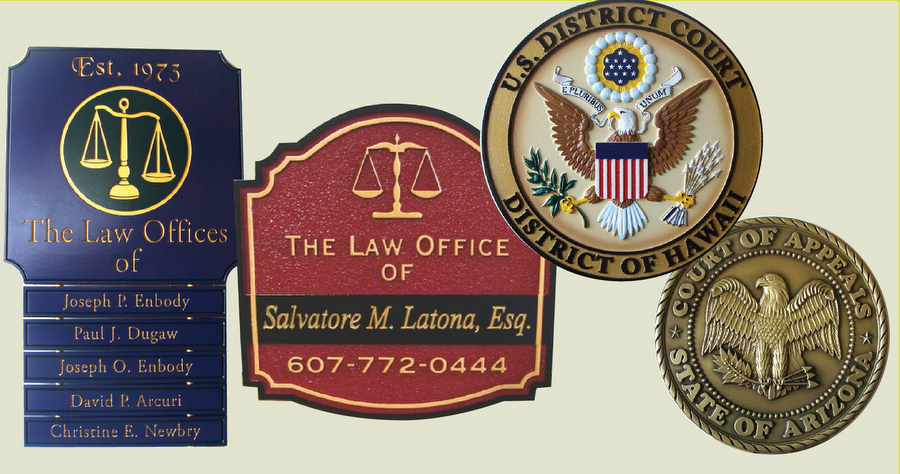 The photos on this page show examples of custom carved and sandblasted dimensional signs & plaques we have made for law offices, attorneys, courtrooms, prosecuters, public defenders, judges, and other legal professionals. This is one of our specialty areas; we sell several hundreds of custom signs and plaques of these types each year to the legal professions. These signs and plaques are carved from High Density Urethane (HDU), and mahogany, maple, cedar, and redwood. We also make bronze, brass, copper, stainless steel, aluminum-coated, and gold- and silver-leaf gilded, attorney and courtroom signs and plaques, shown below. We have over 200 examples of law office and courtroom signs on this page.

These signs and plaques are grouped in the following categories, listed in the following order on this page.
1. Signs and shingles for law offices and attorneys
2. Directory signs for law offices with multiple attorneys, listed on individual replaceable plaques
3. Signs and wall plaques for the judicial branch of federal, state, and local governments, including courtrooms and judge chambers
4. Miscellaneous signs and plaques. for District Attorneys, Public Defenders, law schools, legal aid , and other law-related entities
Please use the slider on the scroll bar on the right edge of this window to see the photos at the bottom of this page.Click on a photo or title to expand the image and get additional information.
Our signs and plaques can be a shingle you hang outside your office on a projecting hanger (blade sign), an outside wall sign, a free-standing two-post sign, or a smaller door or other inside office or courtroom sign or plaque. We can also make you finely finished engraved (gold leaf V-cut) or raised text mahogany or cherry wall plaques with your name, title, specialty, law school or other awards or honors. These 3D attorney plaques are some of our most popular signs & plaques, and customers have been very pleased with their signs.
Our most popular sizes for these signs are in the range from 24 inches to 48 inches wide. For more information on prices go to Price, Size, and Design Features page or Request a Estimate.
We will design you a custom sign or plaque for free if you purchase the sign. Refer to ID numbers (e.g. A10173) if you want your sign to be similar to one or more signs shown in the galleries.For more information on prices and designs call us at 951-698-8484 or EMAIL us at info@ArtSignWorks.com.
To return to the page you were on, click on your back browser button. To go to a different page in the Galleries, click on the title of a numbered gray box in the lower left margin. Other web pages can be visited by clicking on the dark gray tabs at the top of this page, or the gray boxes in the upper left margin