App. Gallery 31 - Military Signs, Wall Plaques & Awards
V31421 - Carved 3D Mahogany USMC Emblem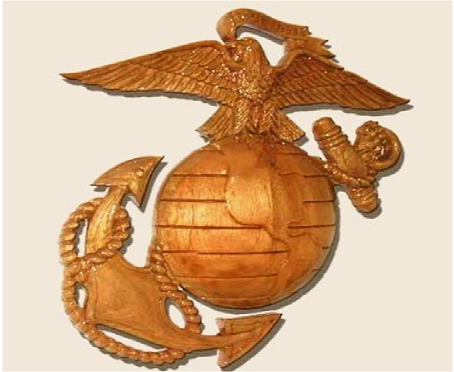 Please click on Gallery 31 to see over 110 DoD, Navy, Marine Corps,, Coast Guard, Army, and Air Force plaques and signs.
This 3D deep-relief Marine Corps emblem is carved, stained, and clear-coated. this beautiful wood emblem can be add4ed to a wide variety of plaques and sign designs.This emblem can be made in several types of wood or HDU, in any size from 16 inches to 48 inches in diameter. A 24 in diameter emblem is shown here.
If you have a seal, an emblem, a logo, a coat-of-arms, a flag, an ensign, a badge, an insignia, or shoulder /chest patch, we can make a 2.5D or 3D carved wood or hdu wall plaque of it in any size from 12 inches to 12 feet, for either indoor or outdoor use. We can customize or personalize any of these plaques with carved text for individual or organization names, achievements, citations, dates, etc.
These plaques can be finished in full color, or a variety of bronze, copper, gold, silver , natural wood, and stained and bleached wood finishes (see V31002,V31003 and V31003 in Gallery 31) Please click on Gallery 31 to see over 110 DoD and Armed Forces plaques and signs.
To view other Photo Gallery application pages, click on one of the numbered blue boxes on the lower left. All Federal Government civilian branch, department, agency, and bureau plaques and signs are shown in Gallery 30. Other government, police, firemen seal & emblem plaques are shown in Gallery 32 (State Governments plaques),and Gallery 33 (County & Local Government plaques). University, fraternity and school plaques are shown in Gallery 34, and company logos, club emblems, and sports teams in Gallery 35 (click on numbered blue boxes left margin).