App. Gallery 16A - Community / Private Parks & Gardens
City, Community and Private Park and Garden (including Home Gardens) Signs & Plaques
Welcome to our Photo Gallery of signs and plaques for community and private parks and gardens. Included here are signs for city parks,community parks, private parks,commercial parks & gardens, HOA parks, and city, community and private gardens. If you have just entered our website and you want an overview of our company and all our products, please start with our Home page (dark gray tab upper left).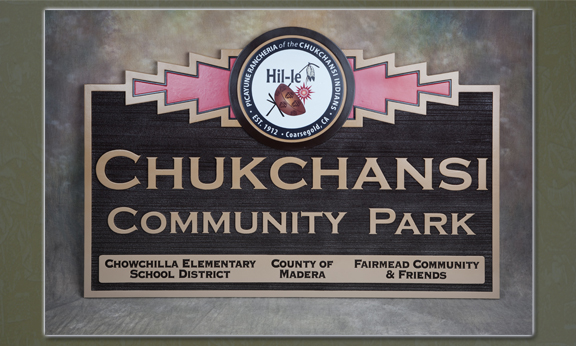 These signs & plaques are shown in the following order listed in the Gallery below.(1). Park & Garden entrance and monument signs (2) Smaller Park entrance signs (wall and gate-mounted) ( 3) Park rule and wayfinding signs ( 4 )Restroom signs (5) Plant & tree signs and stakes (6) Backyard garden signs and plaques (7) Wrought-iron posts and scroll brackets (8) 3D Carved Wood Appliques for park & garden signs.
Please click on a photo Photo below to enlarge it and get more details. . A description of design features and cost for the signs in this Gallery is given at the bottom of this page(scroll down).
DESCRIPTION OF SIGNS STYLES
Our park and garden signs and plaques have styles which range from formal to rustic, and are made of HDU, cedar and redwood.
We make individual signs, from large entrance monument signs to small plant marker signs, which include wrought iron holders and stakes. We also make dedication and information signs, directory signs, 3D and 2D map signs ,directional signs, building signs, restroom signs, plant and garden signs and plant identification markers,and tree signs and plaques,along with iron posts, stakes & hangers, and also "sign systems", a complete set of signs for a park or garden with a common style .
We make our dimensional signs by CNC routing, sandblasting, and hand carving, and also MDO 2D flat signs (less expensive) with long-lasting outdoor digitally-printed vinyl appliques for some applications.
We can provide wood, steel , EPS , stone or brick bases for large entrance or monument signs (see Application Gallery 6) . We can also provide aluminum or wrought iron posts, finials, and hangers for hanging or post signs, and wrought iron ground posts and stakes for plant & tree markers. Please refer to ID numbers (e.g. G16425) if you find a sign you like. Please contact us for a free custom design and low prices.
Normally signs take 3 to 4 weeks to deliver after you have placed a firm order and approved your proof.Please call us at 951-698-8484 or EMAIL us at info@ArtSignWorks.com for more information on price quotes, design options, and delivery schedules.
Other pages, including other Galleries, can be visited by clicking on the numbered text in the light gray boxes in the lower left margin. Related signs are as follow:
* Camping & hiking park and trail signs (e.g., National Parks, Monuments & Forests; state parks, regional parks, public & private campgrounds, trails and RV parks), click here Gallery 16
* Swimming pool and tennis court signs, click here Gallery 16B
* Yard-of -the- Month, Garden-of-the-Month signs, click here Gallery 19B
* Golf Courses and Country Club signs , Gallery 14
* Wrought iron & aluminum signposts, scroll brackets & frames, Gallery 4
To return to the page you were on, click on your back browser button. To go to a different page in the Galleries, click on a numbered light gray box in the bottom left margin. Other web pages can be visited by clicking on dark gray tabs at the top of this page or the gray boxes in the upper left margin.