App. Gallery 28A - Business Signage (Wall, Hanging)
SA28427 - Carved Wooden Hair Salon Sign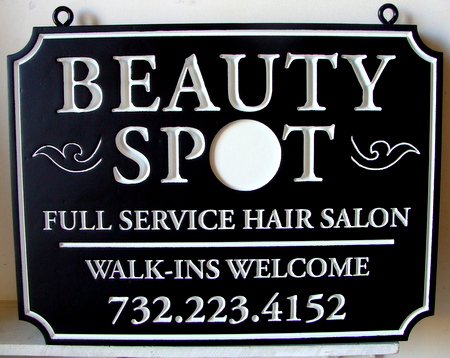 This page shows the design of a single sign, one of over 4000 different custom sign and plaque designs displayed in 44 indexed and organized photo galleries on this site.

Please click on Home to see our home page.
To see other medium size sandblasted or engraved 2.5D, or premium carved 3D High-Density-Urethane (HDU) or wood signs, for retail stores and shops, service shops, companys, corporations, and businesses of all types, please click on Gallery 28A - Business Signage (Wall, Hanging) Large business entrance signs are shown in Gallery 28, and small interior Point-of-Sale (POS) / Point-of-Purchase (POP) signs and plaques are shown in Gallery 28B. Specialty business and store signs for professionals, medical & financial businesses, golf courses, apartments, resort businesses, farms & ranches, restaurants, bars, wineries, and hotels are shown in Galleries 10 through 29 - click on the appropriate Gallery number in the blue navigation menu in the left margin.

This unique and decorative hair salon sign is attention-getting yet has dignity; it makes you want to go in the salon. . It has both 3D raised prismatic lettering and a smooth background. .Black and white colors are very dramatic here; shadows on the prismatic letters give a unique appearance. This sign was made with our CNC router It can be mounted on a wall or hung from a wood or iron hanger/scroll bracket out from the wall or a post, as was thesign shown on the right.
We can make a sandblasted or carved retail store or other business sign of any design in any size from 2 ft to 14 ft wide. These can be placed on a stucco, stone or brick monument base, between iron or wood posts, or on a wall, fence or gate. We can customize these signs with any shape, border, font style, art, or color scheme with carved (engraved) or raised text and art of your choice.

The price for custom single-faced medium size business and store signs ranges from approximately $200-$300+ for small size (16 to 24 in wide) signs and plaques up to $500-$900+ for large signs 3 ft to 6 ft and $1000+ for 6 ft and larger. Double-faced (two sided) signs are 50% more. Wrought iron or wooden hangers and scroll brackets and posts are in addition to sign prices, and can be purchased separately (see Product Lines 6 and 4).

Please click on one of the numbered blue boxes on the lower left margin of this page to see other Photo Galleries, or use the navigation dark blue tabs at the top, or the blue boxes on the upper left margin to see other information. You can search for a specific sign type on this website by typing in key words in the Google Search bar at the top of this page. Return to the Gallery 28A (business signs, wall and overhead mounts) page by clicking Return to List.