Application Gallery 17 - Street, Traffic & Parking
Street Name, Road Name, Private Road, Directional, Wayfinding, Stop, Yield, Speed Limit, Children Playing, Parking and Reserved Parking Wood Signs and Iron Posts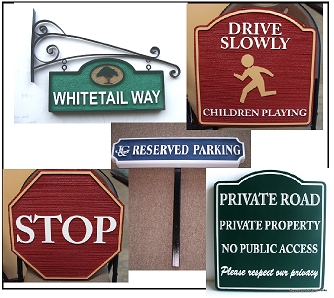 Carved Wood Street, Traffic and Parking Signs
Welcome to our photo Gallery of custom carved wood and HDU street, traffic and parking signs, and associated round and square wrought iron signposts, bases, finials, scroll brackets, and other sign attachment hardware. If you have just entered our website and you want an overview of our company and all our products, please start with our Home page (dark gray tab upper left). Other pages, including other Photo Galleries, can be visited by clicking on the gray boxes in the left margin. Move the slider on the scroll bar on right edge of the window to see the photos at the bottom of this page.and additional design information on these signs.Please click on a Photo below to enlarge it and get more details. .
The photos on this page show custom 2.5D & 3D dimensional street signs, traffic signs, directional signs, private drive signs, and parking/no parking /reserved parking signs.The signs are shown in the following order on this Gallery page:
1. Street or Road Name Signs and Posts
2. Private Drive, Traffic, Stop, Yield, Slow, Speed Limit and Children Playing Signs
3. Parking, No Parking, Guest Parking,. and Reserved Parking Signs
STREET<,TRAFFIC, AND PARKING DESIGN DESCRIPTIONS
Our custom street, traffic and parking signs can be made from HDU, Redwood , Cedar, PVC or MDO, and can contain logos, seals or other custom art.They either have lettering, borders and art raised,or alternatively carved (incised) into the surface with either a V-carved or flat bottom profile.. We can also supply custom Redwood or wrought iron posts, hangers,and frames made to fit the sign for easy installation (see Product Line 4 for more detail >Rugged and Long-Lasting. We coat all of our HDU and wood signs with a tough, hard surface epoxy resin before we paint them.This is the same coating used on fiberglass boats, and the signs will not only last 30 years or longer, they are very resistant to impacts from rocks, bird strikes, etc. These are just as tough as cast aluminum at less than 1/3 the price, and will last longer (aluminum corrodes over time).They also look better..
Prices and Delivery Schedule. Our most popular sizes for these signs are in the range from 18 inches to 24 inches wide For more general information on prices go to Price, Size, and Design Features page or Request a Estimate.
Normally you will receive your sign 3 to 5 weeks after you place a firm order and have approved a proof..Please call us at 951-698-8484 or EMAIL us at info@ArtSignWorks.com for more information on designs, delivery schedules, and prices.
To return to the page you were on, click on your back browser button. To go to a different page in the Galleries, click on a numbered light blue box in the lower left margin. Other web pages can be visited by clicking on dark blue tabs at the top of this page or the light blue boxes in the upper left margin