Application Gallery 16B - Swimming & Tennis
Swimming Pool and Tennis Court Signage (Welcome, Rules, Directional, Humerous)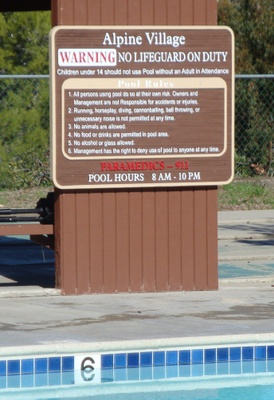 Welcome to our photo and design Gallery of swimming pool, swimming lake, and tennis court signs.If you have just entered our website and you want an overview of our company and all our products, please start with our Home page (blue tab upper left). Other pages, including other Galleries, can be visited by clicking on a title in the light gray numbered boxes on the lower left side margin of this page. Related galleries include golf Courses (Gallery 14), Apartments ,Condos & HOAs (Gallery 19), Parks (Gallery 16A), and Hotels & Resorts (Gallery 29).
You can expand any of the photo below by clicking on a photo or title. A description of the design for that sign is also provided. Move the slider on the scroll bar on right margin to see the photos at the bottom of this page, and a description of design options and costs.
The photos on this page show a wide variety of examples of custom dimensional signs and wall plaques for private and public swimming pools and tennis courts, located at resort hotels, country clubs, swim clubs and resorts, tennis clubs and resorts, municipal parks, apartment and condo complexes, HOA parks, and private residences and estates. We make:
(1) Entrance & monument signs(Gallery 6)
(2) Safety and Rule signs
(3) Comic/humerous signs
(4) Pool bar signs(Gallery 27)
(5) Restroom Signs
(6) Swim meet signs
(7) Tennis tournament signs
(8) Award & recognition wooden wall plaques(Gallery 37)
(9) Wrought iron, aluminum and wood posts and hangers

These signs and plaques can be made from Redwood, Cedar, Mahogany, or High-Density-Urethane (HDU), Text, numbers, logos, art and borders can be higher than the background or engraved (carved into it), or both. Styles range from the formal to elegant to contemporary to rustic. We make them to reflect the message and style the business wants to give the visitor. All of our HDU signs have a tough protective hard coating made of epoxy resin (like fiberglass boats) to extend lifetime and ruggedness. These dimensional signs will last longer than sheet aluminum signsand look a lot better. We can make a single sign to match existing signs, or a complete set of signs for a swimming pool or tennis complex which has the same style, color scheme and logo for all signs. We will design custom signs for you at no cost. We also make aluminum and wrought iron hangers, posts, finials, and sign frames. Please reference the ID number (e.g. K20053) if you want your sign to be similar to one or more signs shown in the Galleries.
For general information on prices and design options go to Price, Size, and Design Features page or Request a Estimate.
Normally signs take 3 to 5 weeks to deliver after you have placed a firm order and approved your proof.Please call us at 951-698-8484 or EMAIL us at info@ArtSignWorks.com for more information on prices, designs and delivery schedule.
To return to the page you were on, click on your back browser button. To go to a different page in the Galleries, click on a numbered light gray box in the bottom left margin. Other web pages can be visited by clicking on dark gray tabs at the top of this page or the light gray boxes in the upper left margin