App. Gallery 34 - University, Fraternity, and School Wall Plaques
University, College, Fraternity, Sorority, and Secondary School Custom Carved Wooden Plaques , including seals, emblems, logos, coat-of-arms, insignia and flags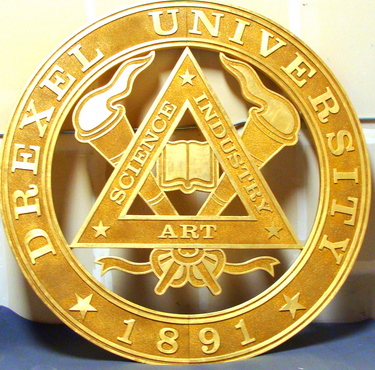 Large Gold-Leafed Great Seal University Wall Plaque
Welcome to our photo gallery of our custom and personalized carved wooden plaques for university, college, fraternity & sorority, and secondary school seals, emblems, flags, insignia, and coats-of-arm. These can be used for identification (e.g. outside on a building wall,or inside in a reception area, lobby, hallway,auditorium, gymnasium, conference room, office or on a podium). They can also be used for personal or organizational achievement, graduation, award, recognition, service, or retirement plaques, since text can be added to any plaque.
If you have just entered our website and you want an overview of our company and all our products, please start with our Home page (blue tab upper left). Other pages, including 40 other photo Galleries, can be visited by clicking on the text in the light blue boxes in the left margin.
On this page we have examples of our wide selection of custom carved wood or HDU wall plaques for university, college, fraternity & sorority, and secondary schools.These are listed in the following order;(1) universities & colleges; (2) fraternities, sororities and college clubs; and (3) public and private high schools. Please scroll down using the slider on the right margin of the window to see all of the designs on this page. We have included on this page only a small sample of the plaques we can make because of copyright laws.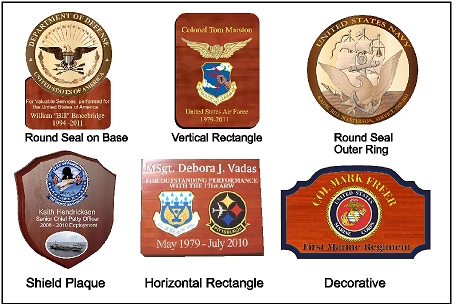 Six Designs for Plaques that Allow Personalization
However, we can duplicate and enhance any university , college, fraternity, sorority, or secondary school any seal, insignia, emblem, coat-of-arm, or logo, if we are provided a photo, a drawing, a sketch, or a vector file of it (we can also get these off the internet).. We can take any image and then design and make it into a custom carved wooden plaque, and also add onto the plaque the organization or school's name and/or individual recipient's name,date and citation. We make wall plaques from 12 inches wide to 12 feet wide (for outside building walls). These do not have to be round plaques; we can make any shape plaque, or mount a round seal on a mahogany or Cedar wood backboard that in the shape of a shield, a rectangle, ornate or arbitrary shape,etc.
We can customize and personalize with text , materials, and color any plaque shown on this page, and make a custom plaque for ANY other seal, emblem, logo or coat-of-arms you may have. The top row of pictures (Y3002 to Y3004) shows the many style and material variations (hdu, wood, gold-and silver-leaf, wood stain, colored paints) we can use to make any plaque.. Although we show painted hdu in full color for most plaques on this page, we can make them out of wood or put any of several types of top coatings/color schemes on them, similar to the top row.
These custom plaques are very reasonably priced, ranging from $150 to $250 for smaller plaques 16 to 20 inches wide , up to $550-$1100 for 36 to 48 inch wide plaques depending on material, complexity and size. For more information on prices go to Price, Size, and Design Features page or Request a Estimate. Normally you will receive your plaque 3 to 4 weeks after you place a firm order and have approved a proof..
We will design you a custom and personalized sign or plaque for free if you purchase it.. Refer to ID numbers (e.g. W32180) if you want your plaque to be similar to one or more plaque designs shown in the galleries. Any of these can be personalized or customized, by adding on an outer ring with text, or by mounting the seal on a natural wood plaque (rectangle, shield, or other shape) with an inscription. Our custom "2.5D " designs have multiple layers , each of which is flat but is raised at a different level of relief. These are about 10-30% less expensive than 3D custom designs, which are rounded bas-relief (continuous curvature like a sculpture) .For smaller plaques, or very intricate detailed artwork, we may use a laser engraver or alternatively a digitally printed full-color applique for some or all of the art. This can be applied over 3D bas relief or a 2.5D flat surface; the rest of the plaque, including borders and text, will be machine or hand-carved and hand-painted. Artist brush painting very small details on small plaques is very labor intensive and often results in a less attractive appearance than a digital image of the original art for the seal. For large plaques (36 to 72 inches in diameter), or for simpler, less detailed or stylized art for smaller plaques, we machine carve the art in either 2.5D or 3D relief and artist-brush paint it, and generally do not use digitally printed vinyl appliques.
Please click on a Photo below to enlarge it . To return to the page you were on, click on your back browser button. To go to a different page in the Galleries, click on a numbered light blue box in the bottom left margin. Other web pages can be visited by clicking on dark blue tabs at the top of the page or the light blue boxes in the left margin.
We also make wall plaques for
(1) the Federal government - Gallery 30
(2) the US military - Gallery 31 ;
(3) State governments - Gallery 33
(5) Companies; civic, social and fraternal clubs; and sports teams,Gallery 35
This web page is under construction, and will have about 100 seals, coat-of-arms, and logo plaques for universities, colleges, fraternities, sororities, and secondary schools. Call or email us about your requests.