Signs & Plaques
M22902 - Sandblasted Address Sign "Howling Hill" Featuring a Wolf in a Mountain Scene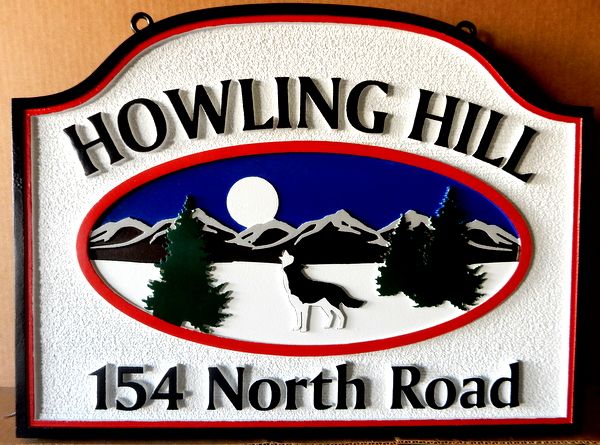 This cabin sign "Howling Hill" features a carved mountain scene with a wolf howling at the moon, elevated above a sandblasted (sandstone texture) white background. The artwork, text and border are artist painted. The entire sign is clear-coated twice for maximum protection against UV and rain and snow. The sign can be mounted on a wall or gate, on a post or between two posts, or hung from a wood or iron hanger from eye-hooks on the top of the sign.
In this Gallery 21 you can view over 500 custom carved 2.5-D, 3-D, sandblasted and engraved cabin and cottage signs made of wood & High-Density-Urethane (HDU). To visit Gallery 21, please click on Gallery 21- Lake and Mountain Homes & Businesses. These signs are suitable for lake and mountain homes, cabins, cottages, & businesses, with artwork that includes wild animals, birds, fish, trees, skiers, hunters, fishermen, mountains, and lake scenes.
We make custom carved wood and High-Density-Urethane ( HDU) residence, vacation home, and business signs or plaques of any design in any size from 12 inches to 14 feet. We can customize these signs with any shape, border, font style, or color scheme with carved (engraved) or raised text and artwork of your choice. These can be placed on an entrance gate, a monument base, between iron or wood posts, on a outside or inside wall, or on an outside door. They can also be hung from a wrought iron scroll bracket or wood beam which may be supported by steel or wood posts.
For more information on prices, design options, and delivery schedules, please email us at info@artsignworks.com or call us at 951-698-8484, and our helpful and knowledgeable Customer Service Representatives will respond promptly.
Please click on one of the numbered light gray boxes on the lower left margin of this page to see a few more of our 45 Photo Galleries, which have a total of over 8000 photos. Other related Galleries include Gallery 23, 16, 18, 19 and 20. For farm and ranch signs, many of which also have artwork of wild animals and mountain & forest scenes, click on Gallery 23 - Ranch & Farm Signs. You can click on Home to see our home page. Please click on one of the numbered light gray boxes on the lower left margin of this page to see other Photo Galleries, or use the navigation dark gray tabs at the top, or the gray boxes on the upper left margin to see other information such as prices, order forms, testimonials, etc.
You can return to the Gallery 21 (cabin & cottage signs) page by clicking on "Return to List" below right.