Signs & Plaques
M22983 - Carved 3D Wood Buffalo, Stellar Jay, and Pheasants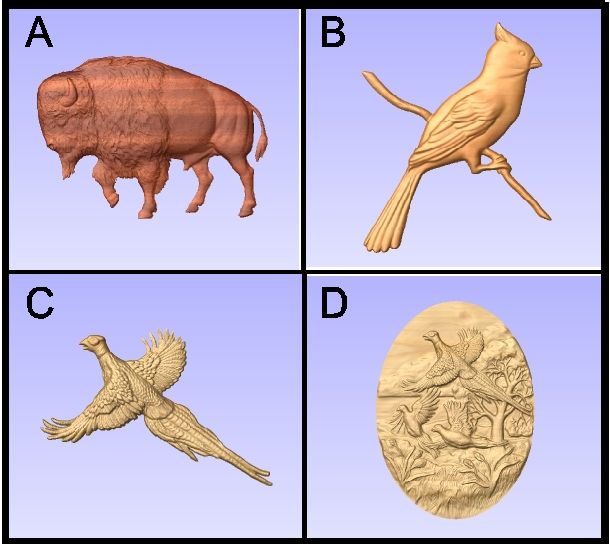 This page shows the designs of an American Bison, a Stellar Jay, and pheasants, carved from wood or HDU, which can be placed into any of our signs and plaques of sufficient size. We have over 4000 different custom sign and plaque designs displayed in 44 indexed and organized photo galleries on this site.

Please click on Home to see our home page.
To see other carved 3D wood or High-Density-Urethane (HDU) art pieces for signs suitable for lake and mountain homes & businesses, including wild animals, birds, fish, trees and scenes, and also our cabin and cottage wood & HDU signs, please click on Gallery 21- Lake and Mountain Homes & Businesses.



These carved Bison and birds(Bison(A), Egret (B),Blue joy on a branch (C) american ring-tail pheasant and Pheasants in flight(D)) can be put on any HDU or wood sign of sufficient size.They are carved from either HDU or wood of various types, and have exquisite detail and finish quality. They can be modified, and are hand-sanded and hand-painted. For wood, including Mahogany, they can be stained and clear-coated. For HDU, they can be artist-brush painted their natural colors (your choice) in multi- color enamels, or alternatively, gold, silver or copper-leaf gilded in HDU. One of these only increases the cost of the sign by $50 to $75, depending on size and finish. A carved 3D sculpture will make your sign unique and classy at a budget price
The price for custom single-faced cabin & cottage signs with carved 3D art ranges from approximately $175 for small (12 to 18 in wide) signs up to $400+ for medium size (36 to 48 in wide) business & residence signs. Double-faced (two sided) signs are 50% more.

Please click on one of the numbered blue boxes on the lower left margin of this page to see other Photo Galleries, or use the navigation dark blue tabs at the top, or the blue boxes on the upper left margin to see other information. You can search for a specific sign or carved art type on this website by typing in key words in the Google Search bar at the top of this page. Return to the Gallery 21 (lake & mountain signs) page by clicking on Return to List.