Signs & Plaques
M22999 - 3D Carved Wood or HDU Fishing Scene with Muskie & Fishing Boat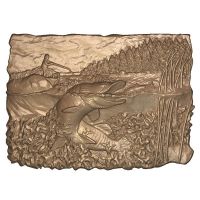 This 3D carved bas-relief fishing scene, with Muskie breaking water, can be placed on any sign or plaque wider than 20 inches. They can be made of HDU or many kinds of wood, and can be stained, painted in multi-colors by an artist, or copper, bronze , gold or silver leaf coated. It can be scaled to any width from 16 inches to 8 feet, with a wide range of reliefs (depths) . We can make a sandblasted or carved cabin, cottage and , vacation homes or business sign of any design in any size from 2 ft to 14 ft wide. These can be placed on a stucco, stone or brick monument base, between iron or wood posts, or on a wall, fence or gate. We can customize these signs with any shape, border, font style, art, or color scheme with carved (engraved) or raised text and art of your choice.
To see other sandblasted or engraved 2.5D, or premium carved 3D High-Density-Urethane (HDU) or wood entrance signs for lake & river houses and cottages, mountain and forest cabins, vacation homes, ski lodges and cabins, and hunting, fishing and outdoor businesses of all types, please click on Gallery 21 - Lake & Mountain Home and Business Signs

Please click on one of the numbered blue boxes on the lower left margin of this page to see other Photo Galleries, or use the navigation dark blue tabs at the top, or the blue boxes on the upper left margin to see other information. You can search for a specific sign type on this website by typing in key words in the Google Search bar at the top of this page. Return to the Gallery 21 (lake and mountain home & business signs ) page by clicking Return to List.