Signs & Plaques
M22999B - Scroll Brackets and Finials for a Lake or Mountain Vacation Home Sign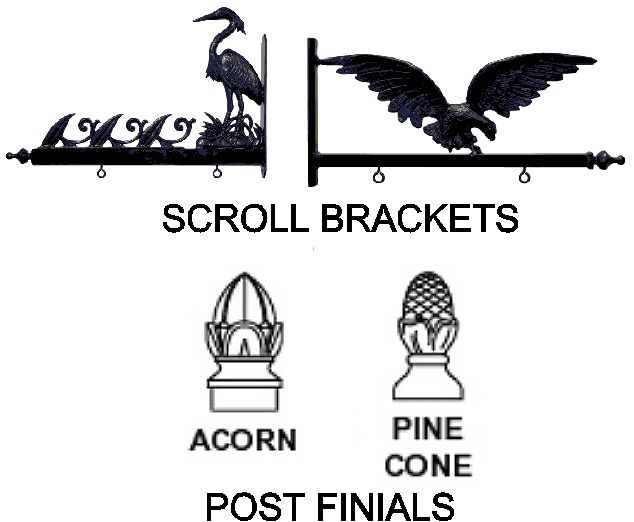 This page shows the designs of a wrought iron post and scroll bracket which can be used to hang into any of our signs and plaques of appropriate size. We have over 7000 different custom sign and plaque designs displayed in 45 indexed and organized photo galleries on this site.

Please click on Hometo see our Home Page.
To see other wrought iron hangers and also carved 3D wood or High-Density-Urethane (HDU) signs suitable for lake and mountain homes & businesses, including mountain and lake scenes, wild animals, birds, fish, and trees, and also our cabin and cottage wood & HDU signs, please click on Gallery 21- Lake and Mountain Homes & Businesses.



Our wrought iron and aluminum posts and sign hangers come in a wide variety both standard and custom models. These are powder coated to increase their lifetime. These decorative wrought iron and aluminum scroll bars and finials (for top of round post) in the picture on the right are suitable for a vacation home.If you also buy a sign from us, we will ensure the hardware for the sign is compatible with hanging hardware on the scroll bracket. More models of posts, brackets, bases and finial are shown in gallery for Product Line 4

Please click on one of the numbered gray boxes on the lower left margin of this page to see other Photo Galleries, or use the navigation dark gray tabs at the top, or the gray boxes on the upper left margin to see other information. You can search for a specific sign or carved art type on this website by typing in key words in the Google Search bar at the top of this page. Return to the Gallery 21 (lake & mountain home and business signs) page by clicking on Return to List.