Signs & Plaques
M4410 - Double Round Fluted Posts with Sign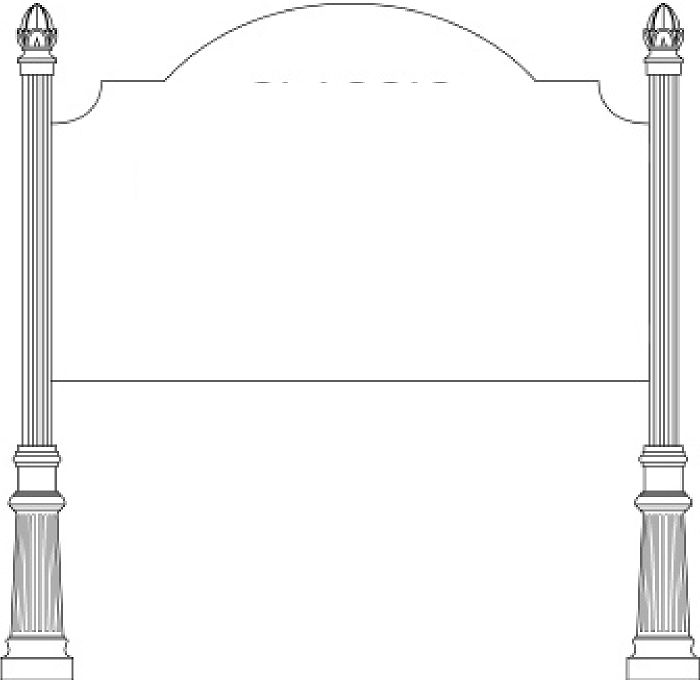 These two round fluted  aluminum are used to support what is commonly called post-and-panel signs.These aluminum posts shown above are 3 or 4 inches in diameter, and have decorative Highland bases and  acorn finials. Wood, High-Density-Urethane. HDPE or aluminum  signs are typically 18 to as much as 72 inches wide, with the posts at both ends.  The sign is typically connected to the posts with steel side brackets installed on both ends of the sign, extending above and below the sign, with holes in the ends of the brackets through  which  screws can be inserted into the posts. Another technique for fastening the sign to the posts is use of  L- brackets. Wood and High-Density Urethane signs are typically 1.5 to 2 inches thick, and are usually strong enough to support themselves across the span of the width.  If the span between the posts is wide enough, a horizontal steel  flat bar  on  the bottom of the sign (especially HDU signs, which are not as strong as wood signs) is  attached to the posts  to help support the weight of the sign.
To see more than 60 other wrought iron and aluminum scroll brackets, posts, bases and finials in Product Line 4, please click on Gallery 4.
Please call us at 951-698-8484 or email us at info@artsignworks.com for information on design options, price quotes, and delivery schedule, and our knowledgeable and helpful Customer service representatives will respond to your requests promptly .
You can click on Home to see our home page. Please click on one of the numbered light gray boxes on the lower left margin of this page to see other Photo Galleries, or use the navigation dark gray tabs at the top, or the gray boxes on the upper left margin to see other information such as prices, order forms, testimonials, etc. You can search for a specific sign or wall plaque type on this website by typing in key words in the Google Search bar at the top of this page.
You can return to the Gallery 4 page by clicking "Return to List" below right