Signs & Plaques
M4518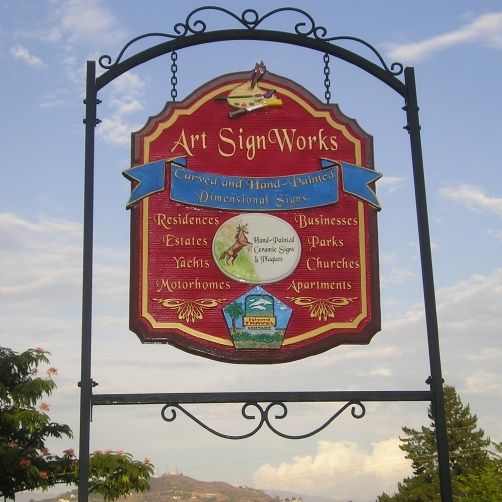 Model CDC-25. This beautiful wrought iron sign stand will accommodate signs from 18 inches wide to 23 inches wide and up to 30 inches high that have a curved top. Other similar models will handle up to 36 in wide signs. It comes complete with two ground stakes that the vertical posts bolt onto , two vertical posts, a curved top bar with scroll, a cross-bar with scroll, and four brackets extending from the vertical posts that support the sign with screws. All parts are zinc-coated, primed with a high-quality metal primer, and given two coats or Rustoleum metal enamel.
If you buy a sign from us at the same time, we will attach steel support plates to the top of the sign with epoxy and screws so that they matches the location of the chain terminal links, making installation of the sign very simple. However, this stand can also be used with other signs of the appropriate size as well, but may require additional installation steps such as drilling into the sign.
Weight limit is 100 lbs for this stand using our stakes driven into the ground; if the vertical posts and stake are set in concrete, the sign's weight limit is 200 lbs, much greater than most signs this size weigh.
We use a ground stake system as the foundation for this sign stand; simply pound with a hammer steel zinc-plated stakes into the ground about 18 inches deep and then bolt the vertical posts onto the stakes. This works well with topsoil, clay and most mixed soils found in lawns and landscaped areas; however, it will not be effective in loose sand (the stakes will work loose)or rocky,hard-packed dirt (you will not be able to pound the stakes in). For these you will need to dig a post-hole 18 inches deep and a about a foot wide and surround the vertical post/stake assembly with concrete (preferred) or rocks, filling the hole to ground level.The steel used for posts and cross-beams are very strong; however the stakes may loosen in very strong winds unless they are set in concrete.
We also offer this stand in two other widths: 33 inches (Model CDC-33) and 20 inches (Model CDC-20). Model CDC-33 is for signs with widths from 23 inches to 30 inches. MODEL CFS-40 handles signs from 36 in to 30 in wide. Model CDC-20 is for signs with widths from 12 inches to 18 inches.
The maximum height of this stand is 66 inches from ground level to high point on the top beam; we will make the stand shorter if you give us your required height.
More details on the design, manufacturing and installation of these unique wrought iron sign stands are given in a couple sections in the Tech Tips page under Resources and Support on the "Go To" menu at the bottom of this page, or the Product Catalog for Product Line 7, downloadable from the Products page (use the "Go To" menu to get there).
CAUTION: The sign stands with chains are meant to be used in areas where wind speeds are low. Because HDU signs are light, if you use chains to hang your sign where winds are consistently 15 miles/hour or more for extended periods of time, the sign acts like a sail and you may damage your sign or stand because the sign may bang into the stand. For windy locations, we recommend you use the fixed bracket stand instead (Model CDF-25, in picture M7200 to the left), or if you want the look of chains, you can use both methods, at an additional cost of $10 compared to chains alone.
COLORS: Flat black, semi-gloss black,semi-gloss brown, semi-gloss white, and semi-gloss tan