Signs & Plaques
ALL OF OUR SIGNS & PLAQUES ARE MADE IN THE USA BY AMERICAN CRAFTSMEN
Prices of Signs and Plaques

If you have entered this website on this page, please go to our Home Page (click link or  dark gray tab on upper left), to get an overview of our products and website contents. This page provides general information on the approximate prices of our various types of  signs or plaques. Our prices depend primarily on size, whether the sign has one or two faces, materials used, and design and manufacturing complexity. We do not give specific firm prices for each sign in our Galleries on this website. Most of  our signs are fully custom with many options on size, shape, materials, artwork, text, font styles, colors, etc. We show approximate prices for a wide range of sign types and sizes In Fig 4 in the next section "RETAIL PRICES" , immediately after the large figure below.
You can get an exact quote on your custom sign by:
 (1) Emailing us at info@artsignworks.com
(2) Call one of our three Customer Service Representatives,  Regina, Christie or Elizabeth,  at 951-698-8484
(3) Filling out all or part of the Request a Quote Form (click)
(4) Looking at Fig 4 in the RETAIL PRICES section  below (approximate estimates only, these are not exact prices)
 Once we determine your requirements for sign size, location,  message, art, and design style, we will recommend a material type and a design and provide you a firm quote. If you select a similar sign that you like from one of the 12,000 sign photos in our photo Galleries, and can tell us the size sign you want, we can provide an immediate firm quote on the phone or within a day by email. If you have a completely original design, we can first provide you with a quote, and then, within a few days, we will send you a color proof made by one  of our three sign and graphic designers, so that you can then review and eventually approve the sign design before you commit to buy the sign. Every one of our signs are uniquely designed and manufactured from its raw materials to meet your specific design requirements and style preferences.
To return to the HOME page, click HOME  or your back browser button.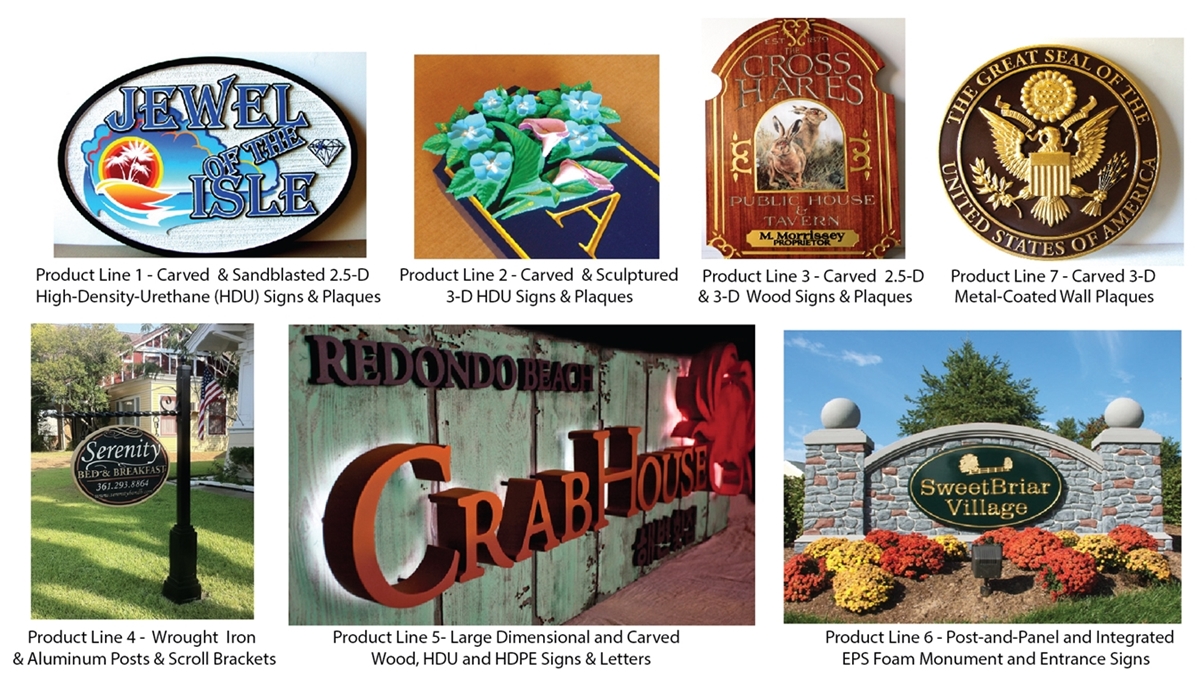 RETAIL PRICES
To give you an approximate estimate on our RETAIL prices for our custom signs and plaques, we provide approximate prices  in the Table below.  We show prices for both dimensional signs and wall plaques here.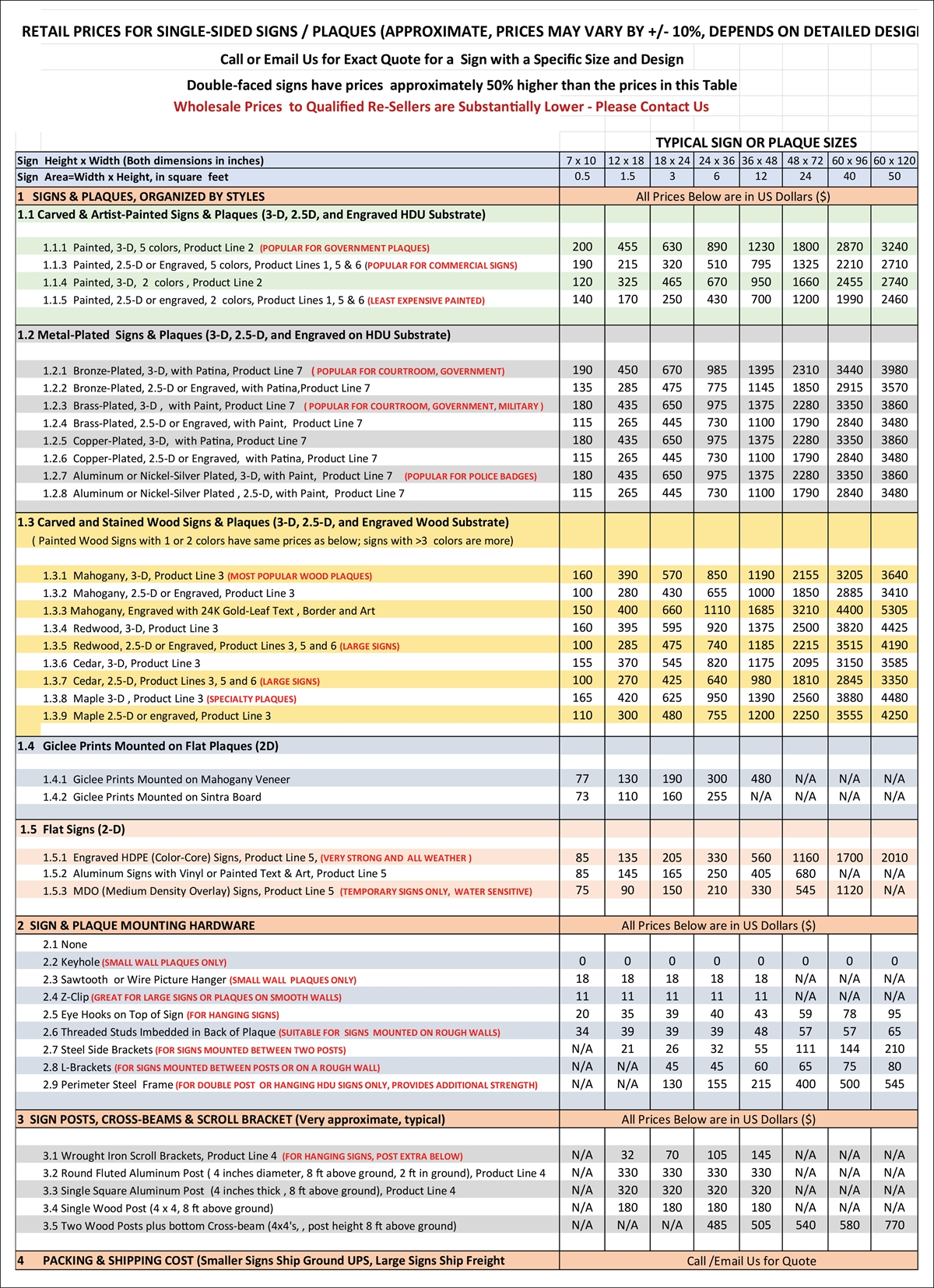 Our least expensive dimensional signs are in Product Line 1,  2.5-D carved and sandblasted High-Density-Urethane (HDU) signs. These are ideal for both commercial and residential use. They are very popular, and 70% of the signs we make and show on this website are of this type. 
 The Retail prices for single-face (i..e., one side) below are approximate  and are provided to give you cost data to help in your selection of a sign or plaque. Double-faced signs have prices approximately  50% higher. These prices  may change a few percent at any time.  All our signs are custom, so exact prices will depend on your requested design features such as hardware, brackets, etc.
Our delivery time, from the time you please a firm order with a PO or down payment, until shipping, is 4 to 5 weeks. We do take rush orders when our work load permits it, but our absolute minimum time is  3 weeks for small, simple signs.
 Please call us at 951-698-8484 or EMAIL us at info@ArtSignWorks.com for firm "no obligation, no hassle" quotes on specific sign designs.  One of our three friendly and knowledgeable customer service representatives will be happy to provide more information on our products and prices, including designs, quotes and delivery schedules.  We welcome casual and planning estimate inquiries,  and we have a "No Hassle" sales policy; if we get an email,  phone call, or web form  from you requesting information,  and we provide the information and/or a quote in an email. 
We give discounts on 3 or more identical signs ordered at the same time.
 Wholesale prices for qualified re-sellers are substantially lower than the retail prices below.