Signs & Plaques
Manufacturing Services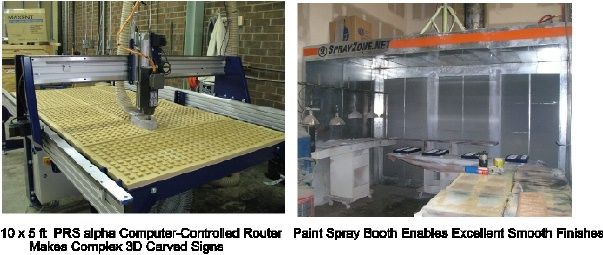 CNC Router/Carver and Paint Spray Booth
We take pride in being a flexible company. A major business area is making custom wood and HDU signs and plaques for direct end user clients (businesses and residences) , but we also build large custom wood and HDU signs as subcontractors to commercial and residential development contractors and wholesale our products to other sign design studios and sign companies and shops.
Areas of Expertise. We stick to our areas of expertise, which include all types of sandblasted,  CNC routed, or hand-carved HDU and wood dimensional signs; wrought iron and steel sign hangers and support structures. .
Sign Design Services. Usually we develop our own sign designs, but we also "build to print" existing designs or duplicate an existing design. We use several high-power computer programs for sign design, including Adobe Illustrator CS5,   Vectric Aspire (3D modeling), and Vectric V-Carve Pro, We have an enormous library of both 2-D and 3-D art. We have an outstanding capability in image processing and graphic arts design and display for signs. We have a vinyl cutter which we use to make sandblast masks and vinyl templates and stencils.
Woodworking Services and Products. We have a large full-service woodworking shop and can assemble large wood signboards (up to 25 ft x 10ft in size )by using high pressure edge glue techniques.We have multiple bandsaws, scrollsaws, jigsaws, planers, routers, sanders, drill presses, joiners, and small powered tools such as Dremels. We have a state-of-the art sandblast booth that can handle up to 14 ft signs.We also have two 5 x 10 ft Shopbot PRS alpha computer-Numerically-Controlled routers with Automatic ToolChangers and 5 HP spindles which produce 3D wood and form appliques, including scanning and duplicating existing 3D sculptures. We have experienced craftsmen who can hand-carve prismatic (V-cut) engraved letters, as well as wood and foam sculptures and appliques, and our CNC machines can also cut prismatic V-cut letters for a wide variety of fonts as well as complex sculptures and appliques. We also build wood and steel posts, beams and sign support structures.
Wood Types. We work with both softwood (redwood and Western red cedar) and hardwoods (mahogany, maple, oak, etc.). We also use weathered barnwood and vintage timbers for rustic-looking signs. However, much of work is done with High Density Urethane (HDU) because of its longevity and ease of carving.
Wrought Iron and Steel Fabrication Services. We make our own iron and steel products in our metal shop in Murrieta for few-of-a-kind products. We make all all types steel and wrought iron sign external and internal supports, hangers, and racks as well as other wrought iron products. These are low cost, high quality items with excellent workmanship, and we do custom as well as production work. We use various types of cutting (water-jet) ,welding, bending, and fixture techniques.
.Painting & Coating  Services. We also have an extensive painting capability, including a large enclosed certified paint spray booth for varnishes , stains, and oil enamels.We use Matthews MAP polyurethane acrylic and 1-Shot enamel paints.  We also use a variety of specialized paint rollers and airbrushes and artist brushes for our signs. We have an excellent capability in exotic and rustic (e.g., weathered or antique) finishes, and are experienced in 24K gold, fine silver, and copper-leaf gilding. We are experts in metal-coating, using brass, bronze, nickel-silver, copper, stainless steel, and aluminum metals and various patinas,  We have drying racks to provide a perfect finish to our signs. Our spacious paint shop is protected from dust by air cleaners and filters. We clear-coat our signs & plaques with 2 coats of Matthews clear, which protects against UV, oxidation, rain and snow, and graffitti.
Refurbishment Services. We refurbish wood and HDU signs in the Southern California area only. We either remove the signboard and take it back to our shop, or refurbish it on-site. Refurbishment includes replacing rusted or corroded attach hardware, replacing rotting posts or beams, repairing the signboard if damaged or split, sanding, and repainting as required so it looks good as new. We can also give your sign a new look by changing colors, changing logos or other art. After multiple coats of paint on background, lettering and trim using Mathews sign paint, we finish the refurbished sign by applying two or more coats of an acrylic polyurethane 2-part clear-coat. Refurbishment costs from 50% to 70% of the cost of a new sign. If you are a sign design company or retail sign shop, feel free to call us about being your supplier for wood and HDU signs and components, wrought ironwork and steel supports.
Services
ART SIGNWORKS INC.
D&B PowerProfiles online business directory