Signs & Plaques
H17018 - Crossing Street Sign Post and Brackets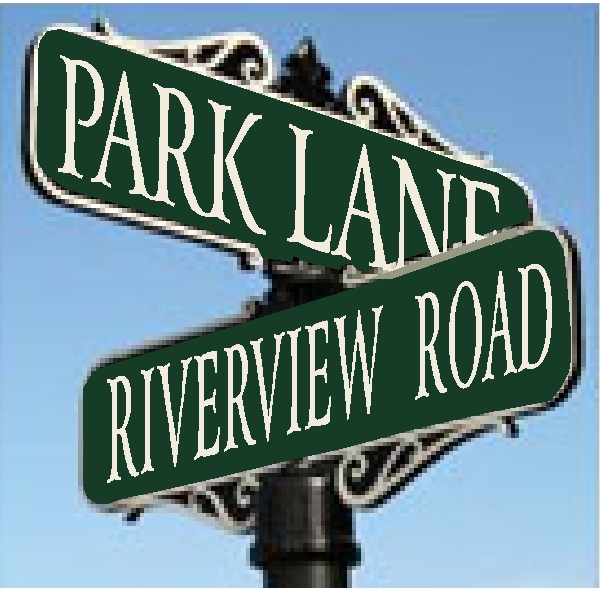 This post and bracket is made to hold two centered double-faced street signs. A 1 inch diameter steel rod goes thriough the center of the 2 in thick HDU or wood signs, and there are also side clamps welded to the rod attached to either side of the signs on the bottom to provide additional support. Our dimensional street name signs are carved from HDU, HDPE or wood.
Our street and traffic signs can be mounted on our round aluminum posts in several ways, as shown here. This section of Gallery 17 shows custom signs and posts. Over 100 more steel and aluminum posts, bases, finials, scroll brackets and other mounting brackets are shown in Gallery 4, to see them please click on Gallery 4 - Sign Posts and Scroll Brackets.
There are over 100 street, traffic and parking signs in this Gallery 17, and over 7000 different custom sign and plaque designs displayed in 45 indexed and organized photo galleries on this site. To see sandblasted or engraved 2.5D, or premium carved 3D High-Density-Urethane (HDU) and wood signs and plaques for street name signs, ,traffic signs, and parking/no parking signs, please click on Gallery 17 - Street Name, Traffic, Children Playing, & Parking Signs.
We can make a sandblasted or carved/engraved wooden or HDU or HDPE sign or plaque of any design in any size from 12 inches to 60 inches. These can be placed on iron or wood posts, a wall , hung from a scroll bracket on a post. or mounted in a monument base. We can customize these signs with any shape, border, font style, or color scheme with carved (engraved) or raised text and art of your choice.
For more information on design options, prices, and delivery schedules, please call us at (951) 698-8484 or email us at info@artsignworks.com and our customer relations staff will be pleased to help you and answer your questions.
Please click on one of the numbered gray boxes on the lower left margin of this page to see other Photo Galleries, or use the navigation dark gray tabs at the top, or the gray boxes on the upper left margin to see other information. Please click on Home to see our home page. You can search for a specific sign type on this website by typing in key words in the Google Search bar at the top of this page. Return to the Gallery 17 (street & traffic signs) page by clicking on "Return to List" below right.