Quick Reference
Graphic Design Process for Artwork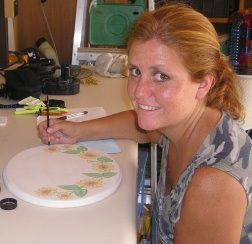 Our art work design process varies considerably, depending on the type of art used for the sign and the source material. Our art ranges from the very simple (flat surface Silhouette Art (2.5D) sandblasted into the substrate, or elevated above it) for Product Lines 1 and 3 to the very complex (hand-carved sculptured high-relief appliques which are hand-painted or gilded) for Product Line 2 and 3. In between in complexity and cost are 3D CarvedArt (bas-relief, multi-layer sandblasted,CNC routing, hand-carved, multi-later laminated apliques, V-carving, hand-painted icons or scenes (Product Lines 2, 3 and 8) and flat hand-painted scenes (Product Lines 2 and 3).
We develop our Silhouette and CarvedArt icons and scenes as original oil paintings; sometimes we use digitally printed graphics (photo or Illustrator drawn) ; modifications & simplifications of photos and paintings in the public domain in magazines, books and the internet; clip art and other computer art; and photos, drawings, and sketches supplied to us by customer. We never directly copy our CarvedArt from another source; it is either original or heavily modified and synthesized from one or usually several original sources. Some of our Silhouette art is a direct copy of Clip or other computer art which we have rights to; however, in most cases, we modify computer art to achieve the look we want. The customer often provides their own logo art to be used, preferably in vector format, or in JPEG format for digitally printed vinyl. For 3D art made with our CNC router, we either purchase 3D clip art from Vector 3D (with royalty rights) or develop our own 3D models using Aspire.
Regardless of how we first develop the art, we must get it onto our computers as a 2DE line (i.e, vector) or 3D CADAM drawing. We can scan a photo or line drawing, accept art in JPEG or many vector formats,and process with Adobe Photoshop, or do our own drawing from scratch using Adobe Illustrator. .For 2.5 D drawings, the art must be converted to a line drawing in vector file format that can be simplified by Illustrator i to eliminate many internal lines. We edit lines to reduce excessive detailed cutting of the sandblast resist, and also to group areas for efficient multi-layer sandblasting (CarvedArt only). Silhouette Art usually has many fewer lines than (CarvedArt).
After the vector image of the art is finalyzed, it is inserted in the correct location on the sign layout.It may be expanded or contracted or its orientation changed to balance the sign design and to avoid closeness to letters or numbers.
The 2.5 D art vector images, imbedded in the sign layout, are sent to the vinyl cutter where they are precisely cut into either a sandblast mask (for sandblasting the background or areas of the icon) or a vinyl stencil (for painting ).
For 2D Silhouette Art. For sanblasting, either the resist mask is left on the areas of the icon and removed from the background which is then unprotected, or the resist mask is removed from the icon area and it becomes sandblasted (Product Line 4 uses this latter technique).After vinyl removal and light hand sanding, the icon and background are painted or stained and varnished.For CNC routing, we translate the Illustraor vector file to Shopbot's Partworks software, whhich drives the tool paths.
For 3D CarvedArt, either multi-layer sandblasting is done to create a three dimensional effect, or alternatively, our Shopbot PRS Alpha CNC machine carves the art or tect directly. Near objects are not sand-blasted, objects back a way are sandblasted lightly, further back are sandblasted more deeply, etc. The sign background is sandblasted deepest of all, about 1/4 to 1/2 inch deep. For CNC routing, there is 1 to 1.5 in deep relief. The various layers may be hand-sanded to achieve the desired texture 9i.e., blue sky is smooth, horse hair is rough, etc). Then details are carved into the icon using a knife, a gouge, or a chisel, and some of the icon areas are sanded or sand-carved again.THE CNC Router ships these steps, except for hand-sanding and sometimes hand-carved details are added. The art is then cleaned of dust, primed, sanded again,and painted with an artist brush with two coats of 1-SHOT enamel. Detailing, color blending,and dry brushing are done with several types of artist's brushes. A clear satin two-part autokmotive clearcoat (Matthews) is used as a finish coat for some areas.
For sculpture and cut-out letter/number appliques (Product Line 6) we first cut out the outline with our CNC router ,then either sandblast away large amounts of non-needed HDU using a sandblast carving nozzleand t hand-carve and hand-sand the sculpture to its final 3D form, or use our CNC router directly for much deeper relief (up to 3 inches).We use computer-generated vinyl templates for the initial outline and applique location on the sign to ensure precision placement. We then paint or gold gild the sculpture using 23 K gold leaf.We make standoff prismatic letters and numbers either with the CNC router or hand-carving..
For incised letters (depressed below the sign surface), we use computer-generated sandblast resist vinyl templates to first lightly sandblast the letters into the HDU or wood substrate, then hand-carve prismatic letters using a chisel, or altenatively, use the Alpha PRS router to V-cut the letters directly. We then paint or gold gild the incised letters.
In all of our art creation, w use a combination of modern computer technology and hand craftmanship to provide high-quality,precision,and beauty, yet affordable artworks. We use computer cut vinyl templates, sandblast carving and somouter-driven woodworking machines such as the PRS Alpha more than most high-end signmakers to reduce labor costs in doing tedious work, but the final product is usually hand-carved (except for Silhouette Art),hand-sanded, and hand-painted.