Quick Reference
Quick Tips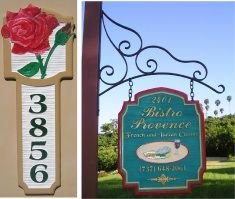 In this section, you'll find useful tips.If you have ideas on other tips you'd like to see added here, please let us know.
Address Number Signs. One of the most important signs you can buy for your residence is a clearly legible address number sign that can be seen in all kinds of weather and at night.When the police, ambulance, or fire department are looking for your home in an emergency, you want them to be able to find it quickly. These are also essential for visitors, repairmen., and delivery services. An example of a clearly legible address sigh in Product Line 2 is the rose sign above.
The address sign must be clearly visible from the street.The preferred location is next to your driveway near the entrance to the street. A vertical sign can be put on the post of a rural mailbox (assuming your mailbox is in front of your house), a wall next to an entrance gate, on a single post (horizontal sign), or hanging from an L-bracket (horizontal sign) on a post on your property next to your driveway. For houses close to the street, an address sign can be mounted on a wall next to your front door.A ceramic sign with a wrought iron frame is very attractive in this location.
The simplest, most effective address sign is simply your house numbers in big bold fonts, although you can also add other information (such as your name or name of your residence and artwork) for larger signs.
Make sure the numbers are highly visible. Black,dark green,dark brown, and dark blue numbers against a white or other light background are effective during the day, but white letters against a dark background are better for night viewing.
The Utility of Wrought Iron Projecting Sign Hanger. We offer three sizes of wrought iron Ptojecting Sign Hangers: 20 inches, 25 inches, and 33 inches, with either a straightcross or curved cross-beam. A curved 33 inch hanger is shown in the right picture above.These hangers have two chains so that you can hang either horizontal or decorative signs from the cross-beam. A projecting hanger can be mounted either to a wall, so that the sign hangs well above your head (the cross-beam should be at least 11 ft above the sidewalk to allow people to walk under the sign), or alternatively, to a 4x4 square post.In this case the hanging sign should be a eye-level for a standing person, so that the hanger's cross-beam should be 5 to 6 ft above the ground level.
Wrought Iron hangers, with their intricate scrollwork, give an elegance to your sign that 4x4 cross-beams do not.Whether they are painted flat black, or in the color of your choice (we offer 6 colors), they are a good way to show off your wood or HDU sign.