Signs & Plaques
Gallery 19 -Apartment, Condominium, and Townhome Community Entrance Signs
3-D and 2.5-D HDU, Wood, and EPS Entrance Signs for Apartments, Condominums,Townhomes, HOA's, and Mobile Home Residential Communities
Welcome to our photo Gallery 19 showing large dimensional entrance & monument signs for apartments, condos, townhomes, subdivisions, and other residential communities. Other photo Galleries can be visited by clicking on numbered gray boxes in the lower left margin on this page. If you have just entered our website and you want an overview of our company and all our products, please see our Home page (left dark gray tab in the header at the top of this page).
To see smaller apartment/condo/HOA unit address number, property maps, office, laundry, fitness center, swimming pool, rules, no soliciting, parking, street name, and directional/wayfinding signs, please click on Gallery 19A.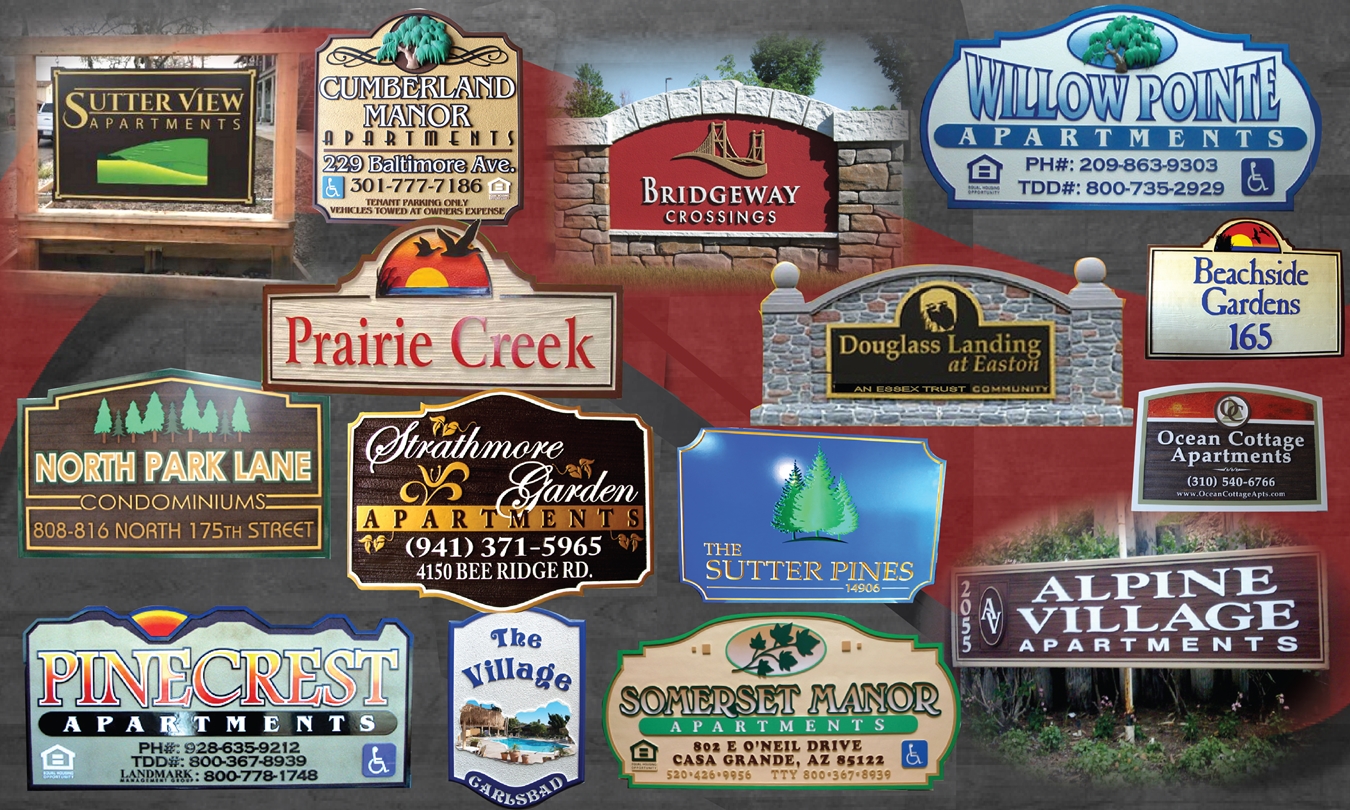 Some Examples of our Apartment, Condo, Townhome and Subdivision Entrance and Monument Signs
The photos on this page show over 120 entrance and monument signs for apartments, condominiums, townhomes, retirement communities, manufactured homes/RV parks, Homeowners Associations (HOAs), housing developments (i.e., subdivisions), and other residential communities. We have made signs for over 100 residential community complexes across the US; it is one of our main areas of concentration. Our post-and-panel entrance signs are made from ultra High-Density-Urethane (HDU) with steel frames and back structure, Western Red Cedar, California Redwood, and ColorCore High-Density-Polyethelene (HDPE) (also used for plastic lumber).
Our integrated monument signs, complete with base and columns, are made from Expanded Polystyrene ( EPS) foam, with a tough, outer shell. Styles range from the formal to elegant to contemporary to rustic.
We make our entrance signs to reflect the message and style the residential community wants to give residents and visitors. We can make a complete set of signs for all functions that has the same style, color scheme and logo. We will design custom signs for you at no cost. Please refer to the ID number (e.g. K20053) if you want your sign to be similar to one or more signs shown in the Galleries.
PRICES. Our sign prices depend primarily on sign area and size but also on sign material (e.g. HDU, Cedar, Redwood, Mahogany, HDPE, EPS), design detail and complexity (e.g., 3-D vs 2.5-D vs engraved), and any special features (e.g., monument base, steel reinforcements and frames, gold-leaf, 3D appliques, etc.) Our large post-and panel entrance signs have prices that range from $1000 to $3000+. For example, typical 8 ft wide and 3 ft high single-faced HDU signs, complete with two 4x4 Cedar posts and steel frame/supports on the back, typically have retail prices that range from $2300 to $2700, depending on sign complexity and design. Medium size single-faced HDU signs, 6 feet wide and 2 1/2 feet high, complete with wood posts, typically have prices between $1500 and $1800. The same size sign made of Western Red Cedar has a price between $1700 and $2000+. Smaller single-faced HDU signs, typically 4 feet wide and 2 1/2 ft high, without posts, have prices between $800 and $900+. More detailed information on post-and-panel sign retail prices, along with their design features, are described on the Price, Size, and Design Features page.
Our prices for integrated EPS monument signs are highly dependent on size, design, and special features such as faux stone or brick facing, columns, arches, etc. The prices for sizes 8 feet wide range from $4500 to $5500+, plus shipping. Gallery 6 provides detailed information and over 60 different designs for these types of signs.
CONTACT US. Please call or email us for a price quote on a specific entrance sign. We will work with you to design and build the exact sign you want. Our knowledgeable and helpful Customer Service Representatives, Christie and Regina, will respond to your request promptly. Call us at 951-698-8484 or email us at info@artsignworks.com,or you can fill out and submit our on-line Request an Estimate Form. We would like very much to make your sign, and we are confident that you will be pleased with your beautiful and long-lasting sign. We take great pride in every product we make for our valued clients. We offer a 2 year warranty on all our signs in any climate. Please contact us today so we can get your sign design initiated.
GALLERY CONTENTS. On this page, Gallery 19, we show only large (4 to 16 feet wide) monument and entrance signs for residential communities. These are listed in the following categories (top of page to bottom):    1. EPS and Masonry Monument and Entrance Signs     2. Panel-and-Post or Wall Entrance Signs
We also make many other types of smaller signs (2 feet to 4 feet wide) for apartment complexes and other residential communities which are shown on other Gallery pages on this website, as listed below:  
NAVIGATION. Please click on a Photo below to enlarge it and get more details about the sign. To return to the page you were on, click on your back browser button, or if you are on a single photo page, click on "Return to List" on the bottom right of the photo. To go to a different page in the Galleries, click on a numbered light gray box in the lower left margin. Other web pages (request an estimate, order form, testimonials, etc.) can be viewed by clicking on the gray boxes in the upper left margin, or the dark gray tabs at the top of this page (includes our Home page).