Signs & Plaques
Gallery 19B - Yard-of-the-Month and Home-of-the-Month Signs for Homeowner Associations (HOA)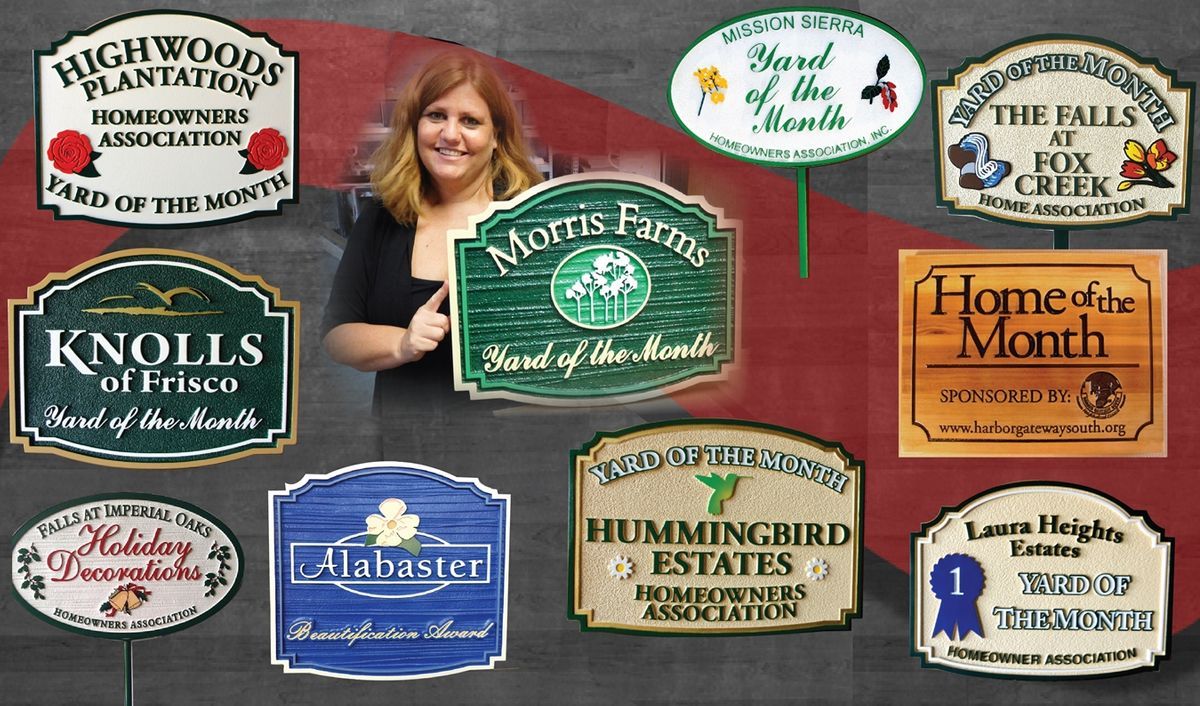 Examples of Our Custom Carved Yard of the Month Signs
Welcome to our photo Gallery 19B of over 50 custom Yard-of-the-Month, Home-of-the-Month, and Garden-of-the-Month signs for residential communities and Homeowner Associations (HOAs).
Signs in other Galleries can be viewed by clicking on the numbered gray boxes in the left margin. Related Galleries of residence signs include Gallery 18 (Residence Address Signs), Gallery 19 (Subdivision/Gated Community Entrance Signs), Gallery 19A (Subdivision/Gated Community Miscellaneous Signs), Gallery 20 (Sea Coast and Beach House Signs), and Gallery 21 (Mountain and Lake Residence Signs).
The over 50 photos on this page show a variety of Yard-of-the-Month (YOM) and Home-of-the-Month signs which are typically used by Homeowner Associations (HOAs) to designate beautiful residences as viewed from the street. We can make these with steel frames and an easily sign installation/removable steel post/stake so the sign can easily be removed and installed on a different yard or lawn each month. We can make these 3-D, 2.5-D, and engraved Yard-of-Month or Home-of-Month signs from ultra High-Density-Urethane (HDU), HDPE, Redwood, and Cedar, although we recommend waterproof HDU because of its longer life and lower maintenance, especially when the sign is soaked by sprinklers or rain or snow, or is not protected by the sun's UV radiation.
Carved text, art and border can be higher than the background or engraved (incised into it), or both. Styles range from the formal to elegant to contemporary to rustic. We have one of largest collection of Yard-of-the-Month sign designs in the US and we welcome the opportunity to create new unique custom sign designs to your specifications, incorporating your HOA logo or other custom artwork.  If you can't find a design you like in this Gallery, we will design you a custom YOM sign of any shape and size for free. We will work with you to design and build the exact custom sign your HOA wants. We can carve your community's logo or artwork as well as text in any font style  on it.
CONTENTS OF GALLERY 19B
This Gallery 11B contains photos of signs for HOA (Homeowners Association)  yard-of-the-month, garden-of-the month and home-of-the month  Please move the slider on the scroll bar on the right edge of the window to see the photos lower down on this page
PRICES. Our custom designed Yard-of-the-Month signs, 18 inches to 24 inches wide, have retail prices that range $200 to $350+. Our sign prices depend primarily on sign area but also on sign material (e.g.,HDPE, HDU, Cedar, Redwood, Mahogany, metal-coated), design detail and complexity (e.g., 3-D vs 2.5-D), and any special features (e.g., steel stakes, gold-leaf, 3D appliques, etc.). A wrought iron frame welded to a steel stake with a foot bracket for easy sign installation and removal is additional. More detailed information on sign retail prices, along with their design features, are described on the Price, Size, and Design Features page. Please call or email us for a price quote on a specific sign. Our knowledgeable and helpful Customer Service Representatives, Christie and Regina, will respond to your request promptly. You can call us at 951-698-8484 or email us at info@artsignworks.com. We are confident you will be pleased with your sign. We offer a 2 year warranty on all HDU YOM signs and stakes.
HOW TO NAVIGATE THIS SITE. You can scroll down this page to see more sign designs by using the slider on the scroll bar at right edge of this page. You can enlarge a photo and get information on the sign by clicking on the photo. After you enlarge a photo, to return to this Gallery page, click on  "Return to List" at the bottom right of the photo or text. Other photo Galleries can be viewed by clicking on a numbered gray box in the lower left margin. Business web pages (e,g, prices & design options, request a quote, place an order ) can be viewed by clicking on a gray box in the upper left margin. Other informational web pages, including our Home Page,  can be visited by clicking on dark gray tabs at the top of the page in the header.