Customers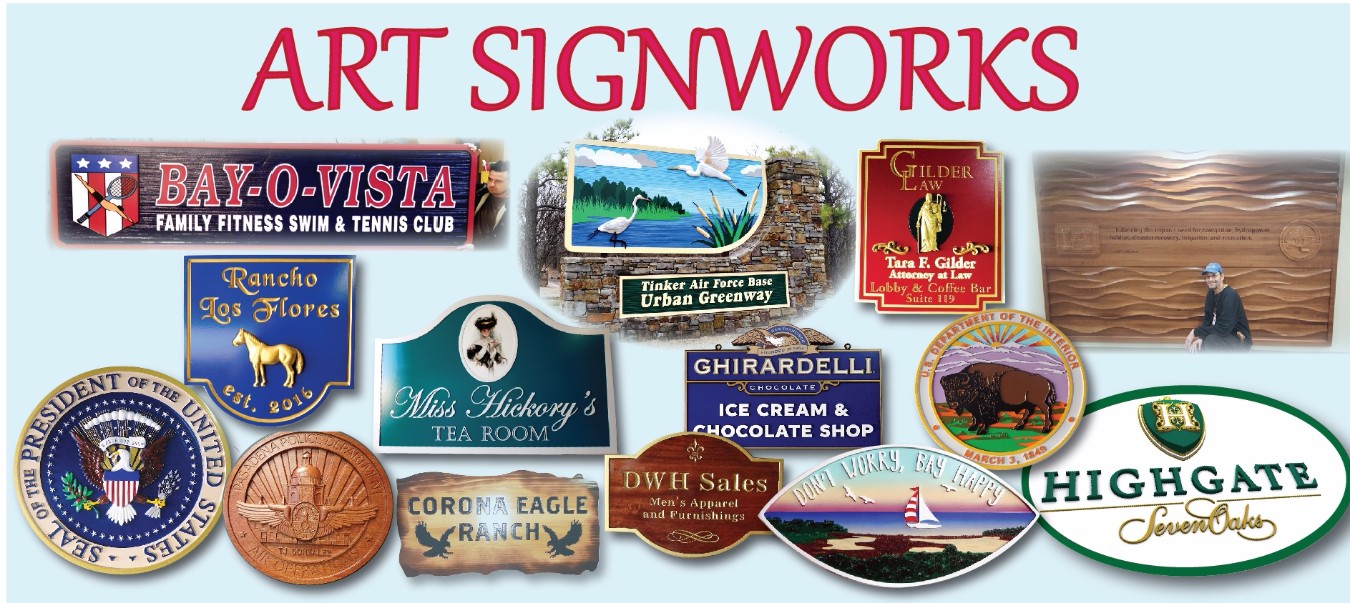 Recent Carved Signs and Plaques We Have Made
The primary way we measure our success is customer satisfaction with our products. We work closely with our customers during the design phase, until the customer is pleased and satisfied with the design. When the sign is completed, the project coordinator and designer inspect and approve the sign to make sure the finished sign looks like the design proof the customer approved.
You will enjoy working with Christie and Regina, who love working directly with customers to make their custom designs. Christie and Regina are our end-to-end  customer point-of-contacts and project coordinators. One of them will take full responsibility for the quality and timeliness of your sign, from the day of first contact until the sign or plaque is shipped, and will follow up with you after you receive your sign or plaques. Every customer is important to us, and we take pride in the design and craftmanship of each sign. We really are the "Friendly Sign Makers"!!  Call Christie or Regina today at 951-698-8484 or email us at info@artsignworks.com to get started on the design of your sign or plaque.
Client List . A few of our recent clients include the the US Congress, the White House, over 40 Federal Courts, over 100 Federal and State agencies, San Diego Zoo (new Australia Exhibit), Red Bull, the Pentagon, Lawrence Welk Resorts, Embassy Suites, Ace Hotels, La Costa del Sol, over 20 US Embassies, over 40 US Courts, major military Bases including Ft. Irwin and Camp Pendleton, California State Senate,Louisiana State Senate, New York Court System, Florida Supreme Court, Mission Care Centers, Alpine Village Apartments, Alpine Country Apartments, Lakeshore Villa Apartments, West Coast Village, Remington Ranch, Avamere Care Center, Riverside Open Space District, K&J Construction Company, BREG Corporation, Hart Winery , Orfila Winery, Dove Canyon, Kaiser Permanente, James Bergren Construction, Stara Corporation, The Banck Center, US Mortgage, Wells Fargo Bank, Miner 49er store chain, Quiksilver, Claremont University, San Joaquin College, Riverside Open Space District, the Masters Golf Tournament in Augusta, DoD, Defense Intelligence Agency, Homeland Security, US Marine Corps, US Army, the US Border Patrol, and many, many military, federal and state Governments, residential and vacation homeowners, organizations, churches, lawyers, doctors, CPAs, and retail stores.
RECENT TESTIMONIALS
Regina,
Our sign arrived today!!  We love it. It's beautiful and we couldn't be more satisfied with the rendition of our design and the customer service throughout the purchase experience. Thank you!! Please share this with whomever is appropriate to receive this feedback. 
LeRene and John B.
Hi Regina, Really happy with the sign!  In fact, we'd like to order another, smaller one (about 30-40% the size of the original).  Design, etc should remain exactly the same.  Can you please send me a quote? Thanks, Jeff
Ma'am,
Our signs arrived earlier today and I just finished getting them mounted and set up. They look absolutely great! We can't wait for our second order to arrive! Thank you for all of your help on this
A.P., TSgt, USAF

Hi Regina,You helped me back in March of this year to design and fabricate two outdoor signs for my horse farm - they turned out fabulous! I love them so much, that I think that I would like to get another one ordered with the same design and model, just larger. Please could you call me when you have a minute and let me know what the cost would be for one more sign (about double the size of the ones that I previously ordered), and how long it will take to receive it? Thank you - Courtney
Regina, We just presented your sign to my sister and brother in law and they LOVE it.  We are so pleased. It turned out better than we even imagined. Thank you all very much! Amanda
Hi Regina,Thank you for the sandblast signs they look amazing. I appreciate that you took the time to route the detail instead of using a decal. I have forwarded your information to our estimating department for future jobs. L.M.Bluemedia | Producer
Christie, received the sign today and just wanted to say it looks fantastic!  Beautiful job.  Here I live in the sign making capital and I am so glad I went with you guys on the west coast. Thank you again.   I know who I will go to/recommend for future signs. Theresa Heintz
Regina....thanks for all your help with our project.  The signs arrived in perfect condition and are simply terrific; everyone in our HOA is very pleased.S.T.,  Elk Ridge Estates
Hi Regina !  Sign looks beautiful and Jeanie is very pleased  The old sign had sentimental value but served its purpose over the years.The new one is beautiful and very, very classy !! Thanks! Dave
Regina,I wanted to show you one of the (campground)  signs that was FINALLY installed today!  Thank you so much for the incredible work! Blake Bowman
Regina, We received the two (large stained mahogany) crests for the Army War College today- they look great!  We are extremely impressed with the quality and overall appearance.  They are exactly what we were hoping for. Thanks again- Dave D.,CIV USARMY AWC (US)  

 Regina -Wanted to let you know that the sign arrived and it's PERFECT !!  Thanks so much for all your help on this :) Shannon
Christie  Thank you! And everyone LOVED the plaques. Excellent work!!Thank you again!  A.K., – Executive Assistant to the Chief ,  Pleasant Hill Police Department, CA
Hey Christie,Thank you for letting me know! Yes, everyone LOVES the sign (Golf club monument sign) , it turned out great! Thanks so much for all of your help. I attached a picture of the finished product.Thanks again, Sarah
Hi Christie, I just wanted you to know that my husband and I are very pleased with our sign.  Thank you for your professionalism in taking care of us.  It looks awesome.Thanks again,Suzanne Back
Hi Paul, I picked up the (109 double-faced carved HDU ) street signs today.  They look fantastic!  This will definitely  enhance the community with these new signs. Thank you very much for making this happen.  Kudos to Kevin, Christie and the crew too; they did a great job!G. C., , Facilities Manager, Niguel Shores Community Association
Hello Regina, Just received the (three New York City Fire Chief) badge  (plaques) .  They are superb. Making everyone stop and check them out.  Thank you again, Brian, PAUL SIGNS
Hi Christie, We received our (Iowa) Seal Friday and it looks great! We would like to purchase 10 more. Could you send us an invoice and I will send you a PO?  Thank you, K.R.
Christina,I just got back from lunch and unpackaged the plaque. IT IS GORGEOUS! Thank you for your help with this project.,            E., , Visual Communications Specialist,FASTSIGNS Norman
Art Sign Works:The sign is beautiful - thank you so much. Teri Hill, Hill's Resort
Hi Christie:The client LOVES the signs!  Now that the sign is hanging and looking great, they would like to replace the existing scroll bracket. Can you quote me a bracket that has eye bolts 12" apart, to hand the CRW sign. Thank You, N.M. , President, AmiSigns
Gina, Thank you and no worries. You and your team have been great to work with and I look forward to the next project you can assist us with. Have a great weekend. , A.W. 
 
Hey Regina,I rcvd the seals (for the President and VP of the US)  and they look great.  Thank you very much.  Can you send me an invoice/receipt for the second/final pymnt charged to our card?  Thanks. T.B.,US Secret Service
Regina, Received my Easy Wind sign yesterday and had to tell you how wonderful it is.  We absolutely love it!!! Thanks  Lynne I.
Hi Regina -- the sign arrived today, safe and sound, and it is AWESOME! It's already hanging on the wall. Thanks so much! Dave
Hi Christie,  We received the sign you created along with your crew.  ABSOULUTELY PERFECT!!!  Thanks to all.  We are well satisfied and excited to display it at our Lake House. \Regards and best of life to all.. Dave and Donna R.
Good morning, Regina.     I showed my boss the seal today (State of Florida House of Representatives plaque) and we are all VERY pleased with how it came out. Absolutely stunning work. We've been in touch with our billing department for the remaining balance due and you should receive payment soon. My boss is already wanting to get more of these.How much per seal, is there a discount for batch orders, and what other texture/colors do you have access to? Thanks so much once again, Regina!       Daniel
Hi  Christie!  The sign got here yesterday and looks great. Thanks for all your help.  We are heading out to buy the sign post lumber and get it up before the holidays.  All the best! Pam
Regina,
Our signs arrived yesterday and they look fantastic! We are very please with the look and quality. We're putting together another package of work for you, will be in touch again very soon for the next round.
thanks, john
Regina, Wow! The product is incredible! Thank you so much for all your help. It was a pleasure working with you. ..
Very Respectfully,Cam 
Hi Christie, again the plaque is beautiful, you guys did a fantastic job, the President is so happy he would like another one exactly the same to put in his house on campus. Can I order another one for delivery as soon as possible? Also, in future if we order more, is there a discounted price for volume, or are they individually ordered…thanks again Christie.    L.C., Finance/Administration, Office of the President ,University of British Columbia
Hi Christie,   Happy Friday!    We all love the seal, it turned out wonderful!  Can I place an order for another one?  We want it to look exactly the same but the next one can have the z-clip hardware.   Thank you, H. T., Second District Court of Appeal
Christie                                                                                                                                                                               I received my sign yesterday and its lovely.  I know we did not discuss hanging hardware but it would be nice if I could get some.  Was not sure from the beginning if I was included or not.  Will handle any associated cost.  Thanks for your support in this matter.  Regards, L.W.       P.S.  My neighbors will surely be questioning me when I place it in my yard.  Wonderful piece of work.
Good afternoon Regina:  The NY Court Seal arrived Thursday afternoon on October 26th. Had it installed Monday, October 30th. Looks great.  I am very happy.  Thanks for all you did for us. B. H., New York
Hi Regina, Just wanted to let you know the medallions arrived. They look great! Thanks,Erik Dressler, Principal
Hello Christie,  The (Grand Pacific Resorts)  signs turned out great. The resort is very happy with them and
they look great. I have a few other internal sign projects I'd like to run past you, I don't have any solid sketches yet but I wanted to talk through your capabilities. Let me know when we can connect. Thanks and have a great day, Brian

 Regina, We received the signs and they look great. Quality workmanship and product – especially the 3 levels – didn't expect that. Great work. I'm sure we will use you in the future, Thanks. M.C, Centric Signs, Novato,CA 
Hi Christie, Well arrived, thanks for all. Very Nice product ! Congratulations to your firm. See you. Michel M.
Regina, We got it (3-D carved police badge wall plaque) today and it looks amazing!  Very good job!  Could you please send me the receipt for the remainder of the cost that was put on  my p-card?  Thanks again,, N. B.,, Certified Law Enforcement Planner, Athens-Clarke County Police Department
Christie , We received our beautiful "County Commission" sign Thursday.  Thank you for working with us.  If I can be a reference for future Customers, please refer them to me. Thanks again.      G.W. , Commissioner  St. Francois County, Farmington, Mo
Hi Christie,    Just got the White House  plaque and it is excellent in all respects.  Kudos to you and the artists who made it.  All the best, Scott B.
Regina,  So efficient as usual! My Association Manager has 45 condos in this area and I will refer you and your firm as a reliable provider with an excellent product. No doubt about it. Thank you so much.  Oscar
Hi Regina, The plaques are outstanding. We had an unveiling at our Memorial Day service at our plant.They will be on permanent display at our Veteran/POW/MIA area.    Thank you,, R.A., Boston P&DC, Boston
Dearest Regina,
Thank you for your kind help with my Ten Oaks  order for a residential sign/ house sign --- coming down my driveway. You are very pleasant and helpful!   Kindest Regards, N. K., Charleroi, PA
Good Morning Ms. Valenzuela,
I just wanted to say that we've received them (Coast Guard wall plaques) and are very pleased with them. Thank you for all the assistance. Very Respectfully, J.J., USCG Station 
Regina, I went to Fox and un-crated it on Friday, it looks great, in fact  the owner of the business was impressed as well, and has already been on your web site considering signage for his business.  Thank you for your assistance in making the plaque honoring our retired Officers so easy! Sgt. K.G.
Hi Christie! 
Yes, the seal arrived in perfect condition.  Everyone here loves it!  Thanks for all your help with this. 
Thanks again, R.J.,  | Procurement Specialist, US District Court of Maryland - Greenbelt
Regina, Kim and I wanted to thank you and the Art Sign Works staff for the great job on our sign. It looks great and we couldn't be happier.   We'll definitely recommend you to others! Thanks for all your help. Wes
Regina, Thank you, thank you … you are such a great company and client feels this as well!. Good to go! Monica Kline Fine Corporate Gifts
Christie,, As you will recall, your company created a single sided brass seal for Yancey County back in August.  ..The seal was great and we were very pleased. We want to order a second seal plaque , same as the last one; and  I would like to have the digital file of the seal. I need the highest resolution of the seal that I can get for a separate project I am working on, and hoped you may be able to assist with that ...  Please advise on the best way to proceed on both items.Thanks,N.B.
Hello Christie,The Highfield sign looks beautiful! I'm finally getting it installed today. Putting in a 6 x 6 post 7 ft high, semi gloss black paint, with a top cap, and then the bracket to hang the green and gold sign. It  will look wonderful!I just wanted to thank you very much. I will send you a picture of it when it is completed. Jennifer
Paul , That would be fine (to put our sign on your website)....Also, Christie was exceptional to work with...outstanding customer service!
J.K., Tinker AFB, Oklahoma

Christie
We received our sign today...looks fantastic! The bolts all aligned, and it is installed--man, heavy sign--but looks beautiful--you guys do great work!
J.K., Tinker AFB
Christie, We received the Bakerosa sign in great condition— good packaging. We love it! Thank you so much.                                      Mike
Good afternoon
We received the plaque & everyone (which is important) likes it. The invoice goes before the Town Board on 2/14/2017 for approval & the check goes in the mail shortly there after.
S.S., Richmond Town Court
Good Morning Christie,
 I wanted to let you know that everyone is very pleased with our new signs! We appreciate the great work that you guys did on them. R.C.,Los Banos Fire Department
Regina,    We received the seal this morning. It looks great!!
Thank-You so much for expediting the order & having it here before the "no later than date".
Thanks again, you have exceeded our expectations!!!! A.N., Technical Director
Dear Christie: I received the sign ordered.It is beautiful. We are very satisfied with the work !!!! Sincerely It looks better than we expected. ....Thank you very much for the excellent job. Sincerely,Dr. R.G., DDS
Hi Regina, Thanks again!   My wife just got home from work and loves the sign.  She said, "Wow!!  That's what I was hoping for - something really professional!" As we prepare to assemble and install the sign, do you have any recommendations on the specific sized bolts / screws I should use?  My wife just said, "whatever we do, we are going to do it carefully!"  Thanks again - we will send some pics next to our "vineyard" when it is finally put in the ground! Cheers! Dave 
Hi Christie,
We received the lantern and they liked it very much. About the blank nameplates:Can you imprint a scanned 1" x 1" image to the 3.75" x 1.25" blank name plates in the lantern?If you can, what method do you use? Please let me know. Thanks and Happy Holidays!     Julius L.
Regina, Sign arrived today.  I am very pleased with the finished product.  Design, workmanship, and customer service all exemplary.  Happy Holidays!     S. D.
Christie,   The box with the sign you all created for me came today.  I have to say....AWESOME!  Perfect!  Paint job is just fantastic!  Really well done!  Cannot wait to put the sign in my yard and see the reaction when friends and family visit my beach home!  Well done! The sign just makes me giggle         Ed
Dear Regina, Received the (US) Great Seal plaque today wanted to let you know how pleased I  was with work I am thinking about ordering a similar size plaque of the  Great Seal of the President of the United States I suppose you make those 
as well?  is the price the same? do you have a photo you could e-mail me ?  thank you again for a fine piece of Art Great Job! 
Best , Larry Zimmer
Awesome!!!! The Military Seals were excellent!!!! Great job to the team!!!!  I'll send a photo for your gallery.
Thanks, Daniel .H., Facilities Team
Regina,  We love the (Harmonile Farm) sign! Thanks Art Sign Works.
Fred and Debi
Dear Regina, The signs look so nice! It is exciting to know they'll be at Big Rock soon. I will send you some photos of them on my mini golf course as soon as we have them installed Thank you, and Happy Thanksgiving to you and yours also, Marci, Big Rock Mini Golf & Fun Park 
Hi Regina.  We got the seal and it is beautiful!  Thank you. Kathy Longyear, Court Clerk
Hi Regina, ... It was certainly a pleasure working with your company, and I look forward to another project in the near future. Have a great weekend!  Thanks, Denise, Jonathan Louis Marketing
Dear Art Sign Works: The Town of Clinton,  NY placed an order for a Single sided HDU 24" in diameter and we received it this week.  It is beautiful! I was wondering, our county is doing an exhibit on our town and would like to have some bags made up with the this logo on it.  Is there any way I can get the logo in an electronic file that I can send to the Clinton County Historical office so they can have the recyclable bags made?  Thank you.   K.R., Town of Clinton  NOTE: We sent it to her free of charge
Good morning Regina, I rec'd the plaque yesterday and it is a work of art!  Kudo's to the artiest! lol!... Thanks for all you do!               Semper Fidelis, Hal 
Regina… Our sign is awesome! Thanks, Mike Mulcahy
Dear Art Sign Works: The signs arrived in perfect condition. Well packed, thank you. They are very nice and we are pleased. We'll send you a picture when they're installed. Thanks I. W. Ohio
Hello,   I have attached a picture of the final installation of the sign that you made for the Powell arboretum. It turned out very well.I wanted to share this picture and thank you again for creating this wonderful sign. Del Barton
Hello,  You did the Fat Beagle Farm sign for me a couple of years ago and I'd like to get a quote on another sign. My wife is opening a bakery. Could you give me a rough quote on getting a sign mocked up and completed? I loved the work you did for me before. Thanks, C.K.
Afternoon Regina,   Heard from son and his wife re: door sign/symbol. As you may recall, daughter in-law had a "border issue" with it (the proof).BOTTOMLINE: Not only does she love the sign but said: " It's beautiful. It's GORGEOUS."WOW!!! That's super big coming from Nicole
hi regina:  friday i received my sign and i'm ecstatic. it's spectacularly wonderful and i love the detail you put into my horse sillouette. i won't be able to put it up for awhile but i have it in the house where i can see it all the time. again, thank you. i got a great value for the cost. judy browne
Dear Regina, We LOVE our sign…Thank You! Regards, Jo D. Interior Designer ASW, We LOVE the signs! Thank you so much. Donna Elliott S
ArtSignWorks,  We received the sign. The color is right on the money!!! It looks great... Thank you Margaret M.
Art SignWorks:   We received the signs today and they are gorgeous! Thanks for all your help and I will be in touch... Tammy
Art SignWorks,  Received the military seals yesterday and I want to tell you they are absolutely stunning. They were perfectly packed and ups never made a mark on the box. Thank you so very much. They will make a perfect addition to our social quarters. I know our veterans will thank you also. Again my thanks to you and your craftsmen for God and Country    David B., 1st Vice commander, American Legion, Virginia
Art SignWorks,   I just wanted to thank you for our new sign. We received it on last Thursday afternoon. It looks absolutely AMAZING! It is exactly what we were looking for. We have 2 offices in North Carolina that may need a sign made in the future so I will let you know. Thank you again, Anne-Simms H.
ASW,  The signs arrived and are a big hit!!! Thanks to you and your team for a job well done. Thanks again for all your help. Kevin K.
ASW;  We love, love, love it...we just got our sign and it is fantastic! We enjoyed working with you on this.   S.D.
ASW;  Just got my sign and it's great, thank you so much for your careful attention to the details. Frank F, NY
Art SignWorks; They are beautiful!!! Just beautiful and the quality is the best. Thank you for taking good care of me. M. K.
Art SignWorks;  The signs are awesome, we need another please. Thanks for the great service and answering all my questions. C. Chang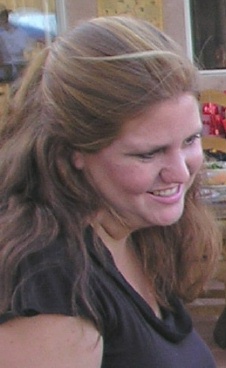 Christie is Customer Representative and Project Coordinator
Christie,    The sign looks amazing and is hung and looking awesome! Dr. just wanted to know if there any special care instructions you could recommend to make this sign last. Thank you so much for all your help! Sincerely,L.W, Family Dentistry, Wyoming
Christie,   I made the down payment, so please proceed with the sign. Use the longer eye bolts. Thank your manager for me, and you as well. I think this is a fair resolution for us. It's easier to run a business when everything is going well. The way a company handles problems separates the good from the bad. Steve
Christie!  The signs look fabulous! I have a couple of questions about 'em... like how they attach etc. but need to contact the contractor first. Talk soon! Please tell your team the signs look great, can't wait! I.A.
Hi Christie,  I never thanked you for our order.(30 inch US Senate seal wall plaque) We received it Wednesday and it looks great, as usual. Until next time. Best, KeeKee
Christie,   We received the signs you sent and they are awesome. We thought we would order another small sign, this time just single sided. Can you give me a quote for that? Thanks,Ed
Hi Christie,  Let's go for 36 x 24, we are excited!! You have been a GREAT help in assisting me... Fantastic customer service. I will fill out the form shortly. Thank you. Peter G.
Hi Christie!  I've been meaning to follow up to thank you for all of your patience and kindness, as well as to thank you for the beautiful sign you created for me in memory of my wife. The sign arrived intact shortly before I left for Florida to spend some time with my family. I pleasantly surprised my Son and his girlfriend, as well as my Sister and brother-in-law with a big "reveal" of her Villa Ronita sign, and they were all so very pleased and touched not only by the meaning of the sign, but also its beauty. I knew my Sister would particularly like it, because I was planning on designing one for her as well. But she beat me to it, and asked me for all of the particulars. You'll be hearing from her soon.Again, thank you so very much !!!! Mike
Christie,  I saw the PSA sign as well as the bronze California seal. it is awesome too. Thanks so much for the great craftsmanship. All my best, Jeanne
Christie, The sign arrived today and it is beyond our expectations! We love it. Thank you. Thanks so much. Lee T.
Christie, Thank you for checking up on the sign. It looks great, and I hope to get it hung within the next few days. I will send you a picture once it is up and showing off. Also, I sent you a check in the mail last Friday, so I would anticipate that you should receive it shortly. Thanks again for all you have done! Frank F.
Christie,  The sign is just beautiful! We are really pleased. Doing something like this over the internet isn't always so successful, but Art Sign Works creates an excellent product and the customer service is terrific.Thank you so much for all your help and for the wonderful design and execution of our new sign. Shelley and Gary
Hi Christie,  Just to let you know that the FDIC OIG plaque arrived at my door at about 7:30 am this morning. I was shocked at the speedy service. The item arrived in Sydney, Australia on Saturday mid day. So its arrived safe and sound. I must say it looks striking. So an excellent job done on it.   I put it up in my living room for the moment over my most memorable government plaques. It certainly has a distinctive look. Again thank you for the excellent workmanship and service.See attached photos of item in my living room. I have advised the NASA special agent that your company can make the NASA OIG plaque. I will now send him pictures of the FDIC OIG plaque here with me now .   Again thank you.  Regards,James  
Art SignWorks: Thank you for my beautiful sign. The craftsmanship is excellent. It looks exactly like the samples we created in photoshop. I couldn't be more happy with it. I will recommend you to anyone! ( :Thank you, thank you, thank you! ( : Yasha
Hi Christie/ Kevin, Received the sign today and it looks amazing. Great job !!!. I like the way the HDU material captured the logo design .I will send photos after it is hung.Thanks again. Frank V.
Hello!    We received our signs last week, and they are absolutely beautiful! You exceeded our expectations, and everyone is thrilled with the final product. Thank you so much, we really appreciate everything you did for us, especially your patience. We will certainly use you in the future, and we will definitely recommend you to others. Thanks again, M.T., Volunteer/Event Coordinator Austin, TX
Hi to all of you!  We are up on Peaks Island Maine for the weekend and are so excited. The sign arrived today. We opened it and it is truly beautiful. We thank you so much. It was a pleasure working with you and your design team. You were so patient and sensitive to our wishes and suggestions. We were so impressed and will highly recommend you as we will surely get comments on it once we hang it in the spring. Thanks again for your friendly and professional way. We will send you a picture once we hang the sign and feel free to use any of this as a testimonial. EP/NS
Christie,  Wow!I got the sign in the mail early this week, and it is FANTASTIC! What an improvement over the old wooden, rotting thing we had in the park. Thank you so much for the wonderful service and quality of workmanship. I will most definitely be a repeating customer. A.D., Groundskeeper, Virginia
Christie & Kevin,  The sign arrived yesterday and is perfect. Thank You...Please let me know if all is OK concerning payment. Again, Thank you for a very impressive sign. Dick D. Christie, Here is a picture of the AWESOME sign you made! Feel free to use it on your website. We could not be more pleased! Thanks, Jerry
Hi Christie, The sign has arrived and it is really lovely! The quality of the sign is a good as we hoped and expected! Thank you! D.D. Good Morning…… we received our signs yesterday. They arrived safe and sound and are very nice. Thanks for the great work........ Sincerely, L.J. Customer Service Manager
Christie and Kevin, It arrived yesterday and I have one word: WOW! It's absolutely perfect – thanks for all your help!" K.J.L.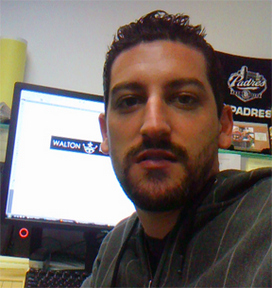 Kevin is our Lead Designer and Production Manager
"Christie and Kevin,It arrived yesterday and I have one word: WOW! It's absolutely perfect – thanks for all your help!" K.J.L.
"Kevin – Thank you from the bottom of our hearts ! The job you did for us was superb – the actual finished product greatly exceeded our expectations. Also, thank you for having it delivered on-time. It's truly appreciated." Karen J
"Hi, Kevin –  Just wanted to let you know we are very pleased with our new cottage sign. It's just what we wanted and looks great! I am attaching a couple of pictures of the sign in place. That's Lake Michigan in the background.Thanks again for a job well done!" BH, Michigan
"Hello Kevin, Here are some of the pictures after I hung the sign. Thanks for all your help with the sign. " Tsering
"Hi Kevin, Thank you for the touch up paint (for installation), and here's the pictures I promised. We love the sign...Thank you again" Lisa
"Kevin, We received the 2 wall plaques (Navy and US Seal) and they look great! Thanks for getting us the product we need--very nice work! "BWF, Dept. of Navy
"Kevin,  Thanks for working so hard on our company's entry sign. I have received so many compliments on it. You did a great job on it. Thanks .." JG, Vista, CA
"Kevin, The sign was just delivered and I love it.!!!!!!! It is perfect, and the colors match great. Thank you for everything!!!!!! I really like the way the ridges make it look rustic, and like wood. Have a wonderful Holiday and Happy New Year!!!!!" LH, New Jersey
"Dear Kevin -  Got the sign today! We love it!! Everybody is blown away by the quality of the product. Thanks, Kevin" Holy Shepherd Pre-School Sign, JV "ArtSignWorks- Just received the sign I ordered. It looks great." Thanks, Jim Young, Signs-by-Tomorrow
"Kevin, Sign arrived and is hung in place. Looks great. Thanks for your help."  Phillip W, Austin, Texas
"Christie, We got it and the plaque looks great! Thank You". Bryan S, Escondido, CA
"Kevin- Awesome!!!!!THANK YOU so much, you have been a pleasure to work with!!!!! That kind of customer service is hard to come by these days. It is much appreciated and the school of 600 students will appreciate it as well", SC
"Kevin -  The signs are beautiful and they had no problems putting them up. ...take care", AM, "Thank you for your great work with the permitting dept. and of course the sign. Everyone is very impressed with your work." …Scott, San Diego
"Christie, Thanks, I have received the signs. They look great! Thanks again!" Natalia, Whitehorse                                    
"Art Sign Works, received the plaques and they are perfect. Exactly what I was looking for. They are beautiful, thanks a lot. Thanks again," Katheline
"Hey Kevin, We just received the DHS (Dept. of Homeland Security) Seal you made for us - it is perfect! Thank you for your effort and great customer service", RM, Chapel Hill , N.C,
"Kevin, Our signs all arrived in one piece and look fantastic. We couldn't be more pleased.. Thanks again for such excellent (and timely) craftsmanship." Best, DS
"Christie and Kevin, Thank you for a very professional job. The signs look great, we have received many compliments on them. We really appreciate you meeting all our deadlines, even when we caused some delays. We could not have had our Grand Opening on time without your hard work! We will definitely use you on our next project" CG, Palm Springs, CA
"Art Sign Works,  I can't believe your price! We received a quote from (name withheld) Signs in Pennsylvania for $9600 for our (very large double-faced entry) sign with carved art, and for almost exactly the same sign, including the same materials, your quote was $3800. We are definitely going to order our sign from you." LC, Missouri
Christie; ABSOLUTELY FANTASTIC!!!! I obviously came to the right people!!! I am sincerely pleased! Not to knock the run-of-the-mill carved wooden ones that can be obtained through most military insignia supply stores or websites, but how can something like that offer compete with this!?! It looks as if it was cast in solid metal! Beautiful job! I am very happy with it and more than pleased ! Thanks so very very much! B.H.
Hi Christie,  I just wanted to circle back with you one final time as we have received the sign. Jim LOVES it...we are so pleased with how it turned out and we can't wait to display it outside!Thank you so much for all you did to make this "First Time Customer" Experience a terrific one! Should I have any future sign needs, I will surely reach into Art Sign Works! Sincerely,Sharon
Christie, I just got the signs and they look great. My Commander is extremely pleased with them, so expect more orders from us in the future. Thanks, S.C, MSgt, USAF
Hello!  I just opened my Welcome to Huffman Pond sign and it is every bit as gorgeous as I had hoped and more! You did such a great job. My husband is at work and I cannot wait for him to see it! Any installation and care advice would be welcome. We intend to have this for years to come! Again, thank you so much for a beautiful piece! M.H.
RE:Sunset Boulderyard Sign:  The second sign arrived to the east coast of Canada quickly, well packed and in excellent condition. I appreciate that you promptly rectified the minor production error and at no extra cost to me. Your company clearly wants satisfied customers and delivers on that wish, I would happily buy from you again.Again thank-you for getting it to me before Christmas it will make a great present for my wife. P.M. Nova Scotia, Canada
ArtSignWorks: I wanted you guys to know that I received the plaque today (State Seal of Louisiana) and it looks amazing! Thank you so much. Representative, Louisiana House of Representatives Thanks
Christie, The signs look great.What would you charge me for 2 of the oval horse logos? Equestrian Center, CA
Christie- The sign was delivered and has already been hung. I want to say that it awesome! Art Sign Works did a great job. I've attached a picture to show it off. With that being said, can I get quote on another project?... Lt, US Air Force
ArtSignWorks:  The Sign looks terrific! Signs by Tomorrow, Palm Desert, CA
Kevin,  We received our signs. WOW... they are fantastic! Thank you for your expertise and craftsmanship. I look forward to doing business with you when we build the next store(s). I will send a picture of the sign when we open. Thanks again. Rus
Sign arrived today…looks great…processing invoice for payment. J.M Project Manager D.B. Signs
To Kevin, Christie & Everybody at Art Sign Works: We just received our finished sign today and we are giddy, overwhelmed, and ABSOLUTELY THRILLED with it! You have exceeded our expectations in every way. Great work! We hope to send you a picture after we get it mounted. Thank you so much for your fine work & craftsmanship. All good things, Michael & Barbara N.Y., N.Y.
Christie,  We just got it, perfect timing and it looks perfect! Thanks, D.T. Interim Fire Chief
Dear Kevin and Christie, Thanks again, everything went very well and everyone is very happy with the signs. I'm sure we will be calling you for more in the future! I would be happy to write a referral if you ever need it! Cheers, E.N,.President of Cond Assoc., Redondo Beach
Christie, They loved the sign! We are just waiting for the approval for the funding to go through! Quite a few people from other bases loved them also. Thank you,C.K., AFB, Illinois
Hi Christie, The sign (Casa Resaca) arrived last week & we couldn't be happier with it. A Great job ! Thanks so much, Maureen
Christie & Kevin,  Sign, Da Kitchen, delivered today. It is so perfect, beautiful I wanted to thank you both for such a great job. I know where I will get any future signs! Thanks so much and a very Merry Christmas to you both. S.L.
Art SignWorks: Thank you for my beautiful sign. The craftsmanship is excellent. It looks exactly like the samples we created in photoshop. I couldn't be more happy with it. I will recommend you to anyone! ( :Thank you, thank you, thank you! ( : Yasha