Reviews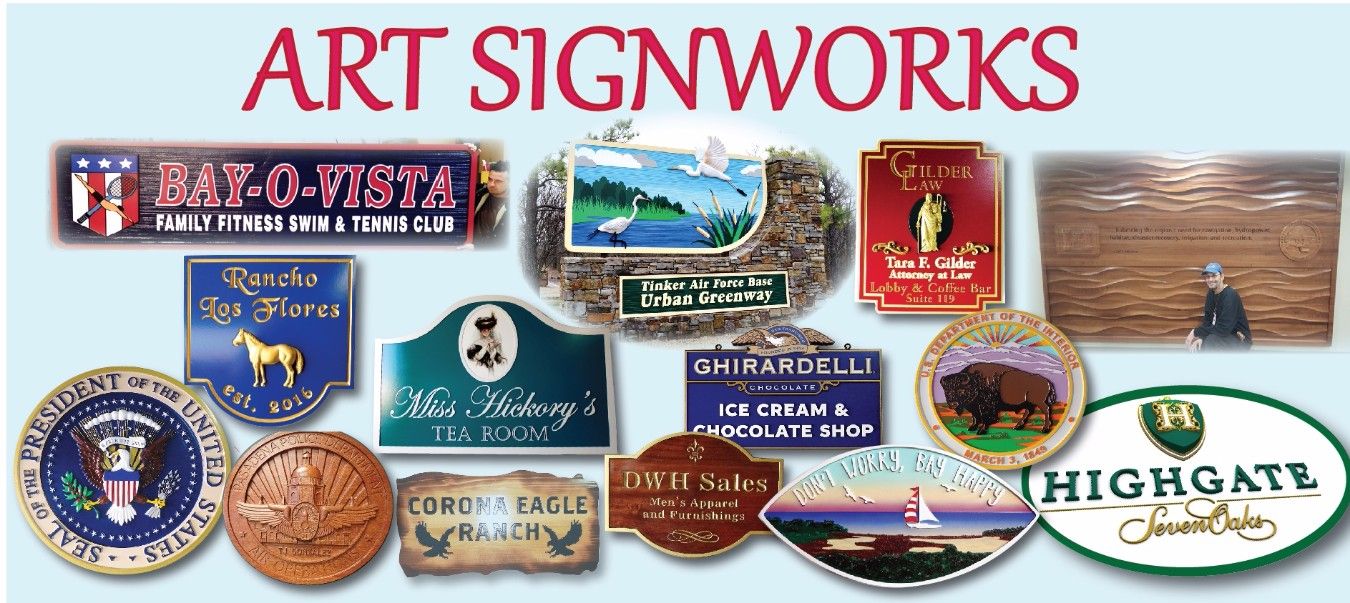 Recent Carved Signs and Plaques We Have Made
The primary way we measure our success is customer satisfaction with our products. We work closely with our customers during the design phase, until the customer is pleased and satisfied with the design. When the sign is completed, the project coordinator and designer inspect and approve the sign to make sure the finished sign looks like the design proof the customer approved.
You will enjoy working with Christie and Regina, who love working directly with customers to make their custom designs. Christie and Regina are our end-to-end  customer point-of-contacts and project coordinators. One of them will take full responsibility for the quality and timeliness of your sign, from the day of first contact until the sign or plaque is shipped, and will follow up with you after you receive your sign or plaques. Every customer is important to us, and we take pride in the design and craftmanship of each sign. We really are the "Friendly Sign Makers"!!  Call Christie or Regina today at 951-698-8484 or email us at info@artsignworks.com to get started on the design of your sign or plaque.
Client List . A few of our recent clients include the the US Congress, the White House, over 40 Federal Courts, over 100 Federal and State agencies, San Diego Zoo (new Australia Exhibit), Red Bull, the Pentagon, Lawrence Welk Resorts, Embassy Suites, Ace Hotels, La Costa del Sol, over 20 US Embassies, over 40 US Courts, major military Bases including Ft. Irwin and Camp Pendleton, California State Senate,Louisiana State Senate, New York Court System, Florida Supreme Court, Mission Care Centers, Alpine Village Apartments, Alpine Country Apartments, Lakeshore Villa Apartments, West Coast Village, Remington Ranch, Avamere Care Center, Riverside Open Space District, K&J Construction Company, BREG Corporation, Hart Winery , Orfila Winery, Dove Canyon, Kaiser Permanente, James Bergren Construction, Stara Corporation, The Banck Center, US Mortgage, Wells Fargo Bank, Miner 49er store chain, Quiksilver, Claremont University, San Joaquin College, Riverside Open Space District, the Masters Golf Tournament in Augusta, DoD, Defense Intelligence Agency, Homeland Security, US Marine Corps, US Army, the US Border Patrol, and many, many military, federal and state Governments, residential and vacation homeowners, organizations, churches, lawyers, doctors, CPAs, and retail stores.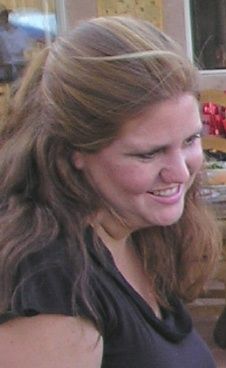 Christie is Customer Representative and Project Coordinator
Hello,  Just want to follow up on the first project we did for Mediterranean Sandwich Co. I am really impressed with the sign you guys produced. I am thinking to make some in different sizes as a central element for all our stores, and to place them inside, on the wall. Thank you very much for your help. We will do some more business together. Vlad
Hi Regina,Thanks for the excellent job on producing the Dr. Waffle sign, we just installed it last Friday and it came out great.However, in an error during the install, we realized we need to patch up a small part of the orange part with some orange paint. By any chance do you have any extra of the orange paint made still at your shop? Let me know, thanks! J. D., Costa Mesa (yes, we sent it to him, no charge)
Hi, I just wanted to let you all know how happy we are with the beautiful sign that Art Sign Works made for our church. We just installed it last night and it looks incredible! This is the third sign I have ordered from you over the years, and it is encouraging to see that the quality just keeps getting better! Keep up the great work! Sincerely, C.D., , Parishioner
Hey, Liz! We received the golf plaque yesterday— it is AWESOME!   It's very pretty and much more detailed than I imagined.  We can't wait to hang it outside later this spring. (Although it's going to be 70 degrees here this weekend, so maybe we don't need to worry about a typical rough winter here in Cincinnati!!). Thanks for your help throughout this purchase.  Happy New Year! Jackie
Regina, We received delivery. Sign is beautiful, just what we wanted!!Thank you! A.J. Anderso
Hello Liz, We received our artwork today. I can't tell you how satisfied we all are here at the Co-Cathedral of St. Robert Bellarmine. This shield came out so beautiful and just in time. We will be hosting a Chrism Mass with our Bishop and all 135 priests of the Diocese of Trenton and they will be able to enjoy it as well, as it will be hung in our main hall where there will be a dinner held for the clergy. I just wanted to share this with you and your artists. I would expect you might even get more business from our Diocesan Parishes once they see how beautiful it came out. Thank you, F.E., Parish Operations Manager
Good evening Elizabeth,The badge and patch came out great!  My Chief is interested in ordering two more patches and one more badge.  One slight difference on the badge however.  Instead of "est. 1921" we would want this one to say "DetectiveCould you please send me a quote for that? Thank you, M. M.
Liz, Our cabin sign arrived this afternoon and I love it!  It is in perfect condition from the shipping, and the design and colors are wonderful!  Thank you so much for working with me on this, Liz.  As I told my children, the last major project and goal for the cabin is now complete.  And, I feel my late husband's presence is there represented by the hummingbird.  He bought the cabin in 1972, and the cabin was built in the early 1900's.  A big thank you to you and the company.....it's a job well done!!!!   Karen 
Good morning Liz, Just want to say thank you for all of your patience during our design of the Township seal. It is up and we received many compliments on it from our governing body and also residents at the public meeting! Thank you again, working with you was easy and a pleasure. D.M., Memorial Town Hall, Wykoff,
N.J. Hi Christie, The sign came out awesome.  Would you be able to create just the seal for us?  I'm not sure what size the seal on the sign is, but we are looking for a full-color seal for our new podium.  I've attached a web link and picture of the podium along with the specs – not sure if 15" or 10"  (was thinking 10") would be best .Please .advise.Thanks, JM,   Hawaii Department of Labor and Industrial Relations
Hi Regina,I received the sign today and I LOVE it!!!! I love the raised lettering and everything. You all did a fantastic job!  Thank you!!  Anne
Hi Christie,We received the crest and it looks amazing! Regarding the second sign we discussed for the Physical Therapy tenant, I spoke with the tenant and he is ready to move forward on the sign. Can you re-quote this for me?Thank you! Andrew
Hi Regina! We received the package yesterday! Thank you so much! In perfect condition and so very beautiful! My landscape contractor asked for your company information and I was happy to supply it! Again thank you so much!  Sincere regards,  The Leckies
Good morning Regina, We received our order for the logo plaques  and I just wanted to thank you. The logo plaques  turned out beautifully and my supervisory team loves them. You and your team did a wonderful job and we look forward to do business with you in the future. Thank you so much for everything.
Shannin, Office of Secretary of Defense (OSD)   DOTE (US Military)
Hi Christie,   We love our sign. How do you all do such great work? I think i want metal side brackets for our sign ( 2 ea 2x4..posts 1 post on each side)  Can you please send your various  side bracket pictures to me so we can make a decision, Thanks, C.A.
Regina, I have paid my balance as I believe my order is set to ship soon.  Since I stumbled across your company too late, my friend and her husband have already moved. (we changed the address for her) . I would also like to mention that I cannot remember dealing  with an organization that has been such a pleasure to deal with and the service you have personally given me has been outstanding.  Thank you again for all you've done. L.K, Tenessee
Good morning Christie! Wow!! The signs look SPECTACULAR!!! Thank you so much for the AMAZING job that you and your team did . They really make a statement when folks come to our District Office and our Community Center!! We sure appreciate all you've done! Have a super day and, if you're a mom, Happy Mother's Day. Discovery Bay Town Center Staff
Regina ,We have erected the sign (Blue Ridge Villas) and are very pleased with the results. I wanted to let you know I appreciate the patience and assistance you gave me as this plan developed to our complete satisfaction. I will try to attach a photo even though the photo does not give it justice but close Regards, R.F.
Art Sign Works,Just a quick note: received sign yesterday, we knew we'd love it, however, the words " blown away ' don't add up to how we felt when we unwrapped it. My wife's Dad will be memorialized forever.Thank all who we're involved. LaDonna & Marty 
Google My Business Five Star Review
I recently opened a new office and was looking for a great sign that was "different" from the standard office sign. I went to many of the local sign shops but nothing excited me and then started to look over the internet. After much searching, I find a sign that was perfect,, however, the company was in California and I am on the East Coast and was hesitant to work "long distance". Well, I had nothing to worry about - working with the people at Art Signworks, and esp Regina was a true pleasure. All emails and questions were answered promptly and the designers were top notch, helping me every step of the way. When the sign arrived, it was even nicer than we could ever have imagined. The packaging was done so carefully to ensure that the sign arrived in perfect condition. Within two hours of hanging the new sign, three other tenants in my building came into our office to compliment us on our unique and eye catching sign. Thank you to the staff of Art Signworks and esp to Regina.  N.R.B.
HI Regina, The sign arrived today and it is absolutely beautiful! Now if they can just finish the new home so I can get it hung up on the drive I will be completely happy!  I want this to be a thing of beauty for a long time:-) Thanks for your advice and such a sharp looking sign. I will be the envy of the subdivision and hope to send you more business. Barb
Hello Regina. I said I would send photos once our entrance gate sign was mounted. This is long overdue as I received it back in November, but it took us a while to get around to mounting it.I could not be more pleased. It is just perfect! Sincerely,N.H., New Ulm, TX
Regina, the recipients of the sign absolutely love it.Thanks again, Trainor 
Christie. The new street signs arrived just after the new year and look great.  The HOA is pleased with the work and how well the paint color matches. We hope to get them installed soon (when the snow melts).Thank you for all of your assistance in the project. All the best,Greg
Hi Regina, Received the signs!  They look GREAT….thank you so much for such great art work….you guys are the BEST!!!!! R.B., Attorney at Law,Dallas, Texas 
Hi Christie, The sign arrived today.  It is beautiful - very pleased, can't wait to have it installed. Thanks so much, L.S.,
Christie,    The sign looks amazing and is hung and looking awesome! Dr. just wanted to know if there any special care instructions you could recommend to make this sign last. Thank you so much for all your help! Sincerely,L.W, Family Dentistry, Wyoming
Christie,   I made the down payment, so please proceed with the sign. Use the longer eye bolts. Thank your manager for me, and you as well. I think this is a fair resolution for us. It's easier to run a business when everything is going well. The way a company handles problems separates the good from the bad. Steve
Christie!  The signs look fabulous! I have a couple of questions about 'em... like how they attach etc. but need to contact the contractor first. Talk soon! Please tell your team the signs look great, can't wait! I.A.
Hi Christie,  I never thanked you for our order.(30 inch US Senate seal wall plaque) We received it Wednesday and it looks great, as usual. Until next time. Best, KeeKee
Christie,   We received the signs you sent and they are awesome. We thought we would order another small sign, this time just single sided. Can you give me a quote for that? Thanks,Ed
Hi Christie,  Let's go for 36 x 24, we are excited!! You have been a GREAT help in assisting me... Fantastic customer service. I will fill out the form shortly. Thank you. Peter G.
Hi Christie!  I've been meaning to follow up to thank you for all of your patience and kindness, as well as to thank you for the beautiful sign you created for me in memory of my wife. The sign arrived intact shortly before I left for Florida to spend some time with my family. I pleasantly surprised my Son and his girlfriend, as well as my Sister and brother-in-law with a big "reveal" of her Villa Ronita sign, and they were all so very pleased and touched not only by the meaning of the sign, but also its beauty. I knew my Sister would particularly like it, because I was planning on designing one for her as well. But she beat me to it, and asked me for all of the particulars. You'll be hearing from her soon.Again, thank you so very much !!!! Mike
Christie,  I saw the PSA sign as well as the bronze California seal. it is awesome too. Thanks so much for the great craftsmanship. All my best, Jeanne
Christie, The sign arrived today and it is beyond our expectations! We love it. Thank you. Thanks so much. Lee T.
Christie, Thank you for checking up on the sign. It looks great, and I hope to get it hung within the next few days. I will send you a picture once it is up and showing off. Also, I sent you a check in the mail last Friday, so I would anticipate that you should receive it shortly. Thanks again for all you have done! Frank F.
Christie,  The sign is just beautiful! We are really pleased. Doing something like this over the internet isn't always so successful, but Art Sign Works creates an excellent product and the customer service is terrific.Thank you so much for all your help and for the wonderful design and execution of our new sign. Shelley and Gary
Hi Christie,  Just to let you know that the FDIC OIG plaque arrived at my door at about 7:30 am this morning. I was shocked at the speedy service. The item arrived in Sydney, Australia on Saturday mid day. So its arrived safe and sound. I must say it looks striking. So an excellent job done on it.   I put it up in my living room for the moment over my most memorable government plaques. It certainly has a distinctive look. Again thank you for the excellent workmanship and service.See attached photos of item in my living room. I have advised the NASA special agent that your company can make the NASA OIG plaque. I will now send him pictures of the FDIC OIG plaque here with me now .   Again thank you.  Regards,James  
Art SignWorks: Thank you for my beautiful sign. The craftsmanship is excellent. It looks exactly like the samples we created in photoshop. I couldn't be more happy with it. I will recommend you to anyone! ( :Thank you, thank you, thank you! ( : Yasha
Hi Christie/ Kevin, Received the sign today and it looks amazing. Great job !!!. I like the way the HDU material captured the logo design .I will send photos after it is hung.Thanks again. Frank V.
Hello!    We received our signs last week, and they are absolutely beautiful! You exceeded our expectations, and everyone is thrilled with the final product. Thank you so much, we really appreciate everything you did for us, especially your patience. We will certainly use you in the future, and we will definitely recommend you to others. Thanks again, M.T., Volunteer/Event Coordinator Austin, TX
Hi to all of you!  We are up on Peaks Island Maine for the weekend and are so excited. The sign arrived today. We opened it and it is truly beautiful. We thank you so much. It was a pleasure working with you and your design team. You were so patient and sensitive to our wishes and suggestions. We were so impressed and will highly recommend you as we will surely get comments on it once we hang it in the spring. Thanks again for your friendly and professional way. We will send you a picture once we hang the sign and feel free to use any of this as a testimonial. EP/NS
Christie,  Wow!I got the sign in the mail early this week, and it is FANTASTIC! What an improvement over the old wooden, rotting thing we had in the park. Thank you so much for the wonderful service and quality of workmanship. I will most definitely be a repeating customer. A.D., Groundskeeper, Virginia
Christie & Kevin,  The sign arrived yesterday and is perfect. Thank You...Please let me know if all is OK concerning payment. Again, Thank you for a very impressive sign. Dick D. Christie, Here is a picture of the AWESOME sign you made! Feel free to use it on your website. We could not be more pleased! Thanks, Jerry
Hi Christie, The sign has arrived and it is really lovely! The quality of the sign is a good as we hoped and expected! Thank you! D.D. Good Morning…… we received our signs yesterday. They arrived safe and sound and are very nice. Thanks for the great work........ Sincerely, L.J. Customer Service Manager
Christie and Kevin, It arrived yesterday and I have one word: WOW! It's absolutely perfect – thanks for all your help!" K.J.L.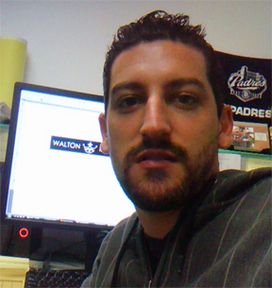 Kevin is our Lead Designer and Production Manager
"Christie and Kevin,It arrived yesterday and I have one word: WOW! It's absolutely perfect – thanks for all your help!" K.J.L.
"Kevin – Thank you from the bottom of our hearts ! The job you did for us was superb – the actual finished product greatly exceeded our expectations. Also, thank you for having it delivered on-time. It's truly appreciated." Karen J
"Hi, Kevin –  Just wanted to let you know we are very pleased with our new cottage sign. It's just what we wanted and looks great! I am attaching a couple of pictures of the sign in place. That's Lake Michigan in the background.Thanks again for a job well done!" BH, Michigan
"Hello Kevin, Here are some of the pictures after I hung the sign. Thanks for all your help with the sign. " Tsering
"Hi Kevin, Thank you for the touch up paint (for installation), and here's the pictures I promised. We love the sign...Thank you again" Lisa
"Kevin, We received the 2 wall plaques (Navy and US Seal) and they look great! Thanks for getting us the product we need--very nice work! "BWF, Dept. of Navy
"Kevin,  Thanks for working so hard on our company's entry sign. I have received so many compliments on it. You did a great job on it. Thanks .." JG, Vista, CA
"Kevin, The sign was just delivered and I love it.!!!!!!! It is perfect, and the colors match great. Thank you for everything!!!!!! I really like the way the ridges make it look rustic, and like wood. Have a wonderful Holiday and Happy New Year!!!!!" LH, New Jersey
"Dear Kevin -  Got the sign today! We love it!! Everybody is blown away by the quality of the product. Thanks, Kevin" Holy Shepherd Pre-School Sign, JV "ArtSignWorks- Just received the sign I ordered. It looks great." Thanks, Jim Young, Signs-by-Tomorrow
"Kevin, Sign arrived and is hung in place. Looks great. Thanks for your help."  Phillip W, Austin, Texas
"Christie, We got it and the plaque looks great! Thank You". Bryan S, Escondido, CA
"Kevin- Awesome!!!!!THANK YOU so much, you have been a pleasure to work with!!!!! That kind of customer service is hard to come by these days. It is much appreciated and the school of 600 students will appreciate it as well", SC
"Kevin -  The signs are beautiful and they had no problems putting them up. ...take care", AM, "Thank you for your great work with the permitting dept. and of course the sign. Everyone is very impressed with your work." …Scott, San Diego
"Christie, Thanks, I have received the signs. They look great! Thanks again!" Natalia, Whitehorse                                    
"Art Sign Works, received the plaques and they are perfect. Exactly what I was looking for. They are beautiful, thanks a lot. Thanks again," Katheline
"Hey Kevin, We just received the DHS (Dept. of Homeland Security) Seal you made for us - it is perfect! Thank you for your effort and great customer service", RM, Chapel Hill , N.C,
"Kevin, Our signs all arrived in one piece and look fantastic. We couldn't be more pleased.. Thanks again for such excellent (and timely) craftsmanship." Best, DS
"Christie and Kevin, Thank you for a very professional job. The signs look great, we have received many compliments on them. We really appreciate you meeting all our deadlines, even when we caused some delays. We could not have had our Grand Opening on time without your hard work! We will definitely use you on our next project" CG, Palm Springs, CA
"Art Sign Works,  I can't believe your price! We received a quote from (name withheld) Signs in Pennsylvania for $9600 for our (very large double-faced entry) sign with carved art, and for almost exactly the same sign, including the same materials, your quote was $3800. We are definitely going to order our sign from you." LC, Missouri
Christie; ABSOLUTELY FANTASTIC!!!! I obviously came to the right people!!! I am sincerely pleased! Not to knock the run-of-the-mill carved wooden ones that can be obtained through most military insignia supply stores or websites, but how can something like that offer compete with this!?! It looks as if it was cast in solid metal! Beautiful job! I am very happy with it and more than pleased ! Thanks so very very much! B.H.
Hi Christie,  I just wanted to circle back with you one final time as we have received the sign. Jim LOVES it...we are so pleased with how it turned out and we can't wait to display it outside!Thank you so much for all you did to make this "First Time Customer" Experience a terrific one! Should I have any future sign needs, I will surely reach into Art Sign Works! Sincerely,Sharon
Christie, I just got the signs and they look great. My Commander is extremely pleased with them, so expect more orders from us in the future. Thanks, S.C, MSgt, USAF
Hello!  I just opened my Welcome to Huffman Pond sign and it is every bit as gorgeous as I had hoped and more! You did such a great job. My husband is at work and I cannot wait for him to see it! Any installation and care advice would be welcome. We intend to have this for years to come! Again, thank you so much for a beautiful piece! M.H.
RE:Sunset Boulderyard Sign:  The second sign arrived to the east coast of Canada quickly, well packed and in excellent condition. I appreciate that you promptly rectified the minor production error and at no extra cost to me. Your company clearly wants satisfied customers and delivers on that wish, I would happily buy from you again.Again thank-you for getting it to me before Christmas it will make a great present for my wife. P.M. Nova Scotia, Canada
ArtSignWorks: I wanted you guys to know that I received the plaque today (State Seal of Louisiana) and it looks amazing! Thank you so much. Representative, Louisiana House of Representatives Thanks
Christie, The signs look great.What would you charge me for 2 of the oval horse logos? Equestrian Center, CA
Christie- The sign was delivered and has already been hung. I want to say that it awesome! Art Sign Works did a great job. I've attached a picture to show it off. With that being said, can I get quote on another project?... Lt, US Air Force
ArtSignWorks:  The Sign looks terrific! Signs by Tomorrow, Palm Desert, CA
Kevin,  We received our signs. WOW... they are fantastic! Thank you for your expertise and craftsmanship. I look forward to doing business with you when we build the next store(s). I will send a picture of the sign when we open. Thanks again. Rus
Sign arrived today…looks great…processing invoice for payment. J.M Project Manager D.B. Signs
To Kevin, Christie & Everybody at Art Sign Works: We just received our finished sign today and we are giddy, overwhelmed, and ABSOLUTELY THRILLED with it! You have exceeded our expectations in every way. Great work! We hope to send you a picture after we get it mounted. Thank you so much for your fine work & craftsmanship. All good things, Michael & Barbara N.Y., N.Y.
Christie,  We just got it, perfect timing and it looks perfect! Thanks, D.T. Interim Fire Chief
Dear Kevin and Christie, Thanks again, everything went very well and everyone is very happy with the signs. I'm sure we will be calling you for more in the future! I would be happy to write a referral if you ever need it! Cheers, E.N,.President of Cond Assoc., Redondo Beach
Christie, They loved the sign! We are just waiting for the approval for the funding to go through! Quite a few people from other bases loved them also. Thank you,C.K., AFB, Illinois
Hi Christie, The sign (Casa Resaca) arrived last week & we couldn't be happier with it. A Great job ! Thanks so much, Maureen
Christie & Kevin,  Sign, Da Kitchen, delivered today. It is so perfect, beautiful I wanted to thank you both for such a great job. I know where I will get any future signs! Thanks so much and a very Merry Christmas to you both. S.L.
Art SignWorks: Thank you for my beautiful sign. The craftsmanship is excellent. It looks exactly like the samples we created in photoshop. I couldn't be more happy with it. I will recommend you to anyone! ( :Thank you, thank you, thank you! ( : Yasha