Signs & Plaques
ALL OF OUR SIGNS & PLAQUES ARE MADE IN THE USA BY AMERICAN CRAFTSMEN
Product Gallery 9 -Standard Plaques and Signs Suitable for Gifts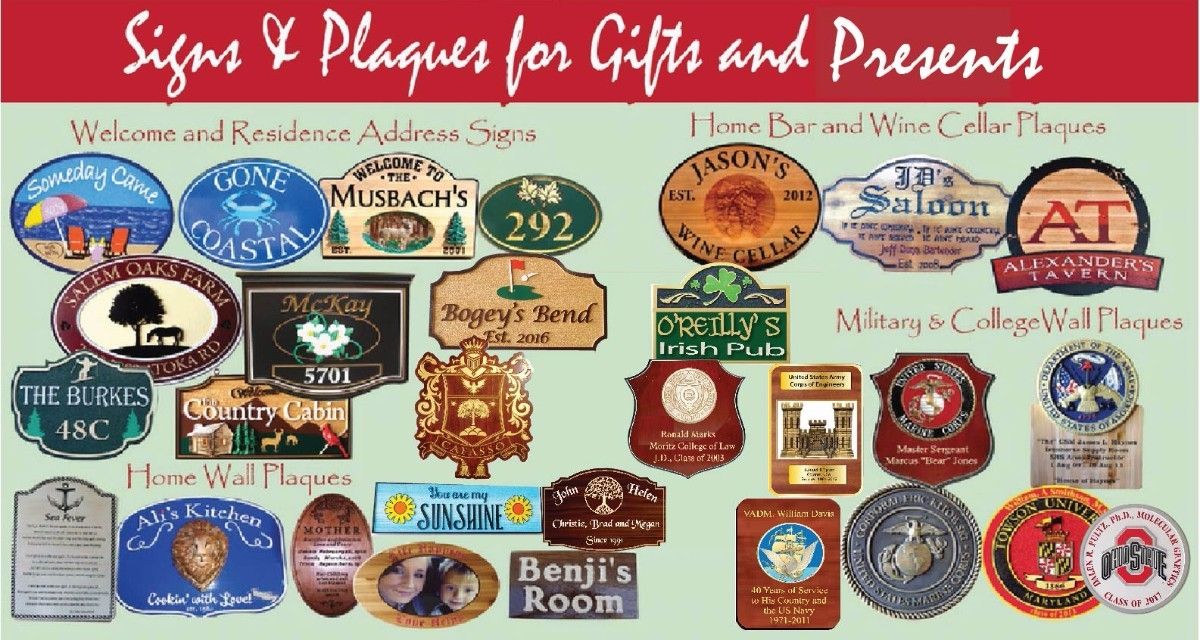 Examples of Smaller Signs and Wall Plaques Suitable for Holiday Gifts
We have a many requests for these type of gifts. and over the years have developed unique sign and plaque designs that you may wish to consider. We  make gifts for  Holidays such as Christmas, Fathers or Mothers Day, a housewarming, a birthday, an anniversary, retirement party, honors or recognition meeting or dinner, league/region championship ceremony, or other special occasions.
If you have just entered our website and you want an overview of our company and all our products, please start with our Home page (dark gray tab upper left). Every one of our signs and plaques is custom designed, and in general we will work with you to personalize an existing design or create a custom new design for you of any type.. We have over 8000 designs in our Product Galleries..However, we have selected a few designs in this Photo Gallery 9  to show some examples of signs and plaques which are suitable for gifts or awards .Please use the slider on the scroll bar on right margin of this window to see the photos of these 170 signs & plaques in this Gallery 9 below. 
Some of our smaller personalized, semi-custom hand-crafted signs and plaques make excellent gifts. These include indoor wall-mounted plaques for the home, vacation home and residence address signs, celebration plaques, graduation plaques, military plaques, trophy plaques, etc. Each of these items is personalized and has a semi-custom design (you can change text content, location, font style and color scheme)  designed to your requirements.Generally it takes 4 to 5 weeks after a firm order is placed before you receive your sign or plaque.. 
The signs and plaques in the Gallery 9 are arranged in the following order in the list below. For many more examples of similar signs  & plaques, you can visit the Product Galleries that are referenced below by number by clicking on its numbered title in the grey navigation bar in the lower left margin.
(A). custom address and property name signs, usually with art and made  for main residences,  beach and coastal homes, and  mountain and lake cabins  and cottages (also see Product Galleries 18, 20, 21, 23 and 24 for more examples)
(B) professional title, name or achievement plaques (e.g., John Smith, M.D, fellow of the AIAA, Board Certified .., Member of the CA Bar, etc) commemorating awards (looks more impressive and more custom than a certificate or small trophy) (see also Galleries 10, 11, 11A, 11B, and 12)
(C) College, high school graduation plaques (with seal or logo of school , can have your name, degree and class on it-any college, university,  school, even though it is not shown here in this Gallery 9) and fraternity &  sorority cost-of-arms and emblems) (see also Gallery 34)
(D) Federal, military and state government  seals and award plaques (e.g., Ambassador, Under-Secretary, Senator, Congressman, USMC First Sergeant,  Mayor of Middletown, etc, including agency, state or city plaque, even though it is not shown here. Any text, name or citation) (see also Galleries 30, 31, 32, 33 and 34)
(E) Club Award Plaques  commemorating service as volunteer organization officer (e.g., President of PTA, 2009-2010, Kiwanis, Chamber of Commerce, etc, including the seal or logo of any organization and any text for name, citation, etc, even though it is not shown in this Gallery 9 ) (see also Gallery 35)
(F) Home pub  & wine cellar signs or plaques (see also Galleries 26 and 27)
(G) Workshop signs (Gallery 22)
(GC) Farm and horse signs & plaques (Galleries 23 and 24)
(H) Sport  plaques(e.g., favorite team, golfer of the year, hole-in-one, etc) (see Gallery 14) or hobby signs or plaques for den, office or study (see also Gallery 35). Also  winning soccer, football, baseball, basketball team in league or region (tired of the those cookie-cutter trophies? you can have your emblem/logo in the center).(see also Gallery 35)
(J)  Home Plaques such as mother's plaque, inspirational sayings,  Eagle Scout, school valedictorian, Marathon winner, Debate Champion, children's room, kitchen (see also Gallery 22)
(L) Garden signs and plant markers (see also Gallery 16A )
Our signs and wall plaques can be circular ,rectangular, a shield, or any other sign shape. Typically our wall plaques are 12 in to 24 in wide and have carved art, text borders, and routed edges,and  can come with hangers. Text and art can be either raised above the background or engraved into it .Our designs can be formal, professional, elegant, whimsical, or rustic, and can use any style shown in Gallery 9 below.
 Every one of these signs and plaques are custom designed and built, and indoor and weather-protected outdoor signs or plaques will last a lifetime with little or no maintenance. Most (HDU and painted wood) of our signs installed outdoors subject to  severe climates (rain, high humidity, snow, ice, dust) will last decades with only minimal maintenance. .
We are a "Green" company, using wood from renewable forests and other materials that contain a high recyclable content. . For every wood sign we sell, we donate funds to plant 1 to 5 trees through the the National Arbor Day Foundation. The rest of our materials and manufacturing process have a low carbon footprint.
PRICES.  Prices  range from $100 to $350 for the smaller semi-custom & personalized signs & plaques in this Gallery (typically 14 to 18 inches wide ) and $200 to $500+ for the larger sizes, typically 24 inches inches wide . These signs and plaques are all-weather, completely water-proof, can be placed outdoors or indoors,  and will last for decades. They can be be personalized and  semi-customized with text content and text location, font style, and color schemes. To offer the low prices shown in this Gallery and to reduce the production time, the artwork cannot be changed from that shown in this Gallery (other than changing the color schemes) However, at slightly higher prices (about 20%), we can completely customize the artwork or make new art and change the sign shape and size of any of the 12,000 signs and plaques shown in the other 45 photo galleries on this website. The signs & plaques should not be compared with cheap knock-offs made out of MDF or MDO (glued up sawdust), which cannot be used outdoors and will only last a year or so indoors. We use only solid premium-grade wood or High-Density-Urethane, which costs 5 times as much as these synthetic materials, and we  use the finest sign polyurethane acrylic paints and stains available (Matthews,1-Shot, MinWax), which cost $200/gallon.  We do not use house paints, which will only last a few years. We also coat every sign or plaque with two coats of Matthews clear for further protection. Your outdoor sign will last for decades with no maintenance, and we give a 2 year warranty on every sign or plaque. 
PLEASE CONTACT US. Please call or email us for a price quote on a specific sign or plaque if you want significant enhancements to the designs shown below.. We will work with you to design and build the exact one you want. Our knowledgeable and helpful Customer Service Representatives, Christie and Regina, will respond to your request promptly. Call us at 951-698-8484 or email us at info@artsignworks.com, or you can fill out and submit our on-line Request an Estimate Form if you are just looking for a quote and are not yet  ready to place an order. If you know what you want to order, please use our Place an Order form.(click on underlined text). We would like very much to make your custom sign or plaque, and we are confident that you will be pleased with it. We take great pride in every product we make for our valued clients. We offer a 2 year warranty on all our products in any climate. Please contact us today so we can get your sign or plaque design initiated.
.  ,