Signs & Plaques
Gallery 29 - Hotel, Motel, Inn, Resident Suites, B&B, Resort and Casino Signs & Plaques
Outdoor (Entrance, Hanging, Building , Directional & Post Signs) and Indoor (Room, Informational, Directional ) Signs & Plaques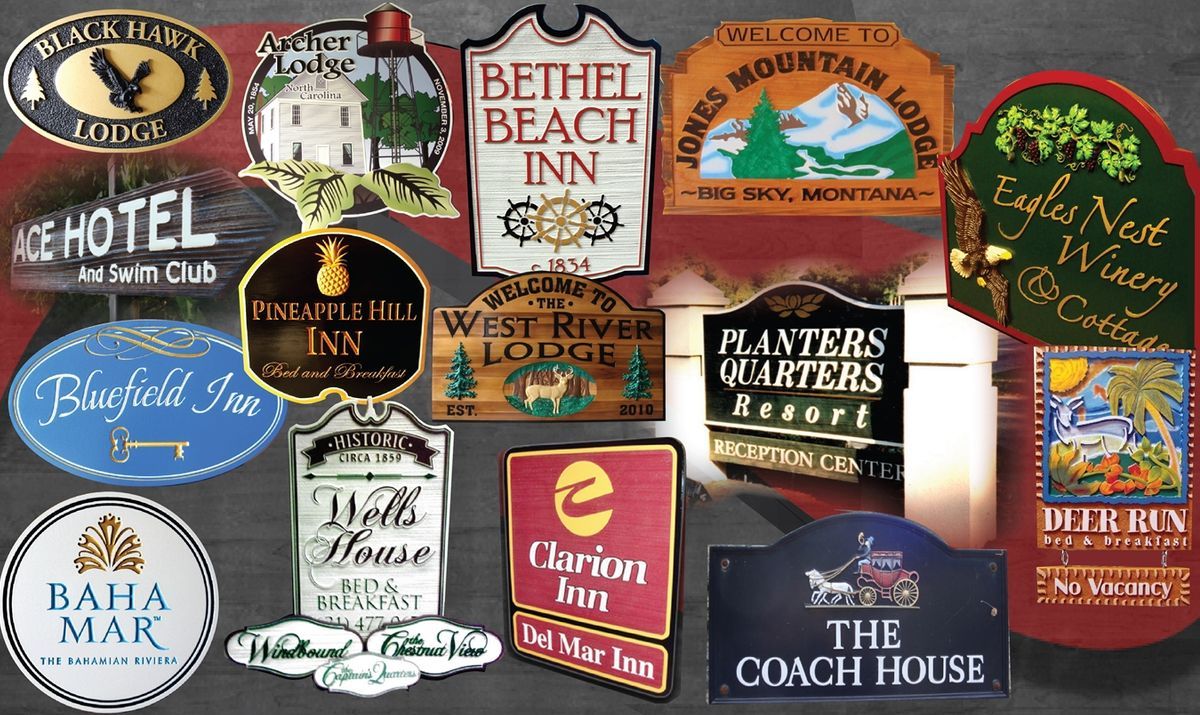 Examples of Our Carved Wood & HDU Entrance Signs for Hotels, Inns, Resorts, Lodges, and B&B's
Welcome to our photo Gallery 29 for signs and plaques for resorts, casinos, hotels, motels, inns and Bed-and-Breakfasts (B&Bs). The photos on this page show a wide variety of examples of outdoor (address, entrance, wall, freestanding) and indoor (wall) signs and plaques for hotels, resorts, casinos, inns, motels, and B&B establishments.
If you have just entered our website and you want an overview of our company and all our products, please view our Home page (click on the dark gray tab at the top left of the page). Other Galleries can be visited by clicking on the numbered light gray boxes in the lower left margin. Bar, tavern, and pub signs are shown in Gallery 27, Bar, Taverns & Pub Signs. Restaurant signs are shown in Gallery 25, Restaurant Signs.
This Gallery 29 contains over 150 examples of our custom carved 3-D and 2.5-D signs and plaques featuring all types of hotel, motel, inn, lodge B&B, resort, and casino signs & plaques. These include entrance, identification, office, way-finding, directional, swimming pool, restaurant, room number, restroom, security, rule and any other sign or plaque for your inn-keeping business.
These carved and sandblasted High-density-Urethane (HDU), wood (Mahogany, Cherry, Cedar or Redwood), HDPE, acrylic, metal-coated, and aluminum signs are made for of all types of these businesses. We have a very wide range of styles in this gallery from formal and elegant gold-leafed signs,to bright and attention getting signs, to national hotel branded logo signs, to very rustic signs made of old barn-wood or scorched (slightly burned) Cedar or Redwood. We will make any custom design for your commercial lodging business that you wish, in addition to the designs shown in this Gallery.
We recommend HDU for painted outdoor signs; they last longer, require less maintenance, cost less and carve more precisely. We recommend wood (usually Cedar OR Redwood) signs when your want a wood or rustic look; these are stained and clear-coated to give a natural look. If you can't find a design you like in this Gallery, call us at 951-698-8484 or email us at info@artsignworks.com, and we will design you a sign for free.
CONTENTS OF GALLERY 29
The photos on this page show a wide variety of examples of entrance, monument, address, wall, way-finding, building, and restroom signs for commercial lodging establishments. We include on this Gallery 29 photos of signs in the following order (top of page to bottom):
Large entrance monument signs for hotels, motels, and casinos (top of page, beginning at T29000)

Hanging, post & wall/gate signs for B&B's and inns (near top of page, beginning at T29025)

Room number & room name signs for hotels, motels, inns and Bed & Breakfasts (B&Bs) (middle of page, beginning at T29190)

Outdoor directional, information, and building signs, and interior signs and plaques (near bottom of page, beginning at T29400)
Signs for restaurants are shown in Gallery 25. Signs for bars, taverns and pubs are shown in Gallery 27. Signs for Swimming Pools and Tennis Courts are shown in Gallery 16B. Signs for Golf courses and country clubs associated with hotels & resorts are shown in Gallery 14. Click on the underlined text link above or in a numbered gray box in the lower left margin to visit that Gallery.
PRICES. Our custom designed smaller signs, 18 inches to 36 inches wide, have retail prices that range $99 to $500+. Room number signs have prices from $20 to $70 each. Small (12 to 18 inches) wall signs have prices from $100 to $150+. We offer substantial discounts on a large number of signs, such as room number plaques or a set of signs for an entire complex. Larger signs, up to 120 inches wide, cost $600 to $3000+. Our sign prices depend primarily on sign area but also on sign material (e.g. HDU, Cedar, Redwood, HDPE, metal-coated HDU, aluminum), whether the sign is single-faced or double-faced, design detail and complexity (e.g., 3-D vs 2.5-D vs 2-D), and any special features (e.g., steel reinforcements and frames, gold-leaf, 3-D appliques, separate letters on standoffs, etc.). More detailed information on sign retail prices, along with their design features, are described on the Price, Size, and Design Features page.
PLEASE CONTACT US. Please call or email us for a price quote on a specific sign. We will work with you to design and build the exact one you want. Our knowledgeable and helpful Customer Service Representatives, Christie and Regina, will respond to your request promptly. Call us at 951-698-8484 or email us at info@artsignworks.com, or you can fill out and submit our on-line Request an Estimate Form. We would like very much to make your custom sign, and we are confident that you will be pleased with it. We take great pride in every product we make for our valued clients. We offer a 2 year warranty on all our products in any climate. Please contact us today so we can get your sign design initiated.
HOW TO NAVIGATE THIS SITE. You can scroll down this page to see more sign designs by using the slider on the scroll bar at right edge of this page. You can enlarge a photo and get information on the sign by clicking on the photo. After you enlarge a photo, to return to this Gallery page, click on  "Return to List" at the bottom right of the photo or text. Other photo Galleries can be viewed by clicking on a numbered gray box in the lower left margin. Business web pages (e,g, prices & design options, request a quote, place an order ) can be viewed by clicking on a gray box in the upper left margin. Other informational web pages, including our Home Page,  can be visited by clicking on dark gray tabs at the top of the page in the header.
Our hotel, motel, inn, B&B, and lodge signs and plaques can be made from High-Density-Urethane(HDU); Redwood or Cedar; or brass, bronze, copper, steel, aluminum, gold or silver coated , and can be carved, sandblasted (letters, art and border higher than background) , engraved., multi-layer, digital image prints, or have cut-out metal or HDU letters or artwork with standoffs. Sign styles range from formal, elegant , commercial, professional, eye-catching, to natural or rustic. These completely custom signs can have the name of the business, the proprietor's name, a short message ("Welcome"), street number, and art ranging from simple sandblasted art to artworks which  are hand-carved and artist-painted .
We make entrance signs, free-standing post signs, hanging signs, blade (projecting over sidewalk) signs, roof signs, and interior wall signs. We also make sign "systems"; as many as 1000 style and color-coordinated signs for a complete hotel or resort complex (entrance, room or location identification, directional, room number, recreational, etc). Please refer to the ID number (e.g.T29110) if you want your sign to be similar to one or more signs shown in the Gallery.