Signs & Plaques
Gallery 35 - Sports Team Logos and Sport Event Team and Individual Award Plaques
Civic Service Club, Fraternal Club, Social Club, Corporation, Company, and Sports Team (Professional and Amateur, all levels) Custom Wooden Carved Plaques, including logos, emblems, badges, seals, , crests, and insignia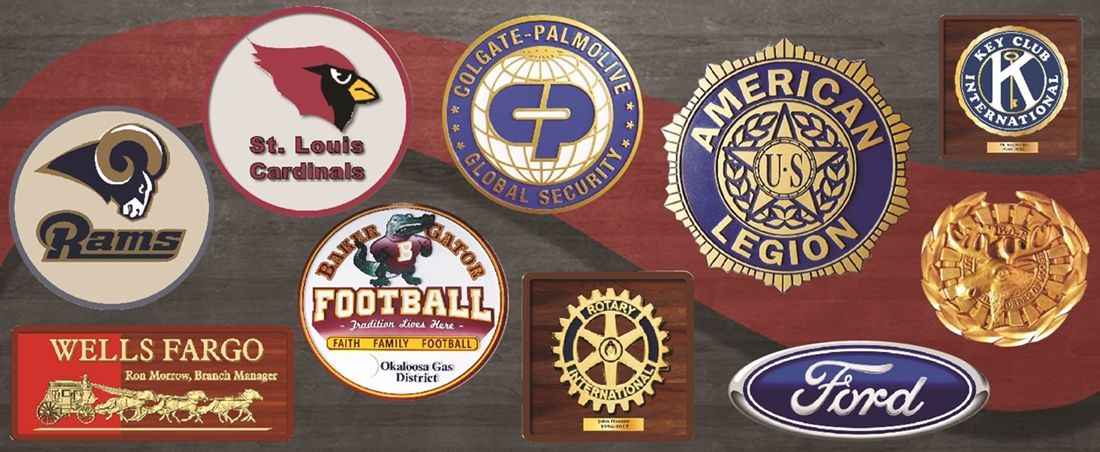 Examples of Carved Plaques carved 3-D Wall Plaques for Fraternal and Civic Service Clubs, Corporations and Sports Teams
Welcome to our photo gallery of our custom and personalized carved wood, High-Density-Urethane, Bronze, Brass, Copper, Gold and Silver wall plaques for civic, social, and fraternal organizations & clubs;corporations & companies,  and professional and amateur sports teams of all types. These can be used for identification (e.g. outside on a building wall,or inside in a reception area, lobby, hallway, auditorium, gymnasium, conference room, office or on a podium). They can also be used for personal or organizational achievement, graduation, award, recognition, service, or retirement plaques, since personalized text can be added to any plaque.
We also  have another major website featuring  clubs and service organizations, corporation,  and sports  plaques , for our Wood & Metal Plaque Company (click to visit). That website has many more plaques displayed than this website does, is more easily navigated, and is more user friendly. On that extensive and well-organized website, you will find a very broad selection of designs, a thorough description of various styles,  and a specific price list that enables price comparison between various styles of plaques. Veteran's , civic service,  fraternal /service, activity, conservation, and youth clubs  seal , emblem and logo plaques, and  their specific prices, are shown on  the Club Plaques web page (click on link to visit that page). Plaques featuring corporate and company logos, seals and emblems and  their specific prices are shown on the Corporate Plaques  photo gallery web page. Sports team and individual athlete logo, championship and award plaques are shown on the Sports Plaques web page,  If you are looking specifically for a wall or podium plaque, we highly recommend you visit that website, rather than this one, since it has a better selection of designs and specific prices. That website does not show any signs like this one does, just wall and podium plaques.
If you have just entered our website and you want an overview of our company and all our products, please start with our Home page (dark gray tab on left header). On this page we have examples of our wide selection of custom carved wood , HDU and metal-coated wall plaques featuring the logos/emblems for clubs, corporations, and professional, college and high school  sports teams. These are listed in the following order; (1) civic, fraternal, service, charitable, and social organizations & clubs; (2) corporations & companies; and (3) sports teams. Please scroll down the page using the slider in the right margin to see all the photos. Wall plaques featuring the crests of colleges, schools, fraternities and sororities are shown in Gallery 34.  Plaques with military crests/logos are shown  in Gallery 31, and wall plaques for federal, state and local government organizations are shown in Galleries 30, 32 and 33, respectively. Other wall plaques for homes and families are shown in Gallery 22. These photo Galleries can be visited by clicking on the numbered gray boxes in the left margin.
We have included on this page only a small sample of the plaques we can make because of copyright laws. However, we can duplicate and enhance any logo, seal, crest, badge, emblem, coat-of-arms or insignia, if we are provided a photo, a drawing, or a sketch of it (we can also get most of these off the internet). We can take any image and then design and make it into a custom carved 3-D or 2.5-D wood or High-Density-Urethane plaque, and carve into the plaque the organization's name and/or individual recipient's name,date and citation.
We make wall plaques from 12 inches wide to 20 feet wide (for outside building walls). These do not have to be round plaques; we can make any shape plaque, or mount a round seal on a mahogany or Cedar wood backboard that are made in the shape of a shield, a rectangle, ornate or arbitrary shape,etc. We can customize and personalize with text , materials, and color any plaque shown on this page, and make a custom plaque for ANY other logo, seal, emblem, crest, badge or coat-of-arms you may have. The top row of pictures (Z3002 to Z3004) shows the many style and material variations (High-Density-Urethane (HDU), Cedar, Redwood, Mahogany, Maple, Oak , gold-and silver-leaf, brass, bronze, silver metal coatings, and hand-painted enamels ) we can use to make any plaque or sign. Although we show painted HDU in full color for most plaques on this page, we can make any sign or plaque out of wood or put any of several types of top coatings/color schemes on them, similar to the top row. These custom plaques are very reasonably priced, ranging from $150 to $250 for smaller plaques 12 to 20 inches wide , up to $550-$1100 for 36 to 48 inch wide plaques depending on material, complexity and size. For more information on prices go to Price, Size, and Design Features page or Request a Estimate.
Our custom "2.5-D " designs have multiple layers , each of which is flat but is raised at a different level of relief. These are about 10-30% less expensive than 3-D custom designs, which are rounded bas-relief (continuous curvature like a sculpture). For smaller plaques, or very intricate detailed artwork, we may use a laser engraver or make  a digitally printed full-color applique for some or all of the art. This can be applied over a 2.5D flat surface; the rest of the plaque, including borders and text, will be machine or hand-carved and hand-painted. For large plaques (16 to 72 inches in diameter), or for simpler, less detailed or stylized art for smaller plaques, we  carve the art in either 2.5-D or 3-D relief and artist-brush paint it.
PLEASE CONTACT US. Please call or email us for a price quote on a specific sign or plaque. We will work with you to design and build the exact one you want. Our knowledgeable and helpful Customer Service Representatives, Christie and Regina, will respond to your request promptly. Call us at 951-698-8484 or email us at info@artsignworks.com, or you can fill out and submit our on-line Request an Estimate Form.
We would like to make your custom sign or plaque, and we are confident that you will be pleased with it. We take great pride in every product we make for our valued clients. We offer a 2 year warranty on all our products in any climate. Please contact us today so we can get your sign or plaque design initiated.
HOW TO NAVIGATE THIS SITE. You can scroll down this page to see more sign designs by using the slider on the scroll bar at right edge of this page. You can enlarge a photo and get information on the sign by clicking on the photo. After you enlarge a photo, to return to this Gallery page, click on  "Return to List" at the bottom right of the photo or text. Other photo Galleries can be viewed by clicking on a numbered gray box in the lower left margin. Business web pages (e,g, prices & design options, request a quote, place an order ) can be viewed by clicking on a gray box in the upper left margin. Other informational web pages, including our Home Page,  can be visited by clicking on dark gray tabs at the top of the page in the header.