Signs & Plaques
Gallery 21 - Carved Signs for Lake, Mountain, Forest, & Desert Homes, Cabins, Cottages & Businesses
Boating, hiking, hunting, fishing, skiing themes. 3-D Wild animal, bird & fish art.

Examples of Carved Mountain, Lake and Forest Residence and Business Signs
Welcome to our 3 page Photo Gallery 21 for over 500 examples of unique and handsome custom carved & sandblasted wood or High-Density-Urethane (HDU) signs made for lake, river, mountain, forest and desert homes of all types, including cabins, cottages, vacation homes, and resort communities. In this 3 page Gallery we also show signs for businesses in lake and mountain communities, including hunting, fishing, skiing, hiking, and boating businesses, lodges, stores and guide services. We have  a very large and  interesting collection of mountain, forest, lake and desert signs in a wide variety styles and artwork, from rustic to whimsical & comical  to formal and elegant..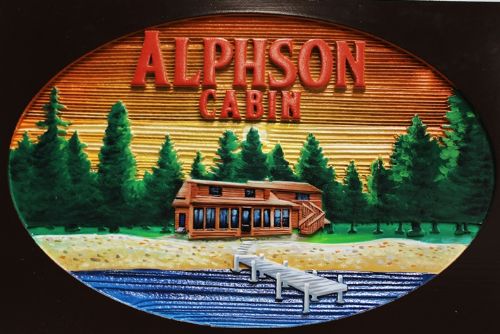 Other photo Galleries can be visited by clicking on numbered gray boxes in the lower left margin on this page. We have 4 other specialty photo Galleries that show "welcome", property name, and  address signs. In  Gallery 20, we  show over 500 name and address signs for beach, seashore and coastal residences. Gallery 18 shows over 400 address and name signs for urban, suburban, and rural homes and estates. Gallery 23 shows over 350 signs for farms and ranches, many of which feature wildlife as artwork. Although we have some mountain and lake apartment and condo signs in this Gallery, many more on shown in Gallery 19 and  Gallery 19A. If you have just entered our website and you want an overview of our company and all our products, please see our Home page (upper left dark gray tab in the header at the top of this page).
We offer custom carved 2.5-D, 3-D and engraved dimensional address signs and plaques. These are fabricated from wood (cedar, redwood, mahogany, oak, maple, cherry) or HDU. We also make metal-coated HDU (24K gold  and silver leaf gilded, brass, bronze, copper, silver-nickel stainless steel, and aluminum) and sell wood and wrought iron posts and scroll brackets. We recommend HDU for painted outdoor signs; they last longer, require less maintenance, cost less and carve more precisely. We recommend wood (usually Cedar or Redwood ) signs when you want a wood or rustic look; most of our wood signs are stained and clear-coated rather than painted. If you can't find a design you like in this Gallery, we will design you a sign for free. We will design and build the exact custom sign you want!
CONTENTS OF GALLERY 21 
This Gallery 21 contains over 500 photos of signs and plaques, and covers 3 pages. The pages can be turned by clicking on 1, 2, or 3 (page numbers) below (underlined blue) or at the bottom of the page, just below the photos. The photos of signs on this Gallery are shown in the following order of subjects as artwork, top to bottom:
Trees (near top of page, beginning with M22050)

Mountains,  including Snow Skiers (middle of page, beginning with M22200)

Lake and Mountain Scenes (near bottom of page, beginning with M22300)

Boats (near top of page, beginning with M22500)

Fish including Trout, Bass, Perch (middle of page, beginning with M22550)

Deer and Moose (middle of page, beginning with M22600)

Birds - Ducks, Loons, Geese, Owls, Eagles, Cranes, Egrets, Songbirds, Swans (near bottom of page, beginning with M22700, and continued to top of page 2, beginning with M22820))

Wolves, Coyotes, Foxes,and Mountain Lions (near top of page, beginning with M22900)

Other Wild Animals (Boars, Beavers, Squirrels, Raccoons ) (middle of page, beginning with M22910)

Dogs (near bottom of page, beginning with M22925)

Deserts (near bottom of page, beginning with M22950)

3-D carved art appliques (mountains, lakes, trees, wildlife, birds, fish) (bottom of page, beginning with M22963)
Related signs in other photo Galleries can be viewed by clicking on a numbered gray box in the lower left margin, or click on one of the underlined links below. Seashore and ocean beach vacation homes and businesses are shown in Gallery 20;  farm, ranch and western signs are shown in Gallery 23;  and RV, campground, trail and park signs are shown in Gallery 16
"Daybreak" Sign with Lake, Trees, Sailboat and Rising Sun
PRICES. Our custom designed smaller cabin & cottage signs, 18 inches to 24 inches wide, have retail prices that range $99 to $300. Larger signs cost more. Our sign prices depend primarily on sign area but also on sign material (e.g.,HDPE, HDU, Cedar, Redwood, Mahogany, metal-coated), design detail and complexity (e.g., 3-D vs 2.5-D), and any special features (e.g., steel reinforcements and frames, gold-leaf, 3-D appliques, etc.). More detailed information on sign retail prices, along with their design features, are described on the Price, Size, and Design Features page.
PLEASE CONTACT US . Please call or email us for a price quote on a specific sign or plaque. We will work with you to design and build the exact one you want. One of our  knowledgeable and helpful Customer Service Representatives, Christie, Regina, or Liz, will respond to your request promptly. Call us at 951-698-8484 or email us at info@artsignworks.com, or you can fill out and submit our on-line Request an Estimate Form. We would like very much to make your custom sign or plaque, and we are confident that you will be pleased with it. We take great pride in every product we make for our valued clients. We offer a 2 year warranty on all our products in any climate. Please contact us today so we can get your sign or plaque design initiated.
HOW TO NAVIGATE THIS SITE. You can scroll down this page to see more sign designs by using the slider on the scroll bar at right edge of this page. You can enlarge a photo and get information on the sign by clicking on the photo. After you enlarge a photo, to return to this Gallery page, click on  "Return to List" at the bottom right of the photo or text. Other photo Galleries can be viewed by clicking on a numbered gray box in the lower left margin. Business web pages (e,g, prices & design options, request a quote, place an order ) can be viewed by clicking on a gray box in the upper left margin. Other informational web pages, including our Home Page,  can be visited by clicking on dark gray tabs at the top of the page in the header.
We will design you a custom sign or plaque for you at no cost assuming you purchase the sign. Please refer to the ID number (e.g.M22061) if you want your sign to be similar to one or more signs shown in the gallery. Our most popular sizes for these signs are in the range from 16 inches to 36 inches wide. For more information on prices go to Price, Size, and Design Features page or Request a Estimate. Normally you will receive your sign 4 to 6 weeks after you place a firm order and have approved a proof. Please call us at 951-698-8484 or EMAIL us at info@ArtSignWorks.com for more information on design options, price quotes and delivery times.