Customer Testimonials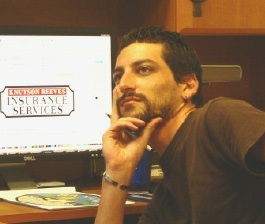 Kevin , our Chief Designer
The primary way we measure our success is customer satisfaction with our products. We work closely with our customers during the design phase, until the customer is pleased and satisfied with the design. When the sign is completed, the designer inspects and approves the sign to make sure the finished sign looks like the design proof the customer approved. We strive for customer satisfaction on every sign or plaque - if you are not satisfied with your custom sign or plaque because it looks different than the Final Proof you approved, you can return it (we will pay for shipping ) for modifications to make it look like the approved final proof, or if we cannot do so, we will make a new sign for you or we will refund your money after we receive the sign back..
You will enjoy working with Christie and Kevin, who love working directly with customers to make their custom designs. Christie is our intial customer point-of-contact and project coordinator, and Kevin is a very creative artist for both 2D and 3D designs, and will be patient and responsive in working with you to develop your custom sign design. Every customer is important to us, and we take pride in the design and workmanship of each sign. We really are the "Friendly Sign Makers"!! Call Christie today at 951-698-8484 or email her at info@artsignworks.com to get started on the design of your sign or plaque.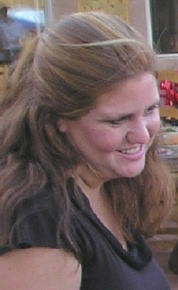 Christie is our primary Customer Contact and Project Coordinator
Client List A few of our recent clients include Lawrence Welk Resorts, Embassy Suites, Ace Hotels, La Costa del Sol, the Pentagon, several Embassies, major military Bases, California State Senate,Louisiana State Senate, New York Court System, Florida Supreme Court, Mission Care Centers, Alpine Village Apartments, Alpine Country Apartments, Lakeshore Villa Apartments, West Coast Village, Remington Ranch, North Coast Village, Avamere Care Center, Riverside Open Space District, K&J Construction Company, BREG Corporation, Hart Winery , Orfila Winery, Dove Canyon, Kaiser Permanente, James Bergren Construction, Stara Corporation, The Banck Center, US Mortgage, Wells Fargo Bank, Miner 49er store chain, Quiksilver, Claremont University, San Joaquin College, Riverside Open Space District, the Masters Golf Tournament in Augusta, DoD, Defense Intelligence Agency, Homeland Security, US Marine Corps, US Army, the US Border Patrol, and many, many military, federal and state Governments, residential and vacation homeowners, organizations, churches, lawyers, doctors, CPAs, and retail stores.
RECENT TESTIMONIALS
Christie;
ABSOLUTELY FANTASTIC!!!! I obviously came to the right people!!! I am sincerely pleased! Not to knock the run-of-the-mill carved wooden ones that can be obtained through most military insignia supply stores or websites, but how can something like that offer compete with this!?! It looks as if it was cast in solid metal! Beautiful job! I am very happy with it and more than pleased !
Thanks so very very much! B.H.
Hi Christie,
I just wanted to circle back with you one final time as we have received the sign.
Jim LOVES it...we are so pleased with how it turned out and we can't wait to display it outside!Thank you so much for all you did to make this "First Time Customer" Experience a terrific one! Should I have any future sign needs, I will surely reach into Art Sign Works!
Sincerely,Sharon
Christie,
I just got the signs and they look great. My Commander is extremely pleased with them, so expect more orders from us in the future.
Thanks,
S.C, MSgt, USAF
Hi Christie,
OK- This is truly exceptional! I am delighted with what I can see in the photos (gold-leafed US great seal),, and I am very much looking forward to hanging it for display. Thanks to you and to all your talented team for a work of art that does great honor to our national symbol- we need it today!
Warm Regards,A.P.
Christie,
With the holidays and chaos I failed to let you know the sign arrived
in perfect condition. Its just great. Y'all did a wonderful job. We are going to paint our gate and it will then be hung. Have had nasty weather on days we can get to ranch so hopefully can start next week. I appreciate your putting the colors on the invoice as it helps to determine what color to choose for gate. Again, many thanks for the FAB sign!!!!! We are very proud of it! C. and J. B.
Hello Christie,
I wanted to let you know that the plaque has been delivered, and received. It turned out to be well above my expectations, and I simply wanted to thank you for your help.
Sincerely,
J.P.
Hi Christie –
Just wanted to let you know the plaque arrived yesterday and looks great! Thanks for all of your help.One other question, should the plaque ever be vandalized, do you keep the work on file so that it could be "re-faced" in some efficient way?(yes)
B.P
Public Affairs Manager
Recreation District
Hello!
I just opened my Welcome to Huffman Pond sign and it is every bit as gorgeous as I had hoped and more! You did such a great job. My husband is at work and I cannot wait for him to see it! Any installation and care advice would be welcome. We intend to have this for years to come! Again, thank you so much for a beautiful piece!
M.H.
Christie,
Today, I saw the plaques that your company produced for the first time. As you may know these plaques will be the "finishing touches" of a Press conference /Training center stage that I designed and that we are getting close to completing. I just wanted to say how very satisfied we are of the workmanship. Especially the "one off" custom plaque that your art staff set up. Hats off to them! I didn't think that it would look that good! When we are done, I'll send you an image of the finished project. Again, thank you and your team for a job very well done.
¡Feliz Año Nuevo!
Peter
Christie,
Just letting you know that the sign arrived here in North Carolina. Its looks phenomenal!!!!Thanks for working with me to get it here. I will be sure to recommend your company to my friends.
You do great work.
Happy Holidays!!
B.D.T.
Christie,
Our sign arrived Friday and i wanted to tell you...It is WONDERFUL! It is exactly as i had hoped.Beautiful quality, perfect colors...I can not wait to put it up at our beach house in the Spring....Thank you again. Your company is a class act...and your professionalism top shelf!
Sincerely, K.I.
Hello Christie ---
Our sign arrived last month and it looks great!! Attached are a couple photos if you want to include them on your website. One question --- is there any recommended annual maintenance for the sign? Thank you very much for all your assistance during ordering. We are very pleased!
All the Best--
M. G.
RE:Sunset Boulderyard Sign:
Christie,
The second sign arrived to the east coast of Canada quickly, well packed and in excellent condition. I appreciate that you promptly rectified the minor production error and at no extra cost to me. Your company clearly wants satisfied customers and delivers on that wish, I would happily buy from you again.Again thank-you for getting it to me before Christmas it will make a great present for my wife.
P.M.
Nova Scotia, Canada
Hi Christie…..you are an ABSOLUTE ANGEL!!!!! We are in love with your company already. I cannot thank you enough. The L brackets would be AWESOME….again, you have saved the day!
Have a blessed Thanksgiving!
Julie
Hello Christie
I just wanted to touch base with you and thank you for all of your help with our order. You are very knowledgeable and you made it very easy for me to feel comfortable with your company. You exceeded my expectations on the estimated timeline which I appreciated since we were in a time crunch with our customer. We received the backers just in time and our customer was very pleased with the overall product. We will be placing more orders in the future. I look forward to working with you again.
Thank you!
S.K., Graphic impact!
ArtSignWorks:
I wanted you guys to know that I received the plaque today (State Seal of Louisiana) and it looks amazing! Thank you so much.
Representative,
Louisiana House of Representatives
Thanks Christie,
The signs look great.What would you charge me for 2 of the oval horse logos?
Equestrian Center, CA
Christie-
The sign was delivered and has already been hung. I want to say that it awesome! Art Sign Works did a great job. I've attached a picture to show it off. With that being said, can I get quote on another project?...
Lt, US Air Force
ArtSignWorks:
The Sign looks terrific!
Signs by Tomorrow, Palm Desert, CA
Christie,
Sign arrived a few days ago while I was out of town. Absolutely gorgeous! We love it. Great job!
Bill
Kevin, We received our signs. WOW... they are fantastic! Thank you for your expertise and craftsmanship. I look forward to doing business with you when we build the next store(s). I will send a picture of the sign when we open. Thanks again. Rus
Sign arrived today…looks great…processing invoice for payment.
J.M
Project Manager
D.B. Signs
To Kevin, Christie & Everybody at Art Sign Works:
We just received our finished sign today and we are giddy, overwhelmed, and ABSOLUTELY THRILLED with it! You have exceeded our expectations in every way. Great work! We hope to send you a picture after we get it mounted. Thank you so much for your fine work & craftsmanship.
All good things,
Michael & Barbara
N.Y., N.Y.
Christie
We just got it, perfect timing and it looks perfect!
Thanks, D.T.
Interim Fire Chief
Dear Kevin and Christie
Thanks again, everything went very well and everyone is very happy with the signs. I'm sure we will be calling you for more in the future! I would be happy to write a referral if you ever need it!
Cheers,
E.N,.President of Cond Assoc., Redondo Beach
Christie,
They loved the sign! We are just waiting for the approval for the funding to go through! Quite a few people from other bases loved them also.
Thank you,C.K.,
AFB, Illinois
Hi Christie,
The sign (Casa Resaca) arrived last week & we couldn't be happier with it. A Great job ! Thanks so much, Maureen
Christie & Kevin,
Sign, Da Kitchen, delivered today. It is so perfect, beautiful I wanted to thank you both for such a great job. I know where I will get any future signs! Thanks so much and a very Merry Christmas to you both.
S.L.
Hi Christie,
I recieved the wall hanging today. Looks great. Thanks again. Have a Merry Christmas & a Prosperous New Year.
Have a great day. Take care.
Del
Christie,
I have just received the four signs which you all made for me. They're awesome.
Thanks so much and have a very Merry and blessed Christmas,
R.S.
Christie, I received the package yesterday and wanted to thank you so much for everything – the sign looks great and I am so pleased with it and sure my wife will love I also wanted to thank you for your professionalism and getting me the product to me on time before Christmas.
Happy Holidays, James
Hi Christie,
We received the 20x16 sign today and it is amazing!!! We are very grateful, Thanks!!! We would like to order the 42.5x27 sign now .Thanks,
C.S.
Hi Folks: I wanted to send you a note of "Thanks" for a great job on my sign. It isn't everyday that you find a company and a product that exceeds you expectations ! The work product was terrific, it was made with care and it looks terrific. I was impressed with the sign, the hanging bracket...including the links, the paint job, and the extra TLC in how it was wrapped for shipping. I will be happy to recommend you and hope to have the opportunity to order again.
D.K.
Hi Christie,
Just wanted to check in and let you know I received the plaque and it looks great! You all did a fantastic job and I will be happy to refer you to others looking for a similar project. I did want to know if I could get a copy of the art work we had done so I can have that format for when we do patches and shirts in the future. Everyone really liked the more animated eagle over our old one.
Thanks again for your help.
Lt. J.S.
Special Operations/S.W.A.T.
Christie
It (the sign) was awesome. He loved it. Really good work and I super appreciate it!!
NS, San Francisco
Hi Christie,
Just wanted to let you know that we've received the sign, and it is beautiful! Absolutely perfect.
Thanks so much,
Claire
Hi Christie,
We received the sign. Looks great!! Thank you for everything :)
Jordan
Hello Christie,
I received the sign today and it looks great.
.... Thanks for being so easy to work with...Regards, P.B., B. Sign Co., Inc.
Christie & Kevin,
Thank you!!! The sign is BEAUTIFUL and will be a big hit with our lake association! Nicer than I even dreamed!
Good work!
B.B., Delafield, WI.
Christie,
The (bar) signs just arrived and I could not be happier. They are fantastic.
John, Florida
Hi Christie. / Kevin
I thought you would like to see the sign hung over the door at the Dark Horse.
You guys did great job. They have been get compliments from all their customers.
I hope I can get you guys my works.
All the best
Frank V.
Art SignWorks:
Thank you for my beautiful sign. The craftsmanship is excellent. It looks exactly like the samples we created in photoshop. I couldn't be more happy with it. I will recommend you to anyone! ( :Thank you, thank you, thank you! ( :
Yasha
Hi Christie/ Kevin
I received the sign today and it looks amazing. Great job !!!. I like the way the HDU material captured the logo design .I will send photos after it is hung.Thanks again.
Frank V.
Christie
Thanks for the quick service - the sign looks great! I am very pleased with the sharp colors and the way the "Monk" stands out.
Will show to the committee for street project and get their comments.
E.G.
Hello!
We received our signs last week, and they are absolutely beautiful! You exceeded our expectations, and everyone is thrilled with the final product. Thank you so much, we really appreciate everything you did for us, especially your patience. We will certainly use you in the future, and we will definitely recommend you to others.
Thanks again,
M.T.
Volunteer/Event Coordinator
Austin, TX
Hi to all of you! We are up on Peaks Island Maine for the weekend and are so excited. The sign arrived today. We opened it and it is truly beautiful. We thank you so much. It was a pleasure working with you and your design team. You were so patient and sensitive to our wishes and suggestions. We were so impressed and will highly recommend you as we will surely get comments on it once we hang it in the spring. Thanks again for your friendly and professional way. We will send you a picture once we hang the sign and feel free to use any of this as a
testimonial. EP/NS
Christie
Wow!I got the sign in the mail early this week, and it is FANTASTIC! What an improvement over the old wooden, rotting thing we had in the park. Thank you so much for the wonderful service and quality of workmanship. I will most definitely be a repeating customer.
A.D., Groundskeeper, Virginia
Christie & Kevin,
The sign arrived yesterday and is perfect. Thank You...Please let me know if all is OK concerning payment. Again, Thank you for a very impressive sign.
Dick D.
Christie,
Here is a picture of the AWESOME sign you made! Feel free to use it on your website. We could not be more pleased!
Thanks,
Jerry
Christie
just wanted to say that the signed turned out perfect.
S.A.R,, Esq.
Hi Christie,
The sign has arrived and it is really lovely! The quality of the sign is a good as we hoped and expected!
Thank you!
D.D.
Good Morning…… we received our signs yesterday. They arrived safe and sound and are very nice. Thanks for the great work........
Sincerely,
L.J.
Customer Service Manager
Hey Christie;
I love the sign. Thank you for a great job and the rush. Can you give me an estimate for the same sign 8 feet wide. Thanks
C
"Christie and Kevin,
It arrived yesterday and I have one word: WOW! It's absolutely perfect – thanks for all your help!"
K.J.L.
"Christie:
Got the sign this morning. It looks absolutely wonderful!!! Thanks for all your help and hard work. I will be in touch should I encounter any problems."
B.L.
"Christie,
Just wanted to let you know that we got our sign yesterday and could not be more happy with it-it's beautiful! Thank you so much for your help in the process.
Sincerely,
L.V."
Hi Christie -
Well....we received the sign yesterday and we LOVE IT !!!! Thank you so much for the great workmanship. Can't wait to hang it !!!!! :>)))))))
P.C., IS&S
"Christie,
We got the sign, it's perfect. Thanks for all your help. You're a much better sign company than the ones we have locally...
Thanks, S.B.
Le Natural Health"
"Hi Christie,
Thank you so much for your beautiful work! Our sign arrived today, in time to open before our vacation. My husband absolutely loved it!!
Best regards, Julie A"
Christie,
"Got the sign in place today!! Looks great!! Enclosed are some photos.Thanks!!" Victoria, Texas
"Christie
It was sad to see (company name withheld) go out of business in Pennsylvania, because of the beautiful signs they made and their excellent craftmanship. However, the sign I recently received from you is just as gorgeous as the one I had them make a year ago, and the workmanship is superb. I'm pleased to see another company in the US carrying on the tradition of hand-crafted 3d carved, gold-leaf gilded signs!! I do not see how you can make these beautiful signs for less than half the price we paid (company name withheld) for our previous sign, but keep up the good work! We will tell our friends about your signs."
Judy K., Boston, Massachusetts
"Christie -
My order arrived today...it was worth the wait (unfortunately, UPS lost the shipment in Afghanistan), the signs/plaques look nicer than I could have imagined.
Thanks,
Joe" military, Afghanistan
"Christie,
I received my sign and had it installed this weekend. It looks fabulous. I was wondering if you could make me a door plaque similar in design.."
LK,Ohio
"Kevin –
Thank you from the bottom of our hearts ! The job you did for us was superb – the actual finished product greatly exceeded our expectations. Also, thank you for having it delivered on-time. It's truly appreciated." Karen J
"Hi, Kevin – Just wanted to let you know we are very pleased with our new cottage sign. It's just what we wanted and looks great! I am attaching a couple of pictures of the sign in place. That's Lake Michigan in the background.Thanks again for a job well done!" BH, Michigan
"Hello Kevin, Here are some of the pictures after I hung the sign. Thanks for all your help with the sign. " Tsering
"Hi Kevin, Thank you for the touch up paint (for installation), and here's the pictures I promised. We love the sign...Thank you again" Lisa
"Kevin,
We received the 2 wall plaques (Navy and US Seal) and they look great! Thanks for getting us the product we need--very nice work! "BWF, Dept. of Navy
"Thanks for working so hard on our company's entry sign. I have received so many compliments on it. You did a great job on it. Thanks .." JG, Vista, CA
"The sign was just delivered and I love it.!!!!!!! It is perfect, and the colors match great. Thank you for everything!!!!!! I really like the way the ridges make it look rustic, and like wood. Have a wonderful Holiday and Happy New Year!!!!!" LH, New Jersey
"Dear Kevin - Got the sign today! We love it!! Everybody is blown away by the quality of the product. Thanks, Kevin" Holy Shepherd Pre-School Sign, JV
"ArtSignWorks- Just received the sign I ordered. It looks great." Thanks, Jim Young, Signs-by-Tomorrow
"Kevin, Sign arrived and is hung in place. Looks great. Thanks for your help. "Phillip W, Austin, Texas
"We got it and the plaque looks great! Thank You". Bryan S, Escondido, CA
"Kevin- Awesome!!!!!THANK YOU so much, you have been a pleasure to work with!!!!! That kind of customer service is hard to come by these days. It is much appreciated and the school of 600 students will appreciate it as well", SC
"The signs are beautiful and they had no problems putting them up. ...take care", AM,
"Thank you for your great work with the permitting dept. and of course the sign. Everyone is very impressed with your work." …Scott, San Diego
"Thanks, I have received the signs. They look great! Thanks again!" Natalia, Whitehorse
"I received the plaques and they are perfect. Exactly what I was looking for. They are beautiful, thanks a lot. Thanks again," Katheline
"Hey Kevin
We just received the DHS (Dept. of Homeland Security) Seal you made for us - it is perfect! Thank you for your effort and great customer service", RM, Chapel Hill , N.C,
"Our signs all arrived in one piece and look fantastic. We couldn't be more pleased.. Thanks again for such excellent (and timely) craftsmanship." Best, DS
"Thank you for a very professional job. The signs look great, we have received many compliments on them. We really appreciate you meeting all our deadlines, even when we caused some delays. We could not have had our Grand Opening on time without Enrique's hard work! We will definitely use you on our next project" CG, Palm Springs, CA
" I can't believe your price! We received a quote from (name withheld) Signs in Pennsylvania for $9600 for our (very large double-faced entry) sign with carved art, and for almost exactly the same sign, including the same materials, your quote was $3800. We are definitely going to order our sign from you." LC, Missouri