Signs & Plaques
KA20667 - Carved Wood Grain Spanish Sign "Corte Amor" Courtly Love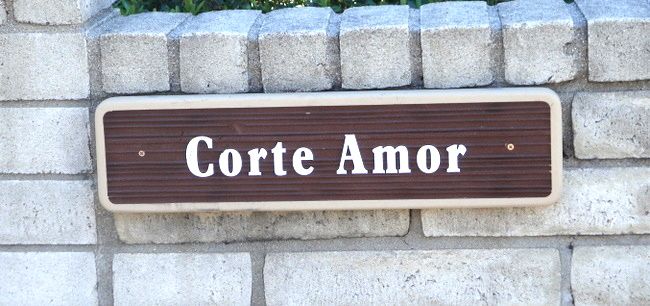 This is a carved double-faced High-Density-Urethane street name sign with a wood grain sandblasted background, It is painted in long-lasting natural brown, white and tan colors, and is clear-coated twice.  It is mounted on a stone wall with protruding threaded studs imbedded in the back of the sign. 
This section shows street name  signs,  stop signs, traffic signs, speed limit signs, slow signs and "children playing" signs for apartment, condominium, subdivision, HOA, manufactured home  park and other residential communities.This section just shows a few examples of signs we have made, Please click on  Gallery 17  to see over 250 other examples of these type of signs. .
To view over 200 carved 3-D, 2.5-D, sandblasted, or engraved High-Density-Urethane (HDU) or wood building, facility, rules, wayfinding and parking signs for apartments, condominiums, town homes, manufactured home parks, or other residential communities, click on "Return to List" below right.
To see EPS dimensional entrance and identification monument signs, or sandblasted, engraved, 2.5-D, or premium carved 3-D High-Density-Urethane (HDU) or wood post-and-panel entrance signs for apartments, condominiums, town homes, housing developments and other residential communities, please click on Gallery 19 in the numbered gray boxes in the lower left margin.
For more information on design options, prices and delivery schedules, please call us at 951-698-8484 or email us at info@artsignworks.com, and our knowledgeable and helpful customer Service representatives will respond promptly.
Please click on one of the numbered gray boxes on the lower left margin of this page to see other Photo Galleries, or use the navigation dark gray tabs at the top, or the gray boxes on the upper left margin to see other information. You can search for a specific sign type on this website by typing in key words in the Search box at the top right of this page.
You can return to the Gallery 19A (apartment, condo miscellaneous signs) page by clicking on "Return to List" below right.