Signs & Plaques
Z35112 - Carved Wall Plaque with Kiwanis Key Club International Logo/Emblem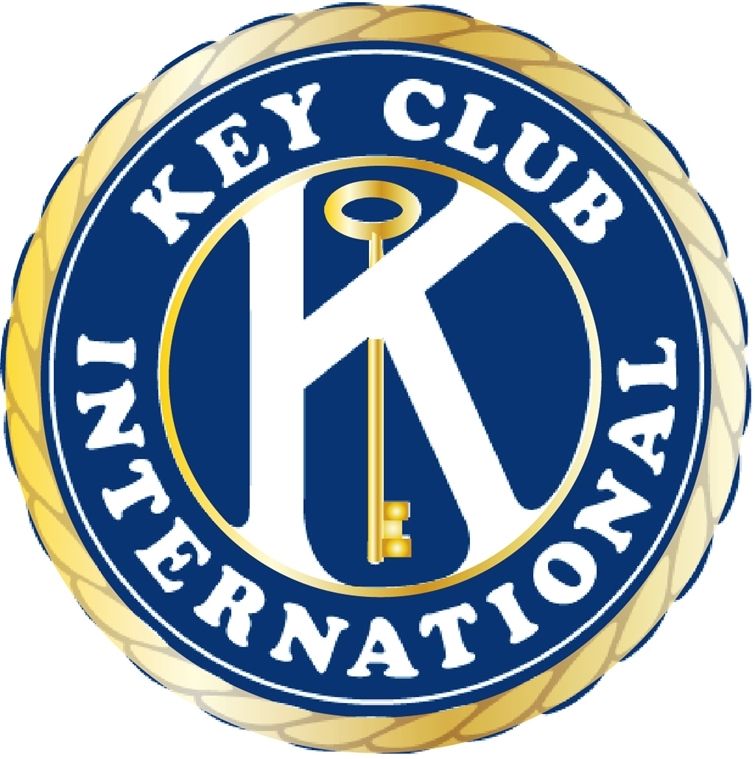 Above is shown a carved wall plaque of the emblem/logo for the Kiwanis Key Club International. The emblem is carved from High-Density-Urethane in 2.5-D The white and gold areas are raised above the blue background areas. The plaque is hand-painted with bright long-lasting sign enamels, including metallic gold paint, and then clear-coated, dried and clear-coated again for UV protection and durability. The plaque can also be metal-coated in bronze, brass, silver or gold.
We can make a custom carved 2.5-D (flat relief) or 3-D (sculptured bas-relief) natural wood, High-Density-Urethane (HDU), or metal-coated HDU wall plaque of any size and color scheme. Please click on"Return to List" bottom right to see several design alternatives in Gallery 35 , and over 70 other wall plaques for fraternal, social, civic and service clubs, corporations, companies, and professional, college and high-school sports teams. We make custom round, rectangular, and other shape wall plaques of the seals, emblems, logos, coat-of-arms,flags, decorations, and awards for any organization. We make custom and personalized plaques for both individuals and institutions. We can make a 2.5-D or 3-D (0.5 to 1 inch relief ) carved wood (mahogany, cedar, or Redwood), High-Density-Urethane (HDU) , or metal-coated HDU (bronze, brass, copper, aluminum, fine silver, 24K gold) wall plaques.
We can customize or personalize these plaques with carved engraved or raised text for individual or organization names, achievements, citations, dates, etc. These are great for entry signs, office plaques, podium plaques, organization & award plaques, recognition plaques,memorial plaques, retirement plaques, etc.
We can make a carved or sandblasted wood or HDU sign or plaque of any design in any size from 12 inches to 120 inches, for either indoor or outdoor use. For exterior locations, these can be placed on a brick or stone monument base, an EPS monument structure, between steel or wood posts, on a wall, or on an exterior door. For interior use, they can be placed on a lobby , office or auditorium wall, a hallway, a door, or on a podium. We can customize these signs with any shape, border, font style, or color scheme with carved (engraved) or raised text and art of your choice.
For more information on design options, prices, and delivery schedules, please call us at 951-698-8484 or email us at info@artsignworks.com, and we will respond promptly.
Please click on "Return to List" below right to see designs and photos of similar wall plaques in Gallery 35. To see other Photo Gallery application pages, including wall plaques for the US Federal Government (Gallery 30), the US Military (Gallery 31), US State Seals (Gallery 32), Cities, Counties, Police & Fire Departments (Gallery 33), and colleges, schools, fraternities & sororities. (Gallery 34), please click on one of the numbered gray navigation boxes in the lower left margin.