Signs & Plaques
U30037-24K Gold and Dark Blue Carved 3-D HDU US Great Seal Wall Plaque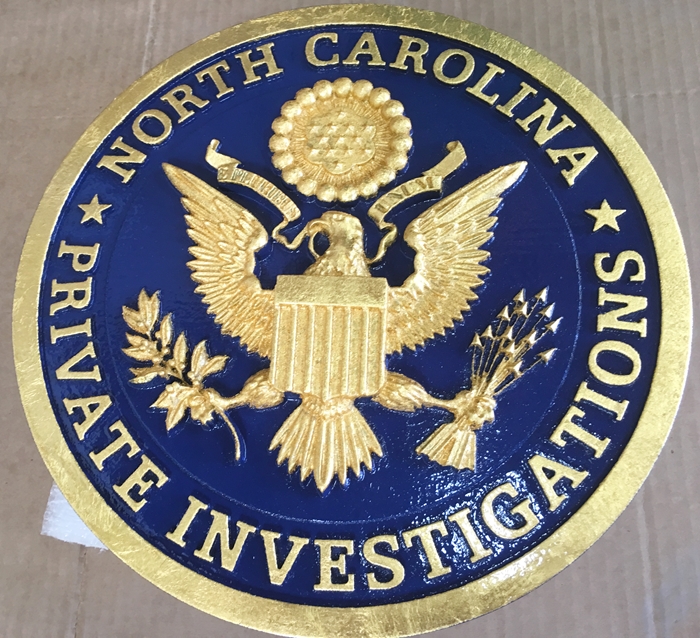 Above is a carved 3-D bas-relief Great Seal wall plaque for the United States. It is made from High-Density-Urethane (HDU) Its border, art, text "The Great Seal of the United States" is 24K gold-leaf gilded and its background is painted dark blue. It is then given 2 coats of clear coat.
Please click on Gallery 30 to see other design alternatives , and over 250 other Federal government plaques and signs.
We make custom and official wall plaques of the seals, emblems, logos, crests. coats-of-arms, badges and insignia of all branches, departments, agency, bureaus, commissions, and other federal government organizations in the Executive, Legislative and Judicial branches of the Federal government.
If you have a seal , an emblem, a logo, a crest, a coat-of-arms, a flag, a badge or chest/ shoulder patch or insignia, we can make a 2.5-D or 3-D ( 0.5 inch relief ) wall plaque of it in any size. Our materials and surface treatments include carved wood (mahogany, cedar, maple, oak, or Redwood), full color painted High-Density-Urethane (HDU) , or metal-coated HDU (bronze, brass, copper, nickel-silver, steel, aluminum, gold, silver). finishes. See U30002, U30003 and U30004 in the top row of Gallery 30 for some examples of these finishes.
We can customize or personalize these plaques with carved or raised text for individual or organization names, achievements, citations, dates, etc. These are great for entry signs, lobby or reception wall plaques, courtroom plaques, office plaques, auditorium plaques, podium plaques, organization & award plaques, retirement plaques, etc.