Signs & Plaques
U30160 - Carved 3-D Wall Plaque of the Seal of the US District Court, Eastern District of Washington.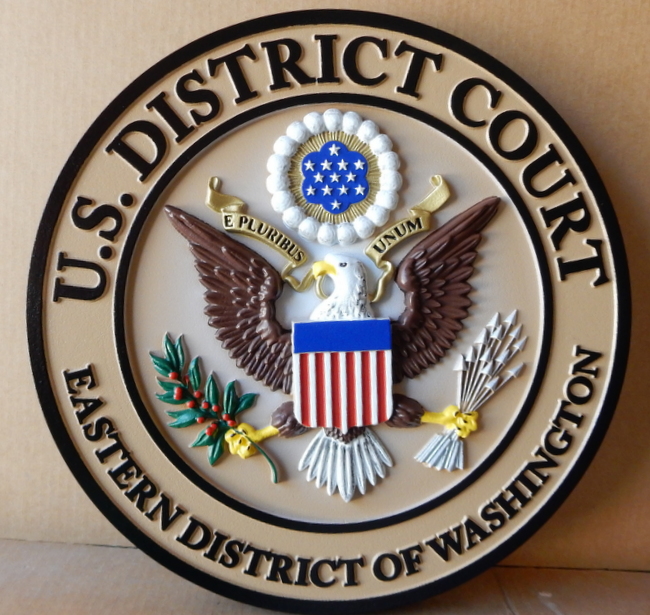 Above is a full color wall plaque for the Seal of the US District Court, Eastern District of Washington, with text in the outer border. It is carved in 3D bas-relief from either High-Density-Urethane or wood, hand-painted in full colors. The text, banner and stars can be metallic gold paint or 24K gold-leaf gilded. It is then given 2 coats of clear coat For this seal, we can make a custom 3D (sculptured bas-relief) natural or stained wood, multi-color High-Density-Urethane (HDU), or bronze or brass-coated HDU wall plaque of any size and color scheme.
Please click on Gallery 30 to see other design alternatives , and over 250 other Federal government plaques and signs.
We make custom and official wall plaques of the seals, emblems, logos, crests. coats-of-arms, badges and insignia of all branches, departments, agency, bureaus, commissions, or other federal government organizations in the Executive, Legislative and Judicial branches of the Federal government.
If you have a seal , an emblem, a logo, a crest, a coat-of-arms, a flag, a badge or chest/ shoulder patch or insignia, we can make a 2.5-D or 3-D ( 0.5 inch relief ) wall plaque of it in any size. Our materials and surface treatments include carved wood (mahogany, cedar, maple, oak, or Redwood), full color painted High-Density-Urethane (HDU) , or metal-coated HDU (bronze, brass, copper, nickel-silver, steel, aluminum, gold, silver). finishes. See U30002, U30003 and U30004 in the top row of Gallery 30 for some examples of these finishes.