Signs & Plaques
M4530 - Wrought Iron Sign Stand with Ground Stakes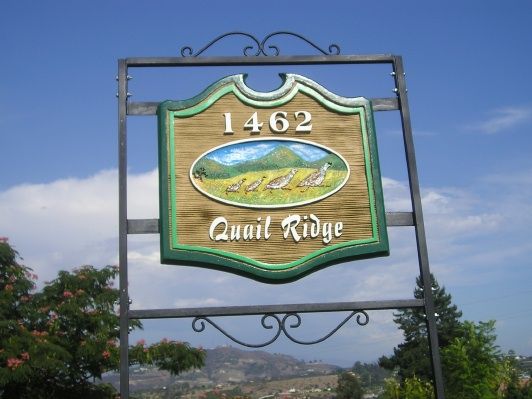 This beautiful wrought iron sign stand will accommodate signs from 18 inches wide to 23 inches wide and up to 36 inches high that have a straight  top (although the picture shows a curved top sign installed). It comes complete with two ground stakes that the vertical posts bolt onto , two vertical posts, a curved top bar with scroll, a cross-bar with scroll, and four brackets extending from the vertical posts that support the sign with screws. All parts are zinc-coated, primed with a high-quality metal primer, and given two coats or Rustoleum metal enamel.
If you buy a sign from us at the same time, we will attach steel support plates to the sign with epoxy and screws so that it matches the screw holes of the post brackets, making installation of the sign very simple. However, this stand can also be used with other signs of the appropriate size as well, but may require additional installation steps such as drilling into the sign.
Weight limit is 100 lbs for this stand using our stakes driven into the ground; if the vertical posts and stake are set in concrete, the sign's weight limit is 200 lbs, much greater than most signs this size weigh.
We use a ground stake system as the foundation for this sign stand; simply pound with a hammer steel zinc-plated stakes into the ground about 18 inches deep and then bolt the vertical posts onto the stakes. This works well with topsoil, clay and most mixed soils found in lawns and landscaped areas; however, it will not be effective in loose sand (the stakes will work loose)or rocky,hard-packed dirt (you will not be able to pound the stakes in). For these you will need to dig a post-hole 18 inches deep and a about a foot wide and surround the vertical post/stake assembly with concrete (preferred) or rocks, filling the hole to ground level.The steel used for posts and cross-beams are very strong; however the stakes may loosen in very strong winds unless they are set in concrete.
We also offer this stand in two other widths: 33 inches (Model SDF-33) and 20 inches (Model SDF-20). Model SDF-33 is for signs with widths from 23 inches to 30 inches. Model SDF-40 is for signs from 36 inches wide ti 30 inches wide. Model SDF-20 is for signs with widths from 12 inches to 18 inches.
The maximum height of this stand is 66 inches from ground level to high point on the top beam; we will make the stand shorter if you give us your required height.
More details on the design, manufacturing and installation of these unique wrought iron sign stands are given in a couple sections in the Tech Tips page under Resources and Support on the "Go To" menu at the bottom of this page, or the Product Catalog for Product Line 7, downloadable from the Products page (use the "Go To" menu to get there).
The fixed bracket method of attaching a sign shown here is preferred to the chain method where there are strong winds.
To see more than 60 other wrought iron and aluminum scroll brackets, posts, bases and finials in Product Line 4, please click on Gallery 4.
We can make scroll brackets in sizes from 12 inches to 6 feet wide.We can customize these brackets with the location of lower rings to match the location of eye-hooks on your sign. We can make a custom sign that will be lightweight and physically compatible with the scroll bracket you purchase. We will supply attachment hardware (snap-links and/or chains). Wrought iron (i.e., mild low-carbon steel) , aluminum, or wood posts for mounting the scroll bracket can also be purchased.
Please call us at 951-698-8484 or email us at info@artsignworks.com for information on design options, price quotes, and delivery schedule, and our knowledgeable and helpful Customer service representatives will respond to your requests promptly .
You can click on Home to see our home page. Please click on one of the numbered light gray boxes on the lower left margin of this page to see other Photo Galleries, or use the navigation dark gray tabs at the top, or the gray boxes on the upper left margin to see other information such as prices, order forms, testimonials, etc. You can search for a specific sign or wall plaque type on this website by typing in key words in the Google Search bar at the top
of this page.
You can return to the Gallery 4 page by clicking "Return to List" below right