Signs & Plaques
M5406 - Cut-out, Gilded, and Prismatic Letters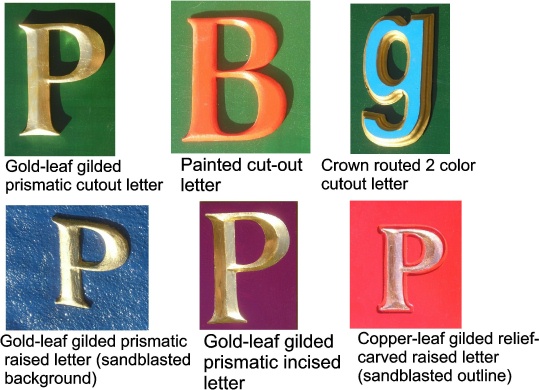 This photo shows some of the dramatic (but complex) lettering techniques that can be used for Product Line 5 signs. The simplest, least expensive lettering technique is 2D, i.e., flat paint on a flat surface, using our computer-generated patterns that drive our cutter for vinyl stencils. Next in complexity is "2.5D", a sandblasted background with raised, flat,smooth (i.e.,not sandblasted) letters (as in "Spring Valley" in M5202, or all of the letters and art in Product Line 1), or engraved (incised) lettering using CNC routing/V-carving or reverse sandblast techniques (as in "Sages" in M5202, or many of the plaques in Product Line 3).
A step up in complexity and cost is the process of making two sand-blast levels on letters (i.e., the interior of a letter can be lower or higher than the border, which produces different textures (smooth vs sandstone texture) and the possibility of two-color letters (as for M8080, where the borders of the letters are lightly sandblasted and the center part is flat and smooth). This can only be done for large letters (4 inches height or greater).
High on the scale of complexity and cost are the types of letters shown in the photo here, all of which require CNC machine or hand-carving, hand-sanding, and specialized painting or metal-leaf gilding. Where a line of sandblasted background flat text (8 letters) may take 1 1/2 hrs , including applying 4 coats of primer and paint with a small roller, the same line using gold- or copper-gilded, cutout letters may take 8 labor hours.
The letters shown above are used for different sizes and types of signs. Cutout letters, shown on the top line, are used only for large signs (Typically 6 to 10 feet long). Cutout letters range from 6 inches to 60 inches in height.They
may be epoxied onto the sign substrate or alternatively may be mounted on studs above the substrate surface for a rather dramatic shadow effect. Each letter is like a separate sculpture appliqué; it must be cut out with a CNC router, hand-sanded, and painted with two coats of primer and 2 top coats of enamel, with 600 grit hand-sanding between coats. If the letter is gold-gilded, the letter (after priming, painting and sanding to provide a smooth surface) must be coated with size (glue), the gold leaf carefully applied, and the then the gold must be burnished. All these steps together add up to hours of work or more on each letter.
We use cutout letters on the largest signs. We have found that letters in the bottom row of the photo above (described below) look almost as good at a lower cost.
The bottom line of letters in the above photo show hand-carved letters, either raised above the sandblasted substrate or incised into it. The P on the lower left (blue background) started out as a regular flat letter elevated against a sandblasted background. We then machine-carved the top of the letter into a prismatic shape (like a upside down V or a lambda with flat intersecting slopes), sanded the angled sides smooth, and coated both letter and background with two coats of primer and two coats of enamel, with sanding the letter between coats. We finished up by applying gold leaf to the prismatic letter. This provides an elevated prismatic gold-gilded letter without the additional efforts required for separate letters:scroll saw cutting, routing, separate letter painting, and epoxying the letter to the substrate.The gold lettering in photo M8080 ("E. Davidson, Veterinarian") uses this technique.
The middle P against a purple background is incised with a prismatic shape (Like a V-shaped valley ) This must be hand-carved with chisels, knives and gouges, and carefully sanded. The incised surfaces must be flat and smooth for the gold gilt to be effective. Many sign companies exclusively use this technique,especially for wood signs, and it is beautiful when done correctly. Note that this techniques leaves the background smooth, so the entire sign background need not be sandblasted. This incised technique is similar to intaglio used by the ancient Greek sculpturers. We use this technique only for our most expensive signs when letters are 3 or more inches tall. For smaller letters, we use either the reverse sandblasted technique at the bottom of M8110 or the sandblasted outline described below.
A third, hybrid, technique is shown with the P on a red background in the bottom right. This a combination of the previous two techniques; the sign background surface is smooth; the only sandblasting is the outline of the P.The surface of the P may be left flat and painted (much less expensive), or the flat top may be hand-carved prismatically like the P against the blue background (like an updide down V), painted, and gilded. The sandblasted outline furrow is not gilded, but may be painted as either the same or different color than the sign's smooth substrate.The gilding in this latter case is with copper leaf rather than gold leaf.
We also gild with aluminum leaf which looks like silver but will not oxidize. For gold gilding, we use 24 carat leaf prevent oxidation.
We offer all six types of letters shown in M8100 for our custom signs in Product Line 8, in addition to the much less expensive techniques of background sandblasted elevated letters (used for all the letters in M8001, M8010,M8030,M8040, M8050, M8060, and M8070) and reverse sandblasted incised letters shown in the previous photo, M8110. However, use of the more elaborate letters, along with more complex sculptured, hand-painted art, may increase the cost of your sign compared to just sandblasting (it could increase it from $65 per square foot to $100 per square foot).