Signs & Plaques
M6400 - Masonry Monument Bases and Signs (click for description)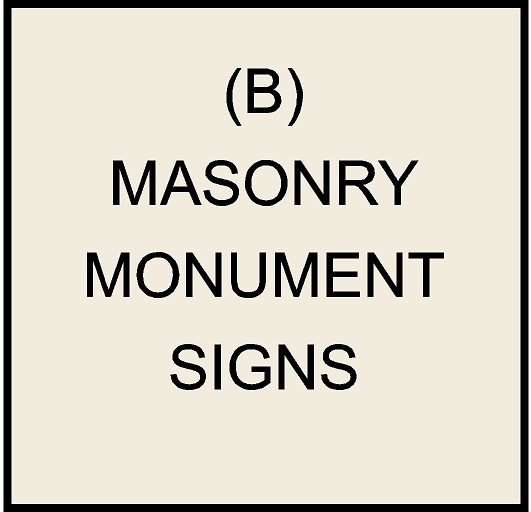 Masonry or solid core (e.g., poured concrete, concrete block, rock, brick, marble, granite, stucco) base monuments are very suitable for residential communities (apartments, condos, townhomes, subdivisions), hotels and resorts, country clubs, business and industrial parks, and large corporations. They are typically placed on the corner of an entrance road and the main highway, often at a 45 degree angle, so they can be viewed from both the main highway and the entrance road. Often there are two of them, one each side of the entrance road, so they can be viewed from both directions on the main highway,
These monuments are "upscale" and can be very elegant, and are the most expensive of the three types of entrance signs we make. Typically they cost from $3000 to as much as $15,000+ each, depending on size and material. For new developments, often the architect designs them and the development contractor builds them to ensure design compatibility with the rest of the site (e.g., adjacent walls, gates, pillars, buildings) . A monument sign can range from 6 ft to over 20 ft in length, and can be from 3 ft to 8 ft high.
Generally they require a concrete foundation (slab and/or footer) because of their weight. They can have either a solid core (Concrete blocks , poured concrete with rebar, bricks) or a hollow core (wood frame with cement board covering). They can be faced with stucco (very popular), stones/rocks of various types, bricks, marble, granite, bare concrete, and wood (especially for moldings and ornaments, but sometimes naturally finished wood is used on the face).Many times the monument will have substantial pillars, sometimes with lights on top.
Lettering and logos are most often metal (stainless steel, bronze or aluminum) stand-off letters, but other materials for letters can also be used (plastic, HDU, PVC, wood). As an alternative, instead of standoff letters, a complete sign can be mounted within the base. This sign can made of HDU, wood, or bronze. For concrete signs, letters can be molded into the concrete (engraved) when the concrete is poured into the monument mold. Monument signs often have lighting for night viewing, with either floodlights in front or on top of the sign, illuminating it, or sometimes lights behind each metal stand-off letter, outlining the letter at night
Masonry monument signs, despite their design differences, all have one requirement in common; like a building, they must be constructed on the site with bits and pieces of materials.Unlike (A) and (C) on this page, they cannot be shipped across the country.They may also require several crafts; designer or architect, concrete contractor, mason, carpenter, electrician, signmaker (for letters or inserted sign), all with contractors licenses. This requires either a general sign contractor or general contractor.
Art SignWorks designs and build a variety of these types of entrance and monument signs, but in Southern California only (from Los Angeles to San Diego to Palm Desert). depending on the design and materials, we perform the design and manage the project, and may subcontract out some of the work (masonry, electric) to local specialty subcontractors. We can also modify any of the designs in (C) shown below on this Gallery page and build them as a solid monument, rather than an EPS foam monument; however, we do not recommend this, because the EPS monument will last just as long and costs about half as much.