Signs & Plaques
BG208 - Carved Redwood Award Plaques,with Brass Plate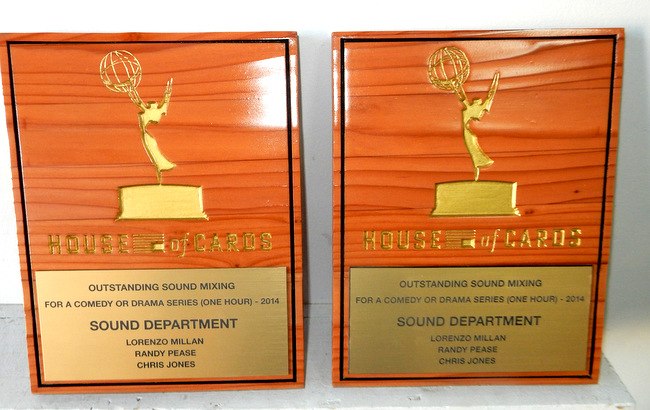 These two stained Redwood wall plaques, made as awards for the "House of Cards" TV show, can have any company's logo, seal, etc and the recipient's, name and title and citation, if any, V-carved engraved. Handsome wall plaques like these can be placed on an office wall above desk. We can make any company's logo- there is no charge for design. Letters can be V-cut and 24K gold-leaf or fine silver gilded, or painted white or gold. Other shape plaques can be specified such as rectangular, round, etc for same price. The plaque is clear-coated twice for UV protection against fading and to ensure long life. We can customize this plaque with any plaque shape, text , font style and color scheme, including different wood species and stains including Mahogany.
To see over 700 other designs for signs and plaques for professionals, please visit one of these six photo Galleries (Attorneys, Gallery 10; Medical and Health Professionals, Gallery 11; Dentists, Gallery 11A; Veterinarians, Gallery 11B, and Financial Professionals, Gallery 12, Award Plaques, Gallery 35. You can go to these Galleries by clicking on a numbered gray box in the lower left margin of this page.
For more information on design options, prices, and delivery schedules, please call us at 951-698-8484 or email us at info@artsignworks.com, and our knowledgeable and friendly customer service representatives will be happy to help you promptly.
You can visit our Home page by clicking on the dark gray tab on the left side of the header at the top of this page. Please click on one of the numbered gray boxes on the lower left margin of this page to see other Photo Galleries, or use the navigation dark gray tabs at the top, or the gray boxes on the upper left margin to see other information such as the "Request an Estimate" or "Order" forms. You can search for a specific sign type on this website by typing in key words in the Google Search bar at the top of this page.
You can return to the Gallery 9 signs & plaques for gifts and presents) by clicking on "Return to List" below right.