Signs & Plaques
M4660 - Aluminum Sign Holder and Post for Point-of-sale Sign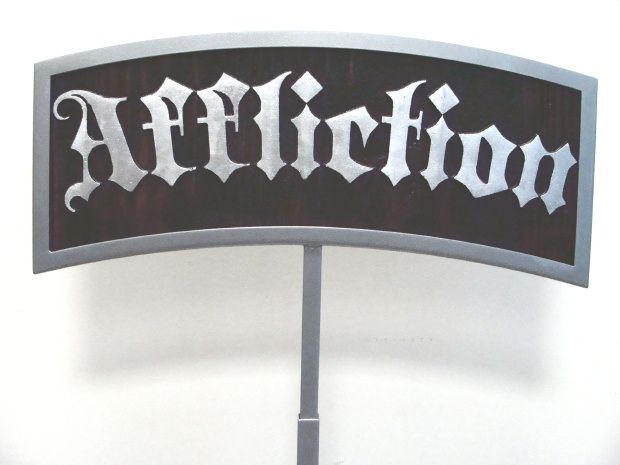 This  an example of a custom aluminum  perimeter frames for an arc sign, welded to a a post.  We make metal holders for indoor Point of Sale (POS) signs for retail stores. This bracket was made in our full capability metal shop, where we can cut (include water jet cutting) , bend, weld, grind, drill, sandblast, paint and powder coat metal brackets, posts, fixtures, and attachments of all types. We buy flat bars, round and square tubes, and sheets ,  and design fabricate, and assemble  both complex and simple metal parts for signs and plaques.  
To see more than 80 other wrought iron and aluminum scroll brackets, posts, bases and finials in Product Line 4, please click on Gallery 4.
We can make scroll brackets in sizes from 12 inches to 6 feet wide.We can customize these brackets with the location of lower rings to match the location of eye-hooks on your sign. We can make a custom sign that will be lightweight and physically compatible with the scroll bracket you purchase. We will supply attachment hardware (snap-links and/or chains). Wrought iron (i.e., mild low-carbon steel) , aluminum, or wood posts for mounting the scroll bracket can also be purchased.
Please call us at 951-698-8484 or email us at info@artsignworks.com for information on design options, price quotes, and delivery schedule, and our knowledgeable and helpful Customer service representatives will respond to your requests promptly .
You can click on Home to see our home page. Please click on one of the numbered light gray boxes on the lower left margin of this page to see other Photo Galleries, or use the navigation dark gray tabs at the top, or the gray boxes on the upper left margin to see other information such as prices, order forms, testimonials, etc. You can search for a specific sign or wall plaque type on this website by typing in key words in the Google Search bar at the top
of this page.
You can return to the Gallery 4 page by clicking "Return to List" below right