Signs & Plaques
Product Line 4 - Standard & Custom Wrought Iron & Aluminum Posts, Scroll Brackets, & Sign Frames
Welcome to our photo Gallery 4 showing examples of wrought iron sign scroll brackets, hangers, posts, bases, finials and stands. If you have just entered our website  and you want  an overview of  our company and all our sign & plaque products, please start with  our Home page (dark gray tab upper left).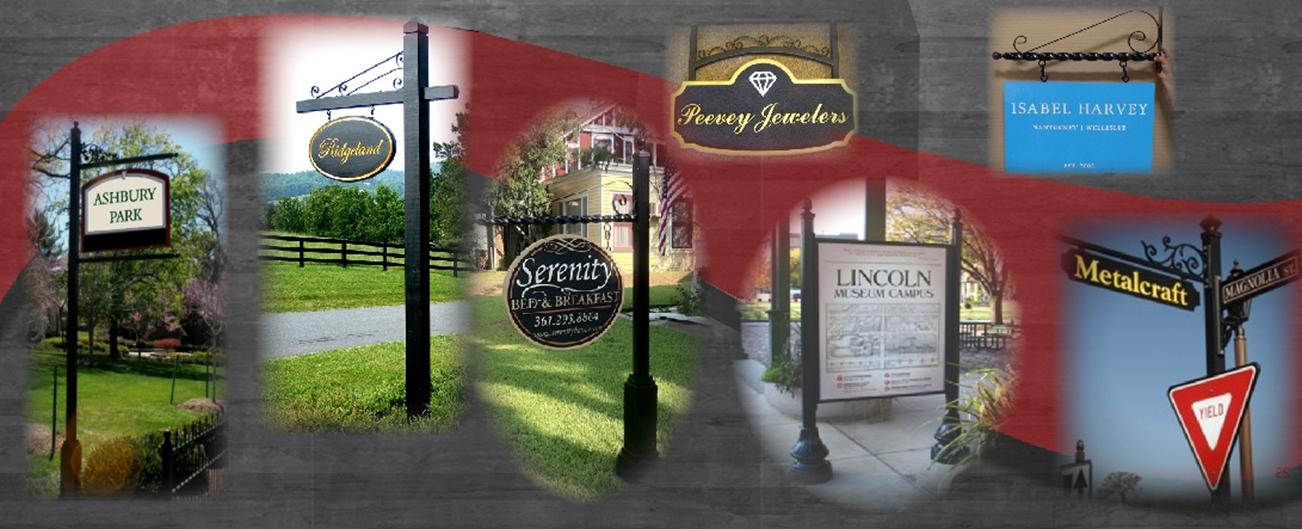 Hanging Sign with Wrought Iron Square Post, Bollard Base, and Iron Scroll Bracket
In this Product Line we offer both standard and custom wrought iron and aluminum sign horizontal supports (hangers), scroll brackets, posts, bases, finials, sign stands and sign frames which interface with signs and plaques in our other Product Lines, for no-hassle sign installations. If you are looking for cut-out wrought iron and aluminum signs and plaques, including 2.5-D versions, rather than hangers or posts, please see the bottom few rows of the Product Line Gallery 7 page.
These hardware fixtures are custom fitted to each of the sign shapes and sizes we offer, if you order the hanger or stand at the same time as you do the sign. These fixtures enable you to install your sign with minimum effort, usually less than half an hour (for the hangers and wrought iron stands. . There is no drilling or cutting of the wrought iron or sign required; simply drive stakes in the ground for the 2 in diameter square posts. or put fasteners in a wall or door and install a few bolts or screws in the wrought iron hangers and scroll brackets. The 3 and 4 in diameter aluminum and steel posts require holes in the ground poured with concrete or filled with rocks.. Art SignWorks will drill holes,adjust  chain lengths, build fasteners, etc. to fit your sign's size, shape, and thickness. All of these products that are designed for outdoor use are protected either of two ways. The aluminum and steel hardware (top of page) is powder-coated for the longest lasting finish. The wrought iron hardware (bottom of page) is galvanized with a zinc coating, coated with a special corrosive-protection primer, and then painted with two coats of Rustoleum metal enamels in your choice of six colors.
These wrought iron sign scroll brackets, posts, and integrated supports frames may be ordered without a sign or these products may be ordered with one of our signs. We offer the following hardware:
      STEEL AND ALUMINUM STANDARD POSTS & BRACKETS (TOP OF PAGE, M4010 to M4090)
Square steel posts, 1 ", 2", or 3 " wide, up to 12 ft long 
Round aluminum posts , 3 " diameter posts, black with wide selection of bases (up to 11 " diameter) and finials
Wrought iron (steel) Scroll Brackets, from simple to decorative (cast aluminum sculptures) , up to 48" wide, to be mounted on the side of a building,or mounted on a square or round post above (or alternatively 4" x 4" in wood posts) for decorative blade signs (usually double-faced). These brackets can be used for over-the-sidewalk signs, driveway entrance signs, street signs, etc.
 Overhead reverse scroll brackets, to be mounted between two posts and the sign hung underneath, works well with curved top signs such as ovals.                                                                                                                                                                                                                                                                                                                                                                                         WROUGHT IRON AND ALUMINUM CUSTOM FRAMES & SCROLL BRACKETS (BOTTOM OF PAGE, M4500 to M7300)                                                                                                                                                                                                  
 Double-post stands with hanging chains with arched or straight top beams with scrolls and two chains to hang larger wood and HDU decorative signs (single or double-faced).
Double-post side-tab frames with arched or straight scroll beams and four side tabs (no chains) for large and medium size decorative or horizontal signs (single or double-faced).
Single-post stand with scroll and attachment plate with adjustable view angle for mounting small decorative and horizontal signs (single-faced only).
Wall-bracket projecting scroll brackets with scroll work (3 different standard designs, plus many custom designs), both straignt and curved bottoms, for decorative blade signs (usually double-faced), for businesses who need an over-the-sidewalk sign or to attach to a single 4 x 4 wood post.
 Specialized custom wrought iron sign frames, holders, and scroll brackets. These are fitted to one of our signs and must be made the same time as the sign because of the tight tolerances(see M7212 to M7216).
We offer both standard and fully custom in-house products when specialized, completely custom wrought iron frames, hangers or posts are needed.
PRICES. Prices vary depending on size and design, but typical smaller scroll brackets have prices from $50 to $150, depending on size and complexity. Very large scroll brackets have prices up to $600 (6 ft wide very heavy duty bracket) Steel  and aluminum posts have prices that range from $135 to $245, depending on diameter and height. . Decorative finials(piece on tops of posts)  have prices from $35 to $95, and decorative bases have prices from $195 to $550. A post does not need a base to support it; these are for decoration only and do not carry a load. . Aluminum posts and brackets have 10 to 20% higher prices than wrought iron, because of higher material and labor costs, but they  will last longer, because they will not rust.
CONTACT US.Please call or email us for a price quote on a specific post or bracket. We will work with you to design and build the exact hardware, including a sign, that you want. Our knowledgeable and helpful Customer Service Representatives, Christie and Regina, will respond to your request promptly. Call us at 951-698-8484 or email us at info@artsignworks.com. Or, you can fill out and submit our on-line Request an Estimate Form. We would like very much to provide your post, scroll bracket, and we are confident that you will be pleased with them. We take great pride in every product we make for our valued clients.
Home Page, can be visited by clicking on dark gray tabs at the top of the page in the header.